I've always been a bit of a late bloomer.
I moved into my first apartment a little over a year ago now. Yep, that's right. I lived at home with my family until the age of 28. A bit unconventional, I know.
I didn't necessarily mean for it to happen that way. After commuting to college, I was comfortable living at home, and continued to do so as I started my career. Then, a couple of years down the line, staying at home became more of a practical decision because I knew I was working toward quitting my full-time job.
No shame here — I'm proud of my choices and my path.
Living at home, freelancing and working my booty off allowed me to save $40,000, giving me lots of peace of mind and room to play and grow as I took the leap to start Jessica Lawlor & Company. (Plus, I really love my family, and enjoyed those extra years with my parents, siblings and of course, my pup Buddy.)
However, I knew I eventually wanted to move out and live on my own. As soon as I felt confident in my business's stability and my income, I knew it was time to start looking for my first place.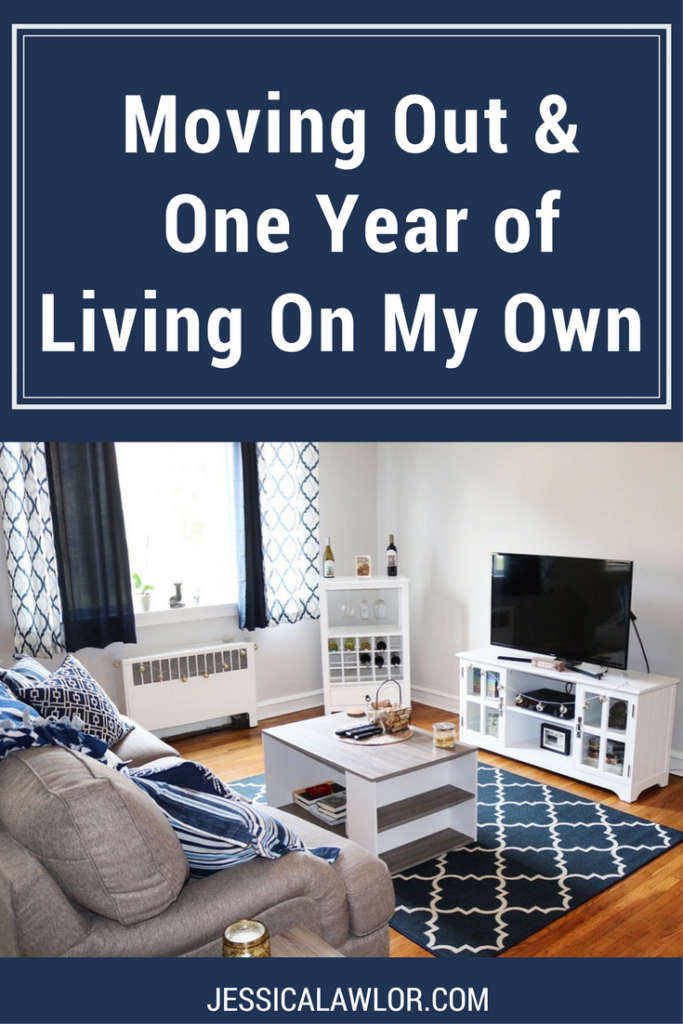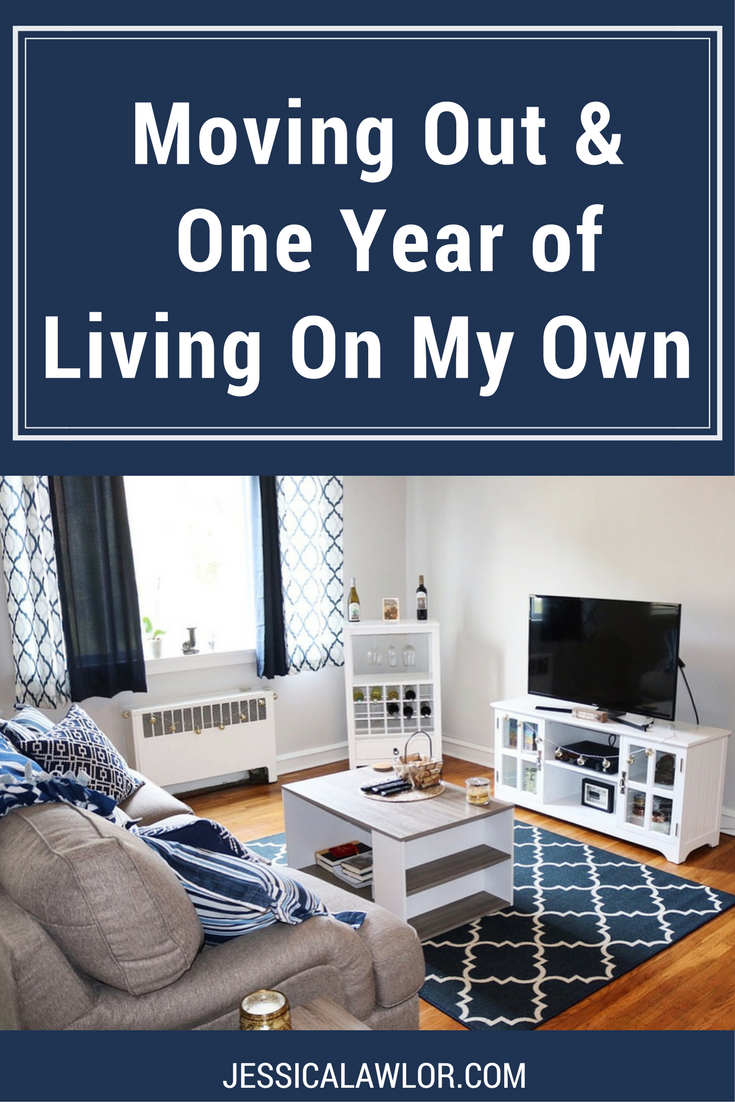 My apartment story
For context, I grew up in Cheltenham, a small suburb outside Philadelphia. I enjoyed my neighborhood growing up — I loved the peace and quiet of living in the suburbs, but also appreciated the close proximity to the city. I felt I had the best of both worlds.
When it came time to look for my own place, I knew I wanted a similar feel.
I considered three different towns: Ambler, Jenkintown and Chestnut Hill. All three met my requirements of being both quiet and set away from Center City, but also full of personality, restaurants and things to do.
I mainly used Zillow for my search and started seriously looking in the spring of 2016. I visited two different apartment complexes last April, both in Chestnut Hill. I liked what I saw, but didn't have any sort of timeline, so I held off on making a decision.
Then in late June, I got another Zillow alert from the same apartment complex I had visited in April — but this time they had a two-bedroom apartment available. I decided to check it out.
I instantly fell in love. The apartment was perfect — newly renovated, hardwood floors, in-unit washer/dryer, two bedrooms (space for an office!) and right down the street from all the action on Germantown Ave. in beautiful Chestnut Hill.
I was sold. The process moved fairly quickly and within a week, I had signed a lease for an August 1 move-in.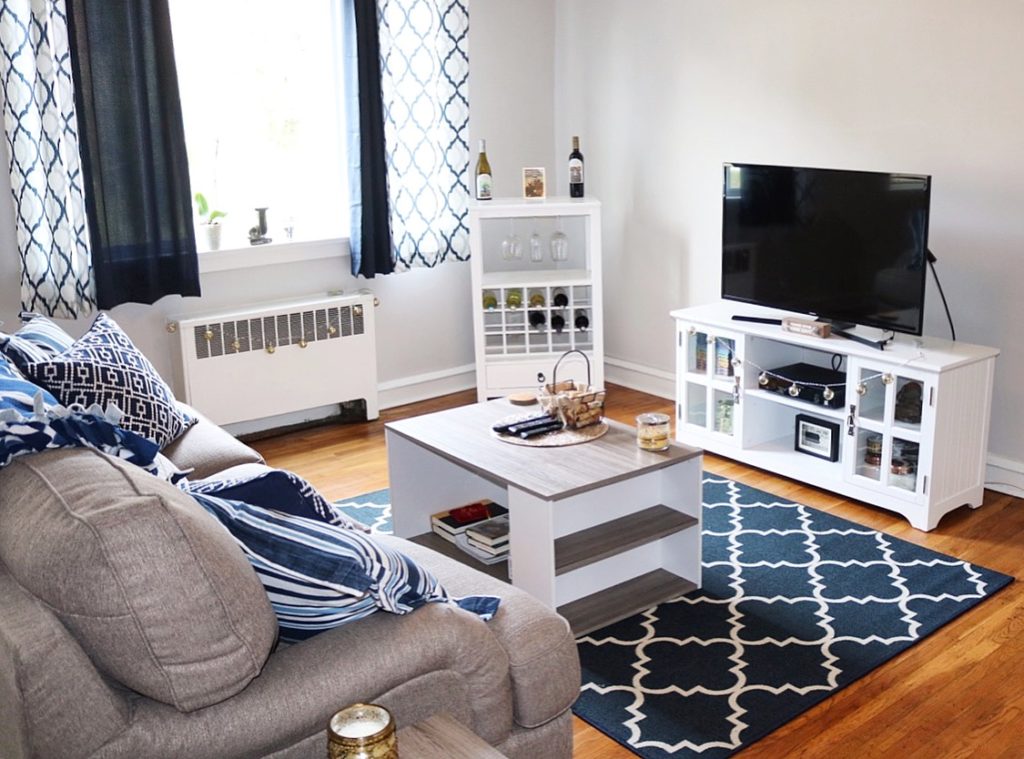 Just call me Goldilocks — moving, and being crippled by indecision
I was completely unprepared for how much of a struggle moving and getting settled in my own space would be.
First, I'm absolutely terrible at making decisions (this moving process, among other life situations led my friends to give me the nickname "Goldilocks"). From choosing a mattress to picking a couch to selecting a color scheme, I found myself absolutely *crippled* by indecision, almost every step of the way.
Thank god for my wonderful little sister Jamie and my mom who basically furnished and decorated my entire apartment and indulged my desire to visit every single Ashley Furniture Homestore in the Philadelphia region.
In terms of where I shopped? Besides Ashley for my couch and bedroom furniture, my entertainment center, living room rug and bedding are from Wayfair. My office desk is from Ikea. My office rug is from Target. My coffee table, end table and kitchen table are all from Overstock. I also made multiple, multiple trips to Home Goods, Target and Kohls for all the little things.
Keep in mind: I essentially started from scratch since I lived at home through college and beyond, so I bought almost everything brand new. It was *a lot* of decision making and a lot of money spent in a very short amount of time.
V. stressful, to say the least.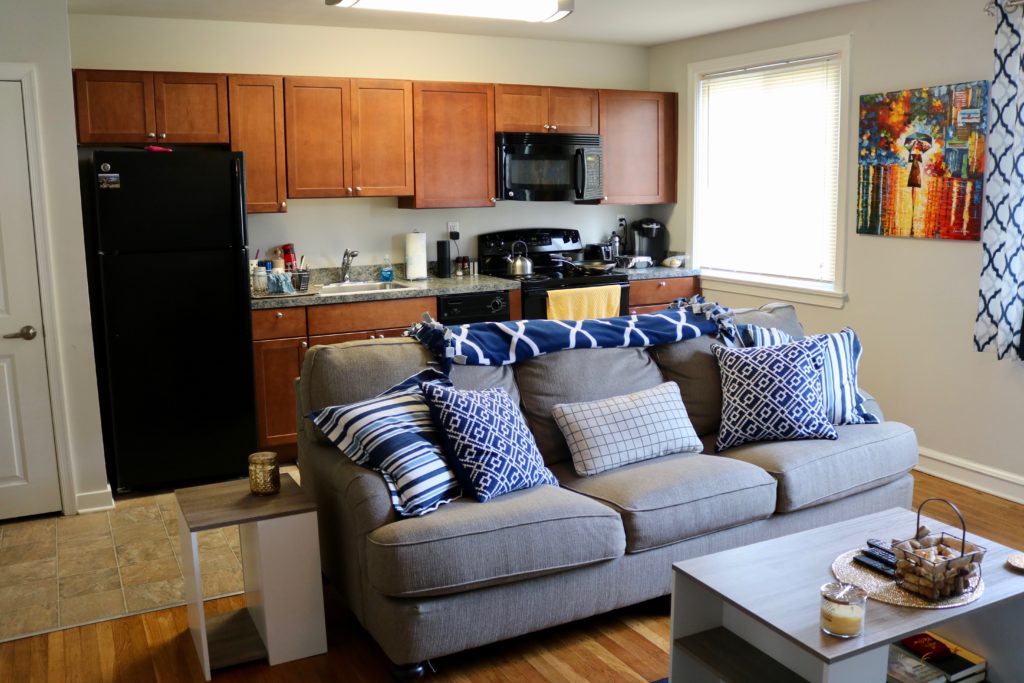 Settling in
Something else I wasn't prepared for when it came to moving?
My fraught emotional state of being at the massive changes taking place in my life all at one time.
For the first few months, I actually resented my apartment. It didn't feel like home. It felt like an eerily quiet weird space that wasn't truly mine. After years of living with four other people and pets, the sudden silence hit me the hardest.
It didn't help that I work from home so instead of feeling excited to get home at the end of a long day to relax in my space, I felt anxious at the idea of being alone in the apartment for hours.
Two particularly sad moments stick out in my mind: 1. Bursting into tears when I finally took a look around my perfectly empty childhood bedroom and 2. Crying on my home from a yoga class because I didn't want to go back to my apartment — I found myself wanting to drive two exits further down the highway to go back to my real home.
The transition wasn't easy, and for anyone else who finds themselves ashamed about these types of emotions or struggles, you're definitely not alone.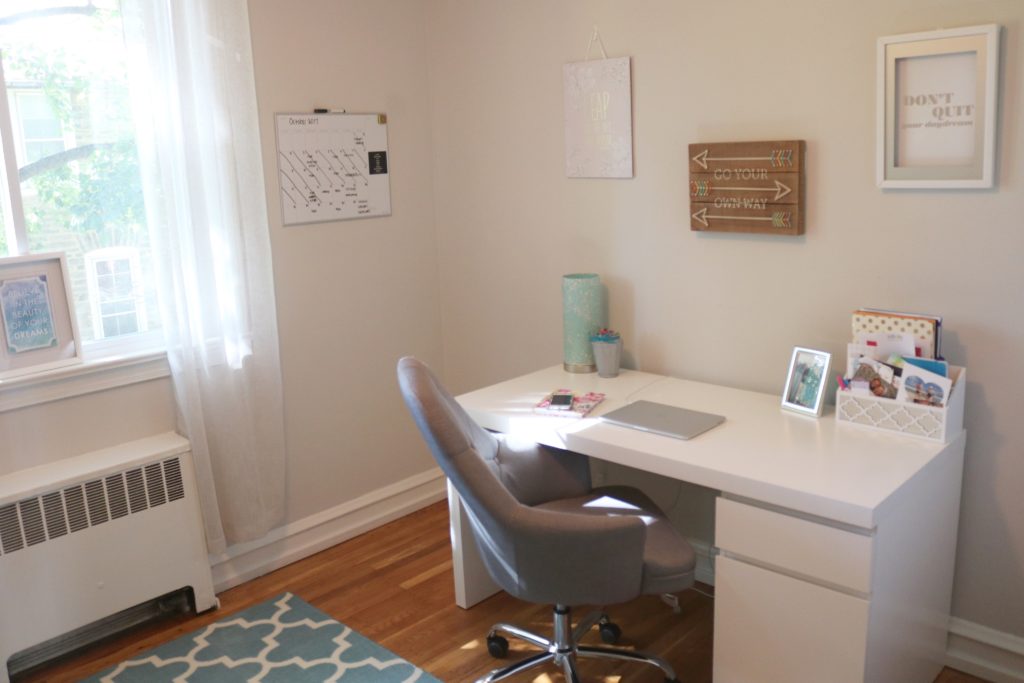 A new normal
Of course, living alone hasn't been all bad!
Once the dust settled, I started appreciating the things I once feared.
I embraced the silence as I made my morning coffee. I enjoyed filling up my DVR with all of my shows. I happily sat in my little office, working away, feeling grateful for the business and life I've built. I started to learn how to cook, and got comfortable in my kitchen. I planned parties and filled my home with friends. I even didn't mind doing laundry each week!
It got better. And I got more comfortable.
After several months, this place started to feel a bit like home — a new normal.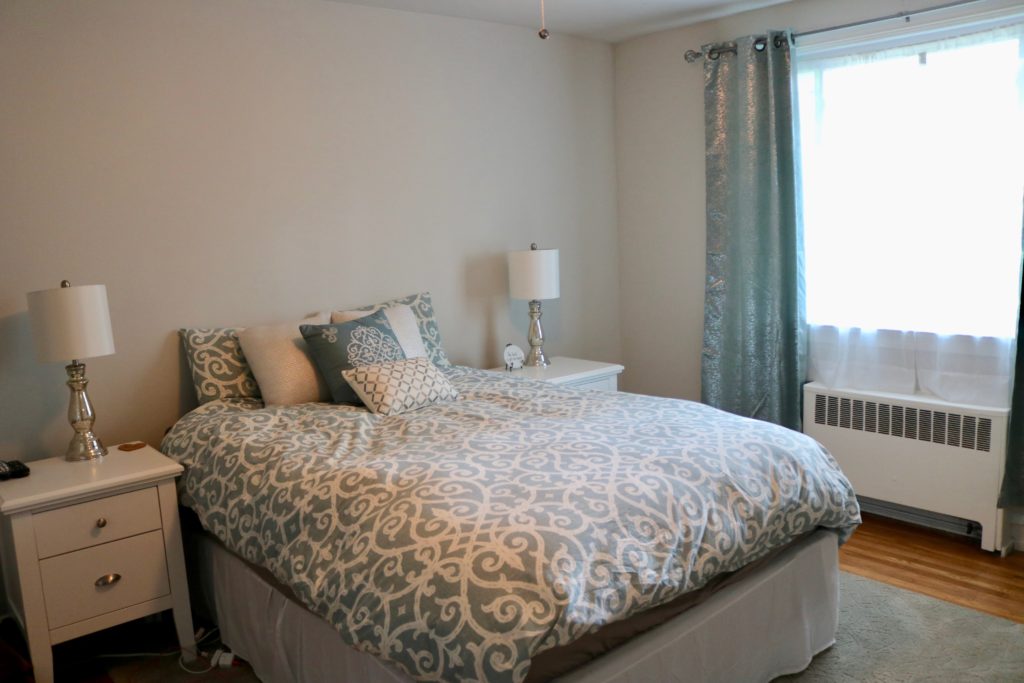 Weird things I've learned about myself after one year of living solo
You learn a lot about yourself when you go through a massive life change like moving out on your own. Here are some of the quirkier things I've noticed.
1. I really like doing chores
Call me crazy, but I love doing chores. I call myself a domestic goddess on Mondays — I wake up, sort the laundry, run the dishwasher and go grocery shopping. I've newly-dubbed Mondays "Crockpot Mondays" and have been exploring the various recipes on my Pinterest board.
I don't know what it is about chores, but I feel super productive as I get my apartment and life in order at the beginning of each week.
However, one part of apartment living I really don't love? Cleaning.
A few months in, I hired a cleaning team to come to the apartment once a month. It's not as expensive as you may think. I think of it this way: My hourly rate for client work is higher than what the cleaning company charges me, so if they can clean, and I can continue working, it benefits me in the long run. Plus, the two of them accomplish in one hour what would take me half a day to do.
2. I'm the kind of person who makes the bed every day
Back when I lived at home I *never* made my bed. Don't know why. Never even thought about it. Just popped out of bed and went on with my day.
Now? As soon as my feet hit the floor, the bed needs to be made. Maybe it's something about feeling prideful each time I walk by my bedroom and see my cozy bed and pillows arranged neatly awaiting my return later that night.
3. Hosting gatherings makes my apartment feel like a home
I threw my first party a month into apartment living — a housewarming. The planning process was stressful, but when the night came and I looked around and saw all the people I love the most in one room — my heart felt full.
Since then, I've thrown two Harry Potter parties (for the famous festival in Chestnut Hill!), a holiday gathering and a game night.
I like to entertain, and I like creating a space where people can connect and have fun together. Plus, filling my space with the people I love the most makes it feel a little bit more like home.
4. I like my apartment more when I'm not there all day
As I mentioned, I work from home so if I'm busy, there are days I don't even step foot outside my apartment.
I quickly realized this was not a good way to go about living to maintain sanity.
So now I make it a point to get out of the apartment *at least* once a day whether it's to run errands, go to the gym or head to a meeting. I even work from my gym's cafe from time to time which has helped a lot.
5. I freaking love cooking
Perhaps the weirdest thing of all that I've learned? I'm obsessed with cooking. I never cooked at my family's house. I'd bake from time to time, but cooking? Nope.
I entered the world of cooking slowly with my hand-me-down crockpot. I dabbled with making turkey chili and then expanded into chicken tacos and more. (There may or may not have been a failed slow cooker pot roast — oops.)
Then, I got even fancier and I decided to sign up for BlueApron last winter, and became hooked. For a cooking newbie like me, BlueApron truly makes trying new recipes accessible and actually fun. I'm on a schedule where I get two boxes per month (and Tim gets BlueApron wine once a month!) so we're always fully stocked with goodies. (Want to give BlueApron a try? You can grab $30 off your first order here.)
Now that I know how to cook, I'm also experimenting with my own recipes — scary!
I'm such a weirdo; my favorite part of cooking? Chopping and prepping all the ingredients.
A roommate!
This won't come as a surprise to many of you because it happened a few months back, but I have a roommate!
My boyfriend Tim moved in over the summer, so now I'm experiencing all types of changes (I guess it's true that the only constant in life is change?) as we get used to sharing a space, budgeting and all that fun adult stuff.
I won't lie; I love living with Tim. Living alone was fun too, but it's amazing at the end of a long day to cook a meal together and cuddle up on the couch to catch up on our shows. Especially as someone who works alone all day, I especially appreciate the company of someone I love being here too.
Your story is your story
Whether you moved out on your own when you were 18 and heading off to college, or if you still live at home in your late twenties like I did, know that there's no shame in your story.
When I told a former mentor I was starting my own business, instead of congratulating me, he shamed me asking how living at home would impact my "Get Gutsy" brand. He warned me to be prepared to answer questions about why I live at home and how people might think it wasn't "gutsy" of me to make the decision I made.
Two years later, I can confidently say I'm thrilled with the decisions I've made.
No matter your personal circumstance, you have to make the right decision for you.
I know I did.
And now for the next adventure in my journey? Saving up to buy a house!
Tell me about when you moved out and lived on your own for the first time! Did you experience any of the same emotions as me? I'd love to hear your stories! Leave them in the comments below.
*This post contains affiliate links. That means if you purchase anything through my links, that means you're supporting me, my blog and my business — making it easier for me to continue providing awesome and free content for you on the regular. Thanks for that!