Confession: I love Christmas, but I absolutely hate Christmas shopping.
Even with the plethora of Black Friday, Cyber Monday, last-minute deals and steals, insert-name-of-amazingly-awesome-holiday-sale-here, I can't seem to get myself excited about making a (shopping) list and checking it twice.
It's not that I don't enjoy seeing the people I love smile when they open a present or the look of delight when you know you've nailed it with a gift — I do! But for me, getting to that point is often pretty difficult.
So while I may not be able to help you choose the ideal gift for mom or the hard-to-top-last-year's gift for your significant other, I can help you with picking the perfect present for one type of person you may have in your life: the entrepreneur or business owner.
Whether you want to help your favorite boss lady (or dude) unwind, keep them caffeinated or help them grow their business, these 13 gifts for entrepreneurs and business owners are sure to please.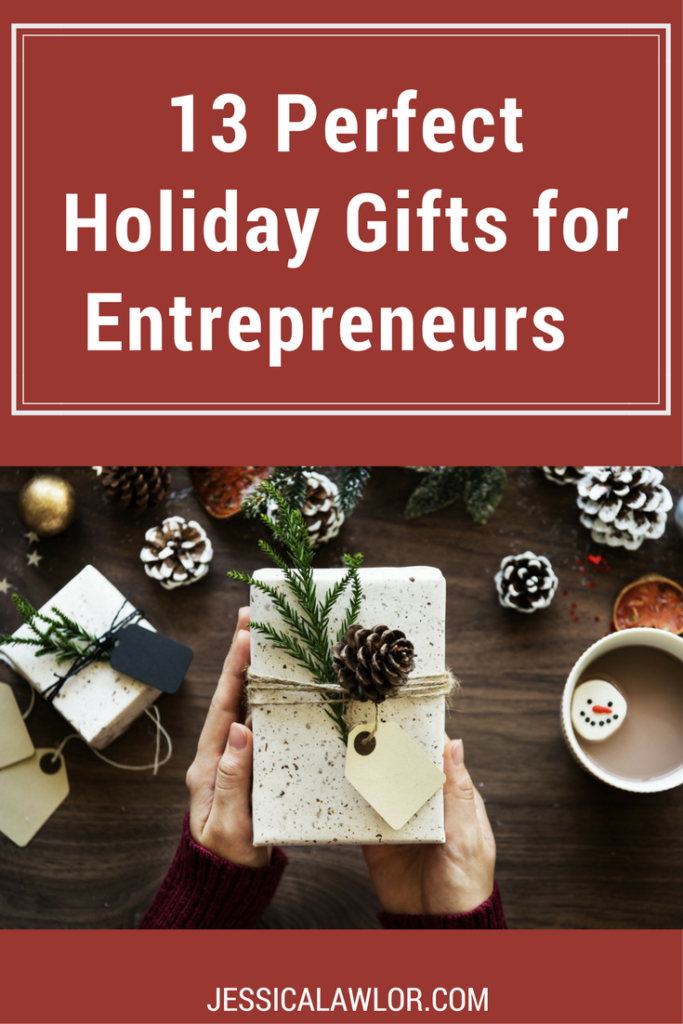 To relax and unwind
If there's one emotion most entrepreneurs can relate to, it's feeling crazed and stressed out. (No? Just me?) Give your loved one the gift of peace and calm this holiday season.
1. A massage
One hour of pure bliss, cozy robes and peace and quiet. I feel zen just thinking about it. For the busy biz owner, there's truly nothing better than a massage and time to decompress.
In the Philadelphia region? I'm partial to massages at Pure Spa in Ambler for something closer to home and The Spa at Hotel Hershey (aka the Chocolate Spa) for more of a getaway — SO decadent. Later this week, I'm excited to visit 3000BC Spa right here in my own backyard of Chestnut Hill for a hot stone massage, so I'll be sure to report back!
Price varies
While I'm not much of a meditator these days, I did meditate for 100 days straight and developed a solid habit of meditating a few years back when I first started JL&Co. (I definitely needed those 10 minutes of calm every morning in those early days of starting a biz!)
And speaking of feeling calm, that's the name of the app I used! I loved the Calm app (free to download with options to upgrade to a paid plan for access to more meditations) because it offers guided meditations AND tracks your daily progress, so if you're Type A like me, you'll love the daily streak you can create when you meditate.
$59.99 for a one-year subscription
---
To stay nourished and caffeinated
When life gets crazy, we often turn to the more nourishing things in life — for me, that definitely comes in the form of food, wine and coffee. Keep your entrepreneur energized with these delicious gift options.
If meal planning and grocery shopping feel stressful (especially as an entrepreneur running in a million directions) a meal delivery service is the perfect gift.
I'm partial to BlueApron — For a cooking newbie like me, BlueApron makes trying new recipes accessible and fun. I'm on a schedule where I get two boxes per month (and Tim gets BlueApron wine once a month!) so we're always fully stocked with goodies.
(Want to give BlueApron a try? You can grab $30 off your first order here.)
$59.94 for a three-meal box
4. Gift card to a favorite coffee spot
Yes, it's a cliche, but yes, most solopreneurs and business owners l-o-v-e their coffee!
I'd take Dunkin' over the other guys any day, but pick your poison and grab your business owner a gift card to their favorite coffee spot to keep them buzzing all day long.
Oh, and if you really don't want to go out and about to buy gift cards, did you know you can buy gift cards for many of your favorite restaurants and stores on Amazon? (They've really thought of everything, haven't they?!)
Price varies
---
To stay fit
Love it or hate it, staying fit is important for everyone, and especially entrepreneurs and business owners who can sometimes get so lost in their businesses, they forget to make time for themselves.
5. A gift card to a favorite studio or ClassPass
Yoga, barre, pilates, bootcamp, spin. There's certainly no shortage of fun and challenging workouts out there.
Give the gift of fitness with a gift card to your biz owner's favorite studio or gym (if they have one) or consider ClassPass to offer your gift-ee the chance to experiment with all different kinds of fitness classes and studios in their city.
Price varies by location; in Philadelphia, ClassPass costs $55/month for 5 classes or $95/month for 10 classes
For the past year, I've promised myself I'd buy an exercise ball to use in lieu of my cozy chair at my desk. (Guess now's the time to gift one of these to myself!)
Work out my core while I work? Yes, please.
Between $15 and $30
---
To stay connected
Who doesn't love a tech toy? My online business doesn't require many tools, but these gadgets are among my favorites.
Between checking my email, constantly refreshing Instagram and Twitter and listening to the dozens of podcasts I love, my phone battery needs to be charged at least twice a day. When you're on the go, you definitely need a portable charger.
I'm obsessed with this rose gold color charger! So pretty.
$23.99
Alexa, tell me the weather. Alexa, play Spotify. Alexa, can you handle that client phone call at 2 p.m.? (Well, she can't do that last item, but she can do almost everything else).
My boyfriend bought me an Amazon Echo as a housewarming gift last year, and I love it! Alexa lives in my kitchen and is quite handy, plus has a great speaker for playing music.
$99.99 (Right now there's a special deal for $79.99!)
9. A planner
As a college kid, I swore by my paper planner. Now as a business owner? I run my life and cal through Google and my phone, but I know there are lots of solopreneurs, biz owners and bloggers out there who still love the old pen and paper planner.
My friends over at One Woman Shop put together this post to help you find the perfect paper planner.
Price varies
PopSockets are literally all the rage right now.
Not in the loop yet? The PopSockets website described them as "fashionable accessories that help transform your mobile devices. PopSockets offer a secure grip for texting or snapping the perfect selfie, and propping your phone up for catching the latest video." Practical, right?
I recently placed an order for a PopSocket with the JL&Co logo. I can't wait to rock it. Get your favorite biz owner a PopSocket with their company logo. How legitimate!
$15
---
To grow the biz
With the New Year on the horizon, help your favorite entrepreneur get in gear for 2018 with a gift that's perfect to help them grow their business.
FreshBooks is hands-down my absolute favorite tool to keep my business running smoothly. Know why? FreshBooks helps me get PAID!
I use FreshBooks to invoice my clients, track and receive payments and track my business expenses.
(Want to give FreshBooks a try? Get 60 days — two months — free here!)
$25/month for up to 50 clients
12. A photo shoot
Every business owner needs a headshot! For me, as a blogger and biz owner, I need lots of good shots to use here on the blog, on my website and on social media.
Give the gift of a session with a photographer — encourage your gift-ee to get all dolled (or gussied) up, pick a few different outfits and refresh their collection of photos for that all important marketing and personal branding line item on the business budget.
Price varies
13. Books!
I've always been a bookworm, so getting a book as a Christmas gift would be absolutely delightful.
Here are some of my fav. entrepreneurial reads (and books on my TBR list):
Price varies
Okay, tell me! If you're a solopreneur, business owner or entrepreneur, what's on your holiday wish list? Leave your ideas in the comments below.
*This post contains affiliate links. That means if you purchase anything through my links, that means you're supporting me, my blog and my business (at no extra charge to you, of course!) — making it easier for me to continue providing awesome and free content for you on the regular. Thanks for that!
**Photo via Pixabay
Want more gutsy content delivered straight to your inbox twice a month? Be sure to sign up for my FREE #GetGutsy e-newsletter filled with inspiration, ideas and action items to get out of your comfort zone.