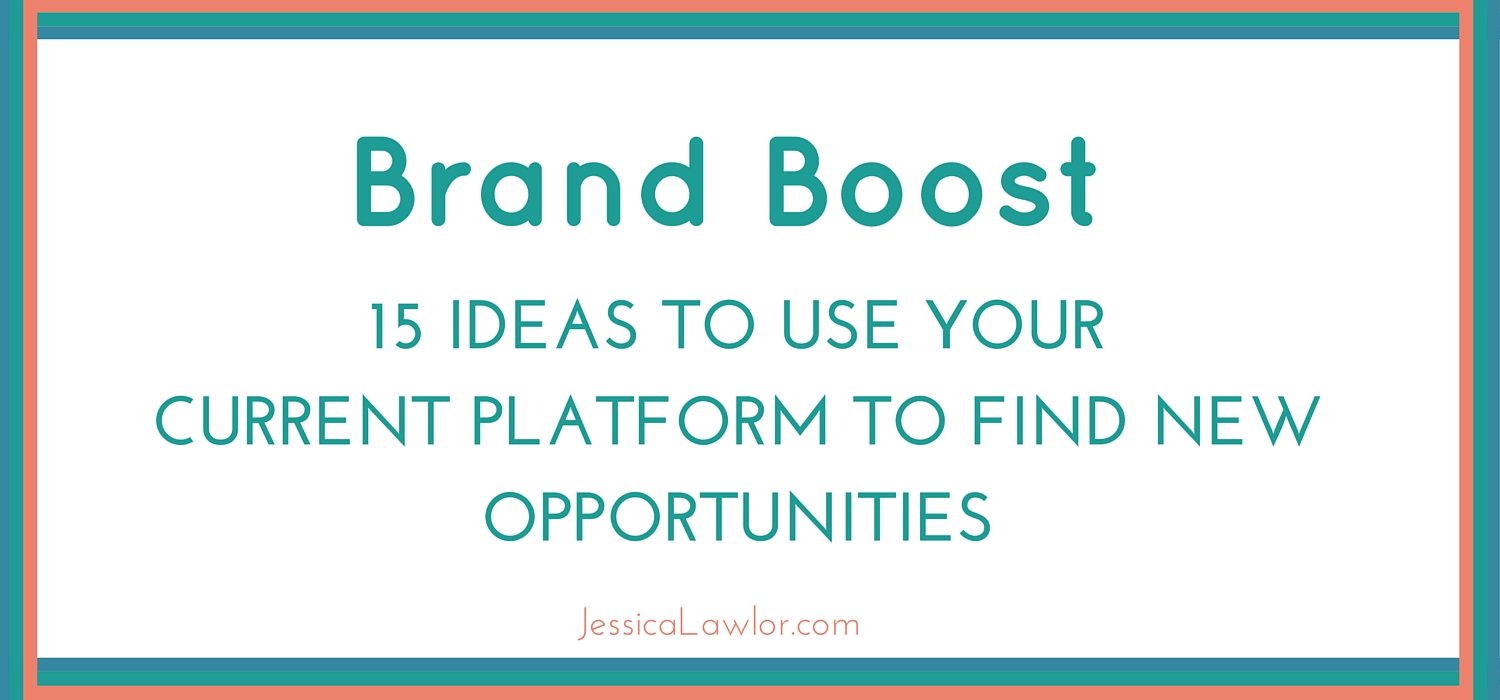 If you have a blog, guess what? You have a brand. You ARE a brand.
Even if you've only been blogging for a little while or don't feel you have much pull or influence, since you've already created a brand, there are SO many ways you can leverage your current platform to find new and exciting opportunities. Use what ya got, right?!
What kind of opportunities?
Increased blog traffic
Affiliate opportunities
Partnering with brands
Getting on the radar of influencers/becoming an influencer
Finding clients/freelance work/speaking opportunities through your platform
Making $$$ through your blog
Yup. All good stuff.
Last week I had the pleasure of speaking to one of my favorite groups, the PHLBloggers about this very topic- boosting your brand. The group is filled with savvy ladies who are already rocking it with their blogs, but wanted some additional ideas for how they can continue to grow their communities and platforms using what they already have.
You can check out slides from my session here.
It's time to boost your brand! Here are 15 ideas to use your current platform to find new opportunities
1. Develop a blog media kit/work with me page.
Developing a blog media kit or a work with me page shows brands, potential clients and those who come to your blog or website that you're open to partnerships. Even if you feel your blog is "too small" to have a media kit or a work with me page, having these elements on your site lets people know that you take your blog seriously and legitimatizes the hard work you put into your brand each and every day.
I'm a big fan of Emily from Her Philly's "Work With Me" page. On the page, she clearly outlines her latest social media statistics, highlights brands she's worked with previously and details speaking engagements and events covered.
The page is super simple, yet extremely effective.
2. Make it easy for readers/brands to know exactly who you are/what you're all about.
Ah, the good old About page. If you didn't already know, your blog's about page is not actually about you; it's about your reader. (More on that here)
Chrystina Noel does a fantastic job on her About page breaking down her content into the three most popular topic areas on her blog and sharing a couple of posts under each category to give new readers a taste or what they can expect from Chrystina on a regular basis.
Make it easy for your readers to know exactly what they are going to get out of reading your blog.
PS- Chrystina also wrote a wonderful recap of my session with the PHLBloggers if you'd like to read that here.
3. Create a praise page.
No need to #humblebrag here! Your praise page is the place to share the lovely and kind things others have said about you and your brand without abandon.
I have a praise page where I share testimonials from my clients, blog readers and newsletter subscribers. I also use this space to share other blogs, websites, news outlets and podcasts I've been featured on.
Don't be afraid to ask your clients, coworkers and blog community for testimonials! Anytime you receive a nice email from someone about your blog, ask them if you can turn it into a testimonial. Whenever someone tweets something nice about you or your content, favorite it and embed it into your praise page.
4. Create a content roundup.
I'm a fan of using content roundups to grow your blog following. I detail what exactly that means and how you can do it in this post for The Write Life.
Your content roundups can be MASSIVE and super useful like The Write Life's 100 Best Websites for Writers or One Woman Shop's  100 Best Sites for Solopreneurs. Content roundups can also be done on a much smaller scale like my weekly Start Your Week Right Sunday roundups where I link up five links I loved from throughout the week. (Fun fact: my content roundup led to my first paying client!)
Creating a content roundup gives you the chance to highlight influencers you'd like to get to know and to showcase the work of others. It helps you to expand your network and community.
5. Be personal.
Vulnerable. Personal. Honest. Open. Transparent.
These are all words that have been used to describe this very blog. [Blushes]
I'm very proud that these are the words others associate with my blog because that means I'm being my true self both in real life and online.
I write about things that most people don't want to talk about openly, let alone share in a forum that's completely open to the world. However, doing this has led me to be able to build a community that truly trusts and respects me, which is awesome.
6. Blog about the work you do/what you want to attract.
How are people going to have any idea what kind of opportunities you want to attract if you don't talk about it?
If you want to find more writing opportunities, showcase your writing. If you want to work with more brands, talk about the current work you do with brands.
Pretty simple, but it's something we often forget (myself included).
To make this a priority, I recently published a #ClientLove update, simply taking the time to showcase the latest work I've done with some of my current clients. This gives people an opportunity to see what it is that I do and how I might be able to help them if they are looking for similar services.
7. Track your network (and stay in touch!)
This is where my crazy Type A tendencies come into play.
I have a networking spreadsheet with the names, contact information and last point of contact for everyone in my network. I break the folks down into categories: clients, potential clients, yoga and simply good people to network with/get to know.
I use this spreadsheet to ensure I'm staying close to my network and keeping in touch. I know there are tools out there that help you do this, but my old school Google Drive spreadsheet has been working just fine for me for now.
8. Be ultra-organized.
Again, organization is key.
Another thing that I do is I keep track of E-V-E-R-Y-T-H-I-N-G.
Monthly blog stats. E-newsletter stats. Public speaking engagements. Blogs I've been featured in. Media opportunities. Tweets I've sent (YUP. I have a spreadsheet of tweets)
I track it all. Tracking these items helps me to remember to regularly update the pages on my site, to promote my latest features on social media and to stay aware of my latest numbers to evaluate if what I'm doing is working.
Yes, it takes A TON of time, but I consider it to be highly worth it.
Want to learn how to do this yourself? Check out this post.
9. Promote yourself and your content using the rule of three.
Many newer bloggers get frustrated because they create amazing content and then wonder why no one is reading it. I recommend following the rule of three.
The rule of three is simple: every time you create a piece of content, promote it in at least three different places online.
You can tweak the message or use a different image, but be sure that you're giving your content a chance to shine by sharing it.
10. Find ways to highlight other bloggers/build community.
Promoting yourself and your work is super great and important. So is highlighting other bloggers and their work. This helps to build a strong community.
Consider featuring individuals in an interview series from Her Philly's Emily has done in this "Philly Women You'll Love" feature or feature a lot of people at once in a content roundup like I did in this "Words of Wisdom from the 25 Smartest People I Know on Becoming CEO" post.
11. Create a "Notice Me" List/Community List.
Twitter is one of my favorite tools to boost my brand. Twitter Lists help you take your Twitter use to the next level.
Twitter moves so quickly these days, it's hard to keep up with the people you actually want to see content from. I created two different Twitter lists that I monitor regularly:
Notice Me: My "notice me" list is a list of people I admire. Some are big time bloggers or influencers; some are people who simply put out great content who I don't yet know. I follow their tweets and interact with them to try to get my name on their radar.
Get Gutsy Community: The Get Gutsy Community Twitter list is filled with those who regularly read my blog, comment on my posts or share my posts on Twitter. I like to follow and interact with these folks to stay closely connected with my community.
I recommend using a tool like Hootsuite to track your lists because you're more easily able to view your lists in different streams, rather than using Twitter.com.
12. Interact with brands you love online.
Even if you don't have a "brand partnership" with a specific brand, the best way to get noticed by the brands you love is by talking about them!
See where you can mention them in posts and then be sure to tag them on Facebook, Twitter and Instagram when you're sharing.
One great tip that came out of the PHLBloggers seminar was to actually TAG the brand on Instagram (not just mentioning them in your caption) to help cut through the noise of the number of people likely mentioning them.
13. Pitch yourself to the media
Share your story with the media. Think it can't be done?
Take a look at what my friend Nicole from Simply Nicole did. She decided to reach out to a reporter from her local newspaper to talk about how she's building a business from her blog. To those who blog regularly, it may seem like a "duh, isn't that what we're all doing?" topic, but for mainstream media and especially local newspapers, this is a big deal and a unique story.
Nicole capitalized on that knowledge and landed herself a huge spread in her local paper.
What story can YOU tell? Don't be afraid to reach out to your local media.
14. Seek out affiliate opportunities.
Affiliate marketing is a really great way to boost your brand by sharing products/services you love and benefitting when someone clicks or makes a purchase through your unique link.
For those just getting started with affiliate marketing, I recommend checking out Smart Passive Income by Pat Flynn. He shares tons of tips and resources for using this strategy.
I've done a bit of affiliate marketing myself- mostly for products created by bloggers and websites I love. I plan to do more affiliate stuff in the future to promote some of the tools/products I've been using since starting my business.
15. Reach out to a brand with your own partnership ideas!
Wondering why brands aren't knocking down your door to work with you? Hey, why not reach out to them?
Tweet them. Send them an email. Find out if they work with a specific PR agency. Share your own ideas.
Most brands will be open to hearing what you have in mind. Even if it's not necessarily a "paid" opportunity, see if you can leverage reviewing a product or experience as a way to boost your portfolio and show other brands the type of work you can do.
Other Upcoming Speaking Engagements
If you missed this event but want to join me for an upcoming speaking session, here's where I'll be over the next few months!
April 16: The Blog Connect Conference: Community Blogging Panel
August 2016: *Details Coming Soon* I'll be speaking at a PR conference in Florida in August.
Book Me To Speak At Your Event!
Want me to present this topic to YOUR group? In addition to this particular presentation,  below are a few ideas of topics I speak about to small and large groups regularly:
Brand Boost:

Use Your Current Platform to Find New Opportunities
Personal branding and blogging: where to begin
Using social media to drive business results
How to become a freelance writer
Blogging 101
Public relations: sharing your story with the media
Interested in having me speak at your next event? Please reach out! 
Have other ideas to boost your brand? Share them in the comments below!
Want more gutsy content delivered straight to your inbox twice a month? Be sure to sign up for my FREE #GetGutsy e-newsletter filled with inspiration, ideas and action items to get out of your comfort zone. When you sign up, you'll also be sent a FREE copy of the Get Gutsy ebook, filled with 19 inspirational stories to help you get gutsy.