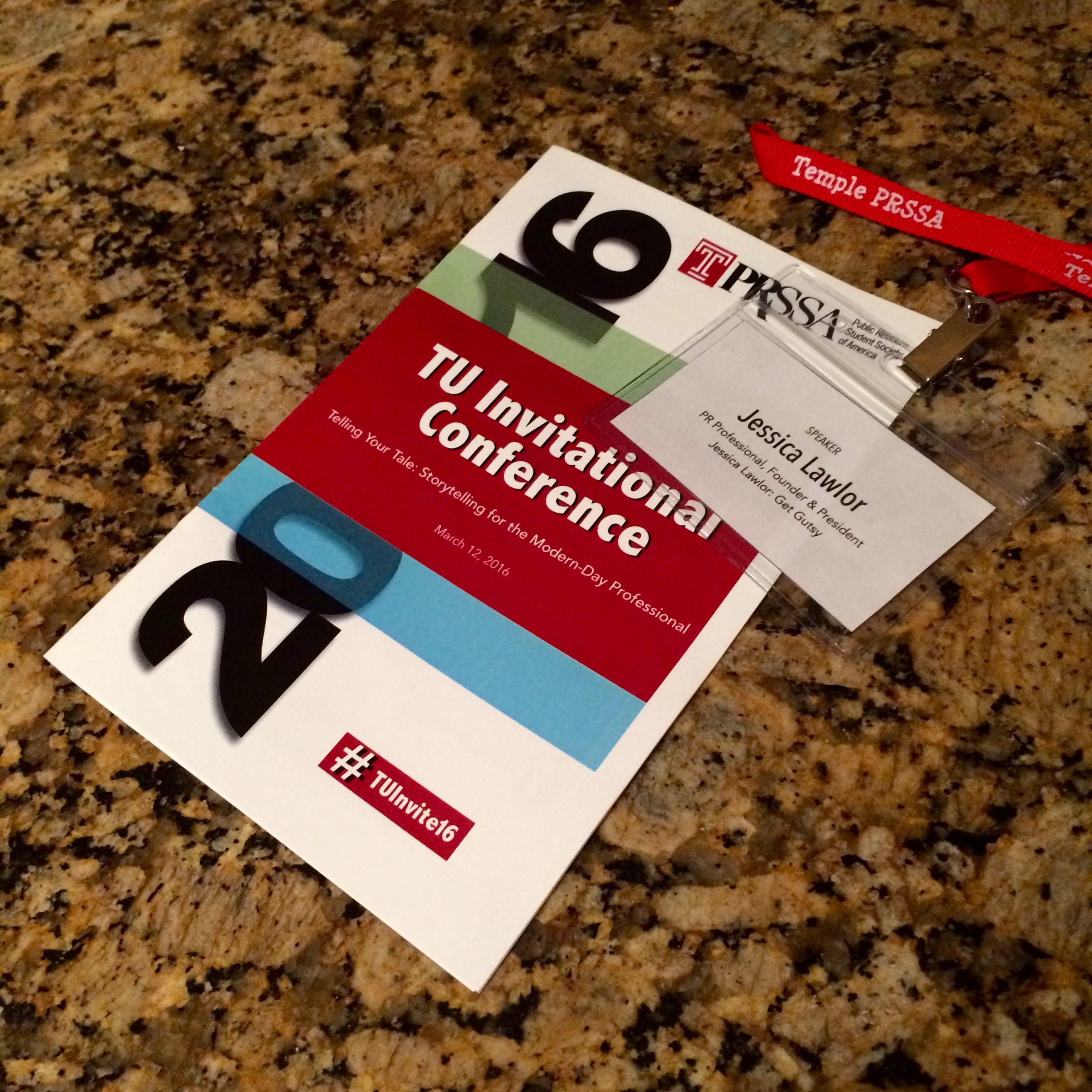 Last weekend, I had the pleasure of speaking to one of my absolute favorite groups at my alma mater, Temple University. I was invited to keynote at Temple PRSSA's annual TU Invitational, a day-long conference for public relations students in the Philadelphia area.
My session was called "Hustle Hard: Promoting Yourself & Your Business." The theme of the day was around storytelling, so my session dove deep into using personal branding and storytelling to authentically promote yourself and your business.
You can check out slides from my session here.
Missed the event? Here are some the highlights:
Hustle Hard: Four Step Framework:
The session kicked off with a framework for hustling hard to promote yourself and your business:
1. Create your narrative. What is the story YOU want to tell online and off? You need to know what that story is for you. For example, right now my narrative is around quitting my job to start my own business. That message is weaved into everything that I do and share with my community.
2. Develop an online presence and begin building a community. This is where personal branding comes into play. You'll need a website or a blog and some kind of presence on whatever social media networks you decide makes sense for you.
3. Shout it from the rooftops and share your story. Don't be shy. We are all the CEOs of our own personal brands- no one is going to tell our story except for us.
4. Repeat. Over and over again. Your narrative may change. Actually scratch that, over time, your narrative will definitely change. You'll need to repeat this process again and again throughout your career.
Personal Branding:
The definition: Personal branding is your online AND offline reputation; it's what immediately comes to mind when someone says your name.
We spent a lot of time discussing why personal branding is important and how it can benefit us as we share our own stories online and off.
Then, we got into specifics. We talked through how you can develop your personal brand through a website/blog, social media, email marketing and public relations (pitching your story to the media).
I aim for my presentations to be very tactical because I want attendees to leave the room ready to take action right away and knowing exactly how to do that. I loved seeing all of the attendees jotting down notes, taking pictures of my slides and asking tons of questions. I can't wait to see the great things they all do with their personal brands moving forward!
The Stuff No One Wants To Tell You:
Since you read this blog, you already know that I like to keep it real around here. I do the same in my speaking. After detailing all of the great things personal branding can do for you, I shared with the audience some of the stuff no one wants to tell you about building a brand online.
1. It's not easy.
2. Not everyone is going to agree with you or like you.
3. It takes time. A lot of time.
Want to check out my presentation? View it here.
Tweet Highlights From The Session
Love hearing the flawless @jesslaw at #TUInvite16 and gathering all her great advice!

— Kai Donnae (@KaiKai_baby) March 12, 2016
I think it's safe to assume we've all been inspired to hustle hard & tell our stories! Thanks, @jesslaw!#TUInvite16 pic.twitter.com/fhmI6XmnR0

— Jameeda (@_JRPR_) March 12, 2016
I am so inspired by @jesslaw to start my own thing! #tuinvite16

— Ai Zhang (@aiaddysonzhang) March 12, 2016
Frequently Asked Questions
I was thrilled that the audience had so many great questions throughout the presentation. Here are some of them! I've answered them briefly below, but will be answering them in more detail in upcoming blog posts.
Can I be myself on social media? Is it okay to be silly sometimes or talk about TV shows I love? YES and YES. Bring your whole self into your personal brand. People connect more with those they actually like and enjoy communicating with. Don't be afraid to infuse your personality into what you do.
Should I have a personal and a professional Twitter account? No! Your personal/professional life are not separate. Not in 2016. One Twitter account.
How frequently should someone blog? It depends! I blog 2-3 times per week. I spend more time *promoting* my content.
How do you start a blog? Big question! This great guide from The Write Life should help.
What platform should I use to start a blog? I recommend WordPress. Others tell me Wix is easy to use, as well.
What if I'm not a designer? Believe me, I'm not either! I use Canva to create graphics for my blog, but enlist a professional designer for bigger projects (like my website design and business cards). If you have a very limited budget, consider doing a trade with someone i.e. your writing services for their design services.
How should I connect with people I don't know on LinkedIn? Add a short personal note to your invitation: "I see you do _____ and I'm interested in _____. Would love to connect!"
I want to start freelancing. What should I do? Start talking about what you do! Put it out there on social media and on your website/blog. Offer your services for free to non-profits or other organizations you love to get some experience and a case study.
Other Upcoming Speaking Engagements
If you missed this event but want to join me for an upcoming speaking session, here's where I'll be over the next few months!
April 7: PHLBloggers members-only event: Brand Boost: Use Your Current Platform to Find New Opportunities

April 16: The Blog Connect Conference: Community Blogging Panel
August 2016: *Details Coming Soon* I'll be speaking at a PR conference in Florida in August. Stay tuned!
Book Me To Speak At Your Event!
I LOVE speaking to small and large groups about a variety of topics around public relations, social media, personal branding and careers.
Below are a few ideas of topics I speak about:
Personal branding and blogging: where to begin
Using social media to drive business results
How to become a freelance writer
Using your personal brand to land clients and opportunities
Blogging 101
Public relations: sharing your story with the media
Interested in having me speak at your next event? Please reach out! 
Thank you SO much to Temple PRSSA for inviting me to speak! Did you attend my session at the TU Invitational? What did you think? I'd love to hear your feedback!
Want more gutsy content delivered straight to your inbox twice a month? Be sure to sign up for my FREE #GetGutsy e-newsletter filled with inspiration, ideas and action items to get out of your comfort zone. When you sign up, you'll also be sent a FREE copy of the Get Gutsy ebook, filled with 19 inspirational stories to help you get gutsy.