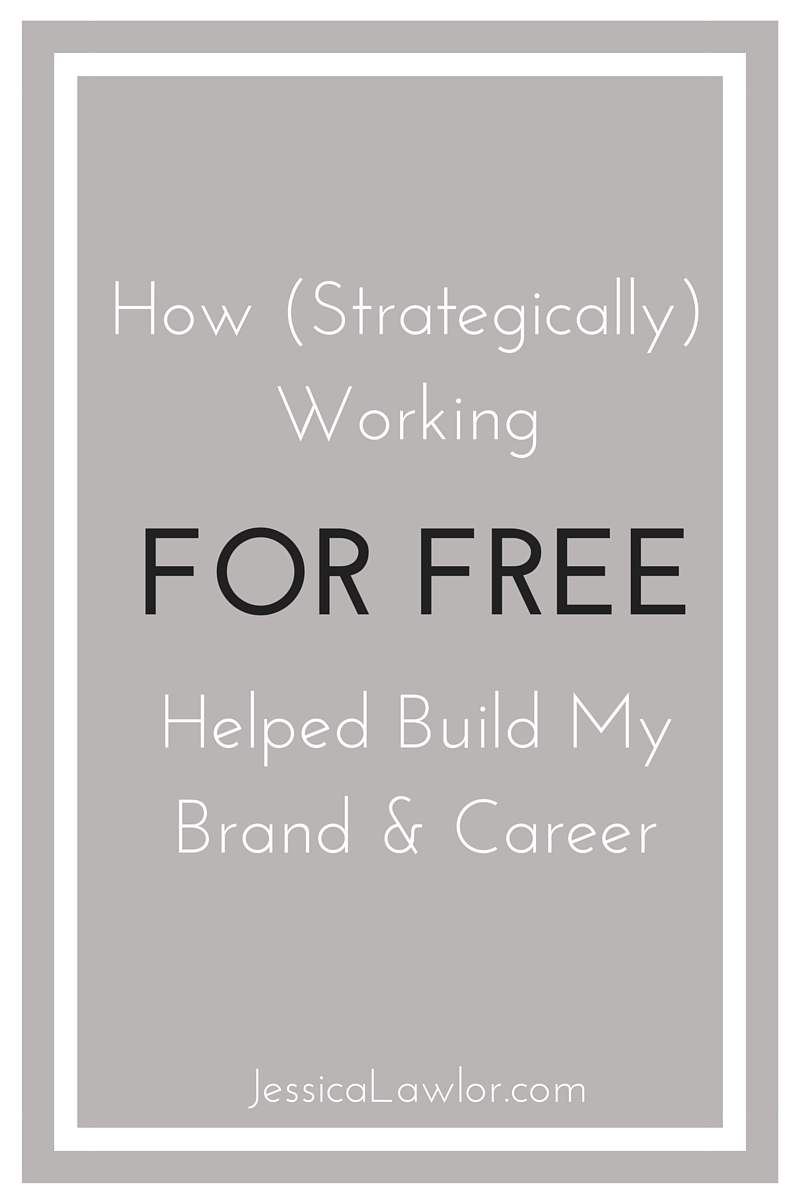 Last week, popular writing website, The Write Life, published a post I wrote about three times working for free can help your freelance writing career.
Things got heated in the comments.
Then I asked my Twitter community what they thought- and things got a bit heated there, too.
No doubt, working for free is a controversial topic.
It makes sense- who wants to work for free? When we offer up our expertise and services without charging, we can set a precedent that our work isn't valuable.
However, as I outlined in The Write Life post, there ARE times when it 100 percent makes sense to work for free. And more than makes sense, there are times that working for free can actually kickstart a thriving career doing whatever it is that you love.
Unpopular opinion or not, I built my blog, brand and career by strategically working for free. Here's why (and how).
Unpaid work can often turn into paid work. 
This is one of my absolute favorite stories to tell (and one I don't think I've told here on the blog before). Many of you know that I'm the features editor of the Muck Rack blog– Muck Rack is a longtime client of mine- we've been working together for almost three years now! Crazy.
The way I got to know Muck Rack was by stumbling upon an awesome article written by the company's founder, Greg Galant. I included his article in my weekly Start Your Week Right Sunday post and tagged him on Twitter as I do each week for all those featured. Greg reached out to me to say thanks and asked if I'd be interested in writing a guest blog post for Muck Rack.
I agreed and over the next few months wrote a couple of posts for the blog. After that, Greg and I jumped on a brainstorming call and discovered that there were other ways we could work together- Muck Rack was looking to develop a stronger content strategy and brought me on to manage all feature content and some social media.
Find awesome content -> share content on my blog –> write guest blog post –> land longtime client
This trajectory doesn't happen every single time, (though wouldn't that be wonderful?!) but it *can* happen and when it does, it's pretty great.
Similarly, unpaid work doesn't always turn into paid work, but often times, it helps to build a relationship and allows you to show off your skills in an almost trial-like setting.
Writing for free offers me exposure I can't get myself. 
The Write Life has more than 12,000 followers on Twitter. Elephant Journal has 29 million page views. One Woman Shop posts reach a very targeted, niche audience who I want to connect with. Spin Sucks is one of the top public relations blogs in the world and posts I've written for them have been syndicated to PR Daily, another super reputable source in the PR world.
These are all publications/blogs that I have written for- for free.
Why? These awesome websites offer me exposure that I can't get myself. This blog doesn't have the type of traffic that Elephant Journal has. My newsletter doesn't have the reach of The Write Life. I don't have the Twitter following of Spin Sucks or PR Daily.
Strategically writing guest posts for these blogs introduces me to a new audience, often times enticing them to head over to my blog or newsletter to become part of this community. In many cases, when I've written for these blogs, I've timed my post with the launch of a course or service I offer, linking to that specific opt-in within the post (if allowed) or in my bio.
Working for free has boosted my reputation.
When you click onto someone's blog or website and see the logos of the publications and blogs you read, that's pretty impressive, right? You think, "Wow, this person has written for [insert name of awesome publication here]. They must be the real deal." I know I feel that way.
Take my inspiring friend Melody Wilding as an example. When I click onto her website, my eyes are immediately drawn to her "As Seen In" bar featuring the logos of Fast Company, Forbes, Glamour, Cosmopolitan and more. I see those logos and I think, "WHOA. Melody is amazing. She must be a great writer if all of these sites have published her work."
Now, I have no clue which of those sites, if any, pay Melody, but as a casual reader and potential client/customer, I don't really care. Those logos have already done their job. I already have positive feelings about Melody and her work, and I want to get to know her more.
I take the same approach when it comes to guest blogging for free. Being able to say I write for X publication carries weight and having the names of respected publications/blogs in my portfolio and bio can help to boost my reputation.
This is one of the reasons why so many people choose to write for The Huffington Post even though they are notoriously known for not paying their guest bloggers.
Trading/bartering is one of my favorite ways to work "for free."
Bartering is one of my favorite ways to "work for free." When you do a trade, you often get something that you want/need, while offering up your expertise and services to the other party.
Here's a great example: when I graduated from yoga teacher training in June, a friend introduced me to the wonderful Jennifer Kreatsoulas of Chime Yoga Mentor. At the time, Jennifer needed assistance with content/social strategy and developing/growing her email list as she prepared to launch her business (since then, she's been so successful she actually also quit her job to focus on her biz full-time! Woohoo!). In exchange for my branding/marketing expertise, Jennifer serves as my yoga mentor, helping me to become a stronger teacher.
This trade works perfectly because Jennifer is able to learn new skills for her business and I'm able to grow as a yoga teacher. These things are important to both of us, and while neither of us are paying each other, we're both benefitting in an amazing way.
Oh, want to know why else trades are great? I've been able to use my work with Jennifer as a case study, which so far has led to one paying client and another *potential* client in the works.
An important thing to keep in mind about trades: don't do too many (especially at one time). Trades are awesome, but they do take just as much time and energy as a paying client, so manage your time wisely.
This blog is my greatest sales and marketing tool. 
You'll notice there is NO advertising here on the blog. I also rarely accept sponsored/affiliate opportunities unless they are the perfect fit for this community.
Case in point: this blog doesn't make me a whole lot of money. In fact, this blog actually *costs* me money when you consider hosting fees, design, etc.
However, know what this blog does do for me? It gets me noticed. It introduces me and my work to a whole world of people who otherwise would have absolutely no idea who I am. This blog is part of my personal brand. This blog is how potential clients find me.
This blog is my greatest sales and marketing tool.
Besides the fact that this is my passion and I deeply love this community, I'll continue to blog because I know that this blog is the reason I was able to quit my job to make my dreams a reality.
I spend hours working on this blog and growing the Get Gutsy community. Sure, it doesn't have a direct return on investment financially (i.e. I don't get a paycheck of any kind for blogging), but sometimes you need to dig a little deeper to see the true benefits.
Take It Or Leave It
Listen. I get it. Working for free isn't necessarily fun. And yes, when we work for free over and over again, we open ourselves up to potentially being taken advantage of.
Some might argue that the more we continue to work for free, the harder it will be for all of us to ever make money. Yes, this may be true, but whether we like it or not, there are people out there hustling, working for free, building their relationships, growing their portfolios and eventually turning that hard work into money and successful businesses. You can choose to stand your ground and potentially limit your growth or you can become part of it and see where the opportunities may take you.
As for the advice in this post? Take it or leave it- the point of this post isn't to tell you to work for free. Instead, I'm simply sharing the strategic approach that has personally worked so well for me.
What works for me may not work for you. You need to make the choice that's right for YOU. You need to define your boundaries, decide what you're comfortable with and stand strong in whatever decision you make.
Now that I'm running my own business, obviously getting paid and making a living is a top priority. I'll be taking on less unpaid work (for obvious reasons), however, I know that all of the unpaid work I've done in the past is what has led me here. Similarly, I won't be afraid to strategically say yes to unpaid opportunities after I've considered the long-term ROI.
Simply put, I'm grateful for every person I've had the chance to work with whether paid, unpaid or traded. I'm thankful for every single opportunity that has led me to this point where my blog/brand have grown strong enough that I am able to wake up every single morning, run my business and pursue my passion.
(Okay, things may have gotten a little heavy here today. Click over to this hilarious "Should I Work For Free" graphic if you need to LOL)
Interested in learning more? Head over to my post on The Write Life about the three times it makes sense to work for free.
Over to you! Have you ever worked for free? How did the experience turn out for you? Staunchly against it? I'd love to hear from you too! Let's start a discussion in the comments.
Want more gutsy content delivered straight to your inbox twice a month? Be sure to sign up for my FREE #GetGutsy e-newsletter filled with inspiration, ideas and action items to get out of your comfort zone. When you sign up, you'll also be sent a FREE copy of the Get Gutsy ebook, filled with 19 inspirational stories to help you get gutsy.