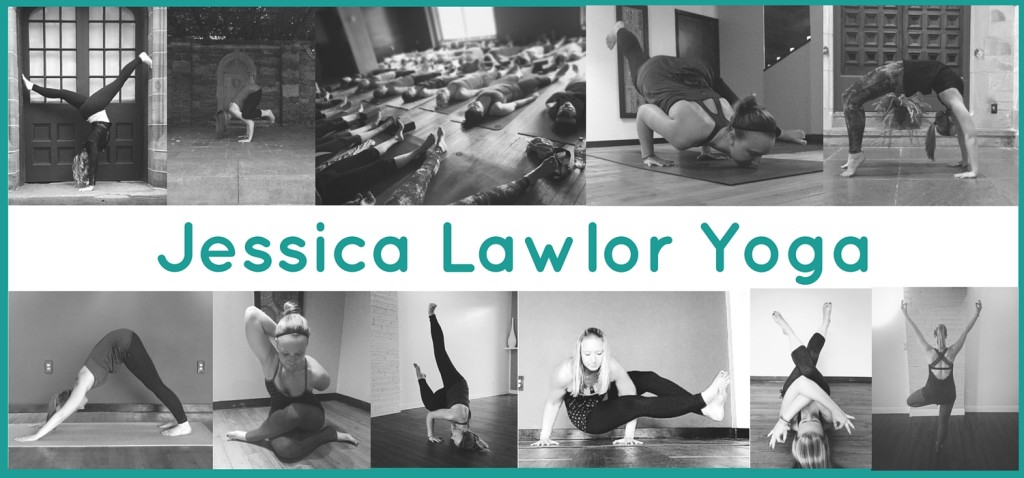 It's no secret that yoga has completely changed my life.
My personal transformation through yoga and journey to becoming a teacher is well documented here on this blog. I love that you've all joined me on this ride- and I hope my story has inspired some of you to start your own practice!
Since I left my job to become CEO and do my own thing in February, things have really picked up with the yoga side of my business!
Here are 7 *super* exciting things happening in my yoga world right now.
1. I launched a dedicated yoga section of my website.
Eeeeeks! Check it out! 
This has been on my backburner to-do list for quite some time, but I recently got a sudden burst of inspiration and spent an entire day creating a dedicated page for yoga on my website.
On the yoga section of my site, you can read my yoga story, see my up-to-date class schedule, learn what you can expect from my classes, hear directly from my students and see some of my most popular yoga-related blog posts.
In creating this page, I asked students to describe my teaching style and classes and was so delighted to hear words like: upbeat, friendly, welcoming, challenging, balanced, inspirational, accessible and fun.
Here's what one of my students had to say:
"Jessica's classes are the perfect balance of challenging and relaxing. Whether you're someone just starting out in the practice or a seasoned yogi, Jessica's classes offer the opportunity to try new things while still listening to your body and knowing your abilities. Her class themes help me to focus my energy inward and grow as both a yoga student and a person." -Rachel L.
I'm so happy to have an online home that accurately reflects my passion for yoga and for teaching!
2. I'm leading my first workshop.
When I completed yoga teacher training last June, I set a personal goal to teach my first workshop within a year of completing the program.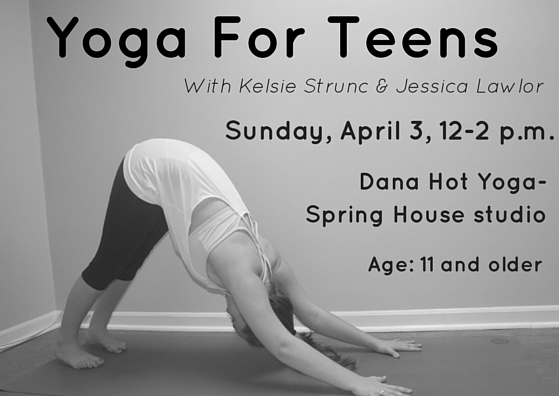 On April 3, I'm co-leading a workshop with one of my best friends and fellow yoga teachers, Kelsie Strunc. Our workshop, Yoga For Teens, is designed to introduce teenagers to the wonderful practice of yoga.
This workshop idea was inspired by our friendship with teenage yogi Mel who practices regularly with both of us and once said to Kelsie, "The world would be a better place if everyone did yoga."
Can you say, wise beyond her years?!
We planned out the workshop last weekend and we have a lot to pack into two hours: a little bit of journaling, some discussion, flow, fun partner poses and more! We're also encouraging our teenage yogis to bring their phones into the studio (normally not allowed!) to share their experiences during designated times.
3. I'm completing an advanced teacher training in April.
Yoga teacher training was one of the most wonderful experiences I've ever had.
I've been seeking out another training to deepen my practice/teaching and was beyond thrilled when I found Brittany Policastro's Beyond Asana Advanced Teacher Training Intensive.
This 5-day, 40-hour training will cover advanced sequencing, the energetics of teaching, the chakras, creating a brand and more. I can't wait to dive in! Best of all, a few people from my teacher training last year are also completing this training! It will be like a mini-reunion.
I am always looking for new ways to advance my teaching and myself, so having this training on the horizon makes me so happy. I'm also beyond excited that I work for myself and create my own schedule, so I won't have to worry about taking days off of work to complete this training.
4. I'm teaching (A LOT) and will be teaming up with Lululemon in King of Prussia for a FREE class in April.
Since leaving my job and clearing my weekday schedule, I've had SO many more opportunities to teach.
I'm teaching on average 4-5 classes a week, adding up to around 15-17 times a month, which is thrilling for me! I am beyond grateful to my home studio Dana Hot Yoga for allowing me to teach and for the other area studios I sub at and am beginning to work with more.
No doubt, teaching still terrifies me from time to time and I feel butterflies every time I step in front of a room full of students, so the more practice I get, the more comfortable I feel.
I was so honored to be invited to teach a FREE community class at the Lululemon in King of Prussia on Sunday, April 10 at 10 a.m. If you live in the area, come out for this one-hour class in the store!
5. I'm going on my first YOGA RETREAT!
A week-long vacation in a tropical paradise in the dead of winter plus YOGA twice a day?! This is what a yoga retreat is and it sounds like heaven.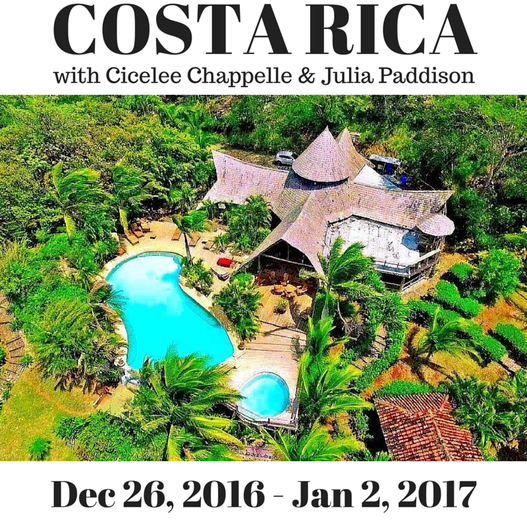 Luckily, one of my best friends Julia Paddison and one of my absolute favorite yoga teachers Cicelee Chappelle are hosting a yoga retreat to Costa Rica over New Year's and I'm 100 percent going.
I've been interested in participating in a yoga retreat for awhile now but never found one that worked with my schedule and/or budget. This retreat is the perfect fit.
The resort looks beautiful, I hear the food is delicious and we're just a few minutes away from several world-renowned beaches. Oh yeah, and yoga with two of my favorite teachers twice a day. It's my personal heaven!
Can't wait to find out the true meaning of PURA VIDA!
6. I'm still loving my work with my yoga mentor, Jennifer Kreatsoulas.
After teacher training, I began working with Jennifer Kreatsoulas of Chime Yoga Mentor.
Jennifer specializes in mentoring new yoga teachers and helping them come into their own. Jennifer told me she started this business because she saw a need- teachers leave teacher training (which is a very intimate and personal environment) and are left to deal on their own and figure out the crazy world of yoga.
We've been working together now for several months and it has been beyond helpful. Jennifer and I meet weekly and she helps me with everything from writing new flows, cleaning up my cues and yoga language, preparing for teaching auditions and new opportunities, navigating the energetics of teaching and more.
Jennifer and I have a wonderful partnership in that she mentors me with my teaching and I mentor her with branding and social media for her business. I feel like Jennifer and I were meant to meet and work together. Since beginning our work together, we've both quit our full-time jobs to take our businesses full time! We're also now working on a client project together and I have a feeling there's so much more out there for us to partner on in the future!
7. My yoga world and business world have collided in the best way possible.
I had no idea this would happen when I became a yoga teacher, but my yoga world and my communications/PR worlds have completely collided and I LOVE it.
It all started with helping my friend Julia Paddison build her yoga teaching brand online. I'd help her with her newsletter strategy, edit her blog posts and help her craft posts for social media.
Then, Jennifer (above) and I began working together on similar projects.
Now, several yoga studios, teachers and other health and wellness-related brands have reached out for assistance with the branding, social media, email marketing and public relations. I LOVE that I'm able to blend my communication expertise with my passion for yoga, health and wellness. I'm having a blast working with these clients!
If you're a yoga teacher, studio or brand and are curious to learn more, check out my communications consulting services and reach out if you'd like to chat further.
Wow! So many amazing things can happen when you CLEAR SPACE both in your schedule and your life to open yourself up to new possibilities. No doubt, I am feeling beyond grateful for all the good and all of the opportunities in my life.
Have any questions about practicing or teaching yoga? Leave them in the comments below!
Want more gutsy content delivered straight to your inbox twice a month? Be sure to sign up for my FREE #GetGutsy e-newsletter filled with inspiration, ideas and action items to get out of your comfort zone. When you sign up, you'll also be sent a FREE copy of the Get Gutsy ebook, filled with 19 inspirational stories to help you get gutsy.