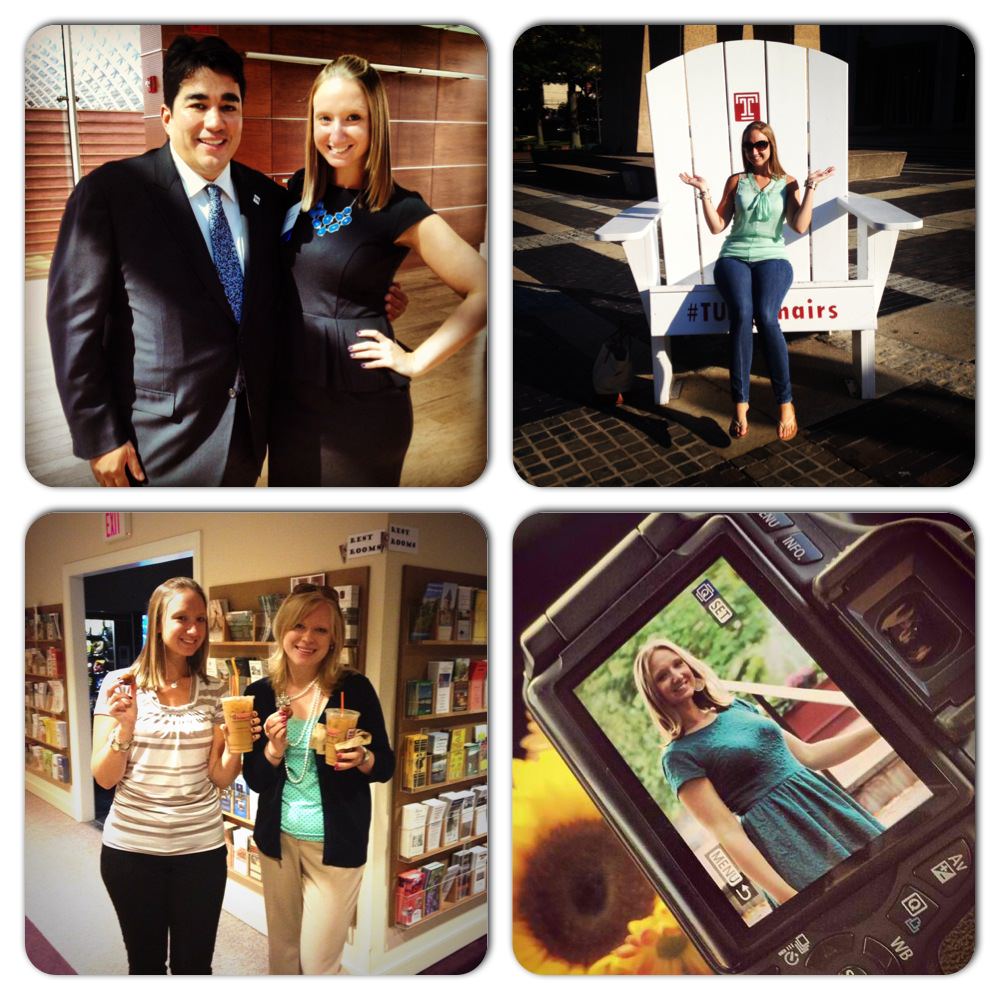 Each month, I share three things I accomplished in the previous month and preview three things I'm excited about or hoping to accomplish in the month ahead. It's fun to look back and forward, and as an added bonus, these monthly check-ins keep me accountable to reach my goals.
I hope you'll join in and share your three things in the comments section! I've been thrilled to see that other bloggers enjoy my monthly check-ins and have adopted the format for their own blogs- this is AWESOME! If you write a similar monthly check-in/look ahead post, please feel free to utilize this format (I'd appreciate a brief shout-out) and be sure to leave a link in the comments below so we can all support you in your goals for the coming month!
In September, I…
1. Fell in love with hot yoga. After rekindling my relationship with yoga this past summer, I took advantage of a two-week unlimited hot yoga offer at a local studio. I was very nervous when I went to my first class- I don't love the feeling of being overheated, but I've heard such amazing things about the physical and mental benefits of hot yoga that I knew I had to give it a try. After one class, I was totally hooked. The heat didn't overwhelm me as much as I thought it would; in fact, I love sweating it all out and leaving class a drenched, sweaty mess! I also love the inspirational quotes and stories the instructors start each class with. Hot yoga has been a physical, mental and emotional challenge and I look forward to continuing my practice in the months ahead.
2. Met Iron Chef Jose Garces. As I've mentioned before, I'm the Vice President for Communication for the Philadelphia Public Relations Association. Each year, the organization honors individuals or companies whose accomplishments have left a lasting impact on the Philadelphia community. This year, we honored Iron Chef Jose Garces, who owns several (delicious) restaurants in Philadelphia and founded the Garces Family Foundation committed to ensuring that Philadelphia's underserved immigrant community have access to medical, educational and nutritional services. What a man! It was a pleasure to learn more about his background and amazing causes; plus, the food at the event was out of this world delicious. I had the chance to meet Chef Garces at the end of the event and he couldn't have been a kinder and more humble person.
3. Modeled for a blog photo shoot. After years of awkwardly cutting my face out of group pictures and calling that a "headshot" I knew it was time to schedule a real photo shoot that better reflects who I am here on the blog. My friend and photographer Stephanie from Artfully Adored graciously offered her (incredible) photography services and we set out for a fun fall day of taking photos all around New Hope and Doylestown. I shared some preview photos last week and can't wait to see and share more of the photos when Stephanie is finished editing them. If you're in the Philadelphia area and looking for a photographer, I highly recommend Stephanie!
In October, I will…
1. Travel to Savannah with my mom for a long weekend getaway. This should technically be in the past tense, since I'm writing this post on October 8 and I just returned from Savannah yesterday, but expect a full recap next month! My mom and I wanted to plan a quick getaway for early October and we've always wanted to visit beautiful Savannah, Georgia. I've never been down South before and I absolutely loved the charm, warmth and beauty of this quaint town and the kind people who welcomed us every which way we turned. And the food…oh, the food! I could write an entire blog post on all of the incredible meals we ate in Savannah. More to come on this!
2. Attend the PRSA International Conference in Philadelphia. I am SO excited because this year the Public Relations Society of America's International Conference is right here in my own backyard! I'm super grateful that my work is sending me to this amazing conference and I can't wait to meet some PR professionals that I've chatted with for years on Twitter, but haven't yet met in person (Jason Mollica, I'm looking directly at you!). There are going to be so many great educational sessions and I'm really looking forward to the keynote with Brian Solis.
3. Celebrate my blog's one year anniversary. As I shared last week, on October 1, this blog turned one year old! I mentioned big plans for the future, including a Twitter chat and a #GetGutsy essay contest, so please stay tuned for details. I've been a blogger for more than five years under various blog names and niches, but I feel like I've finally found my place in the blog world and truly believe in and am passionate about what my blog stands for: getting out of your comfort zone to live a more fulfilling life.
September Posts You May Have Missed
Four Ways to Use That Back-to-School Energy to Kickstart Your Goals
+1 for Purina: Personalized Messages on Social Media Turn Animal Lovers Into Potential Customers
Answer This: When Was The Last Time You Did Something for the First Time?
#ProjectPumpkin: The Quest to Find Fall's Best Pumpkin Spice Coffee
Hi, My Name is Jessica and I'm Addicted to my iPhone
What did you accomplish in September and what are you looking forward to accomplishing in October? Share your three things in the comments below!
Want more gutsy content delivered straight to your inbox twice a month? Be sure to sign up for my FREE #Get Gutsy e-newsletter filled with inspiration, ideas and action items to get out of your comfort zone.