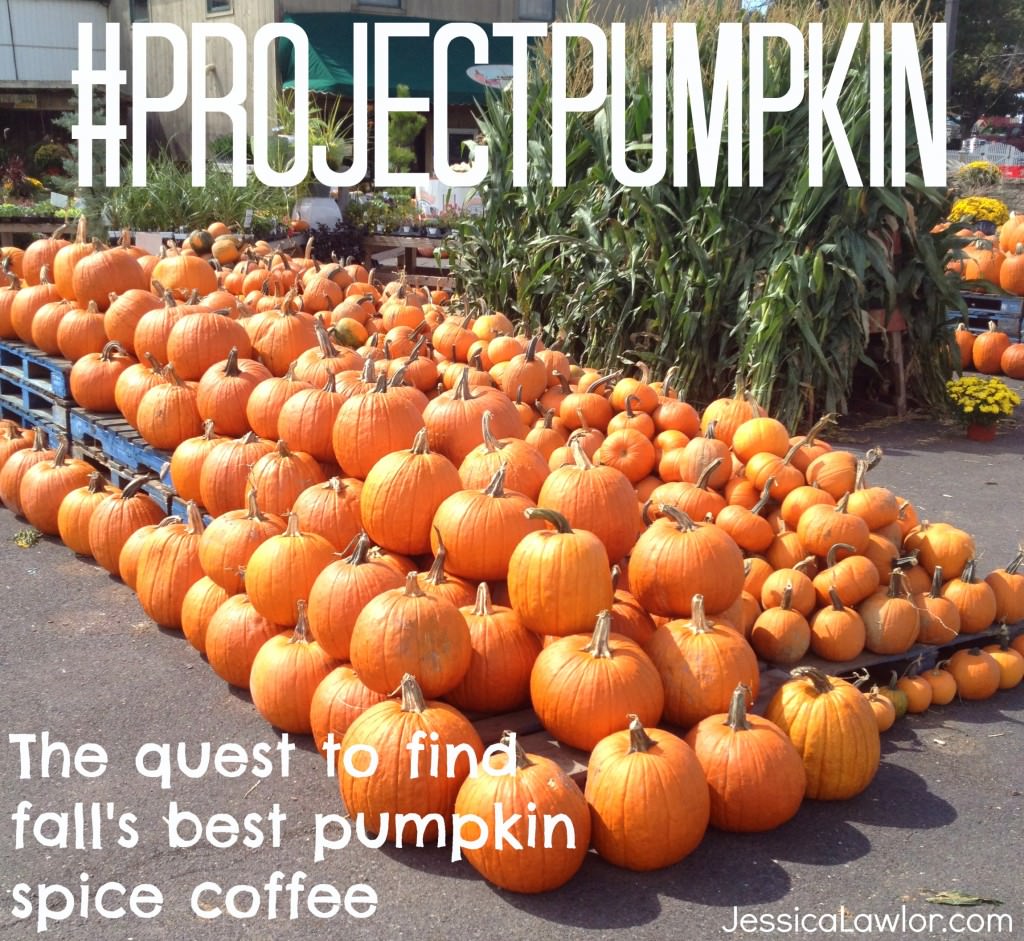 One week. Two girls. Five Pumpkin Spice Coffees from five different shops. Only one cup can be crowned the winner.
To officially celebrate the start of fall, my good friend Rachel and I decided to embark on a tasty experiment to determine which coffee spot serves up the best pumpkin spice coffee.
Every day, for five days, we tested out pumpkin coffee at five local spots: Dunkin' Donuts, 7-Eleven, Panera Bread, Starbucks and Wawa. We documented the experiment on Twitter using the hashtag #ProjectPumpkin and at the end of the week…we settled on a winner.
Keep in mind: this was by no means a scientific experiment. Naturally, there are more than five spots that serve pumpkin coffee, but we selected the five most popular (in our opinion). We also taste-tested a mixture of both hot and cold pumpkin beverages; no discrimination there.
Let's see how our #ProjectPumpkin contenders stacked up:
Day 1. Dunkin' Donuts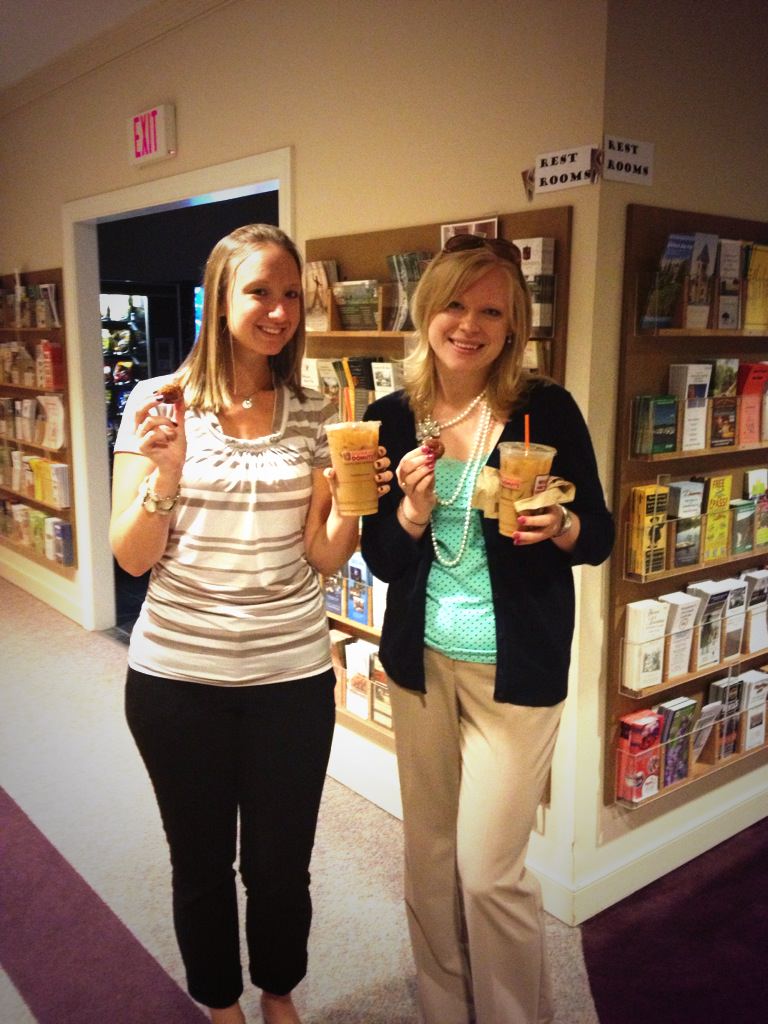 Rachel:
The flavor of Dunkin' Donuts Pumpkin Iced Coffee is excellent. You get smooth pumpkin taste with just the right amount of spice- like they blended up pumpkin pie and somehow made it into coffee.  My preferred blend is Pumpkin Iced Coffee with skim milk. I don't like my coffee overly-sweet, and I find that the syrup alone gives the perfect amount of flavor and sweetness to the coffee. Bonus points for simplicity in the ordering process!
Rating: 4/5
Jessica:
Ah, Dunkin'. I have to admit I was a little biased before this experiment even began because I happen to be a Dunkin' Donuts superfan. Like Rachel, I also ordered the Pumpkin Iced Coffee, although mine had skim milk and two Splenda; I like my coffee on the sweeter side.  The pumpkin flavor in DD's iced coffee is just right- it's definitely there (and delicious) but it's not too overpowering or syrupy. Oh, and major bonus points for the incredible pumpkin munchkins we also enjoyed.
Rating: 4.5/5
Day 2. 7-Eleven
Rachel:
Despite the nostalgia I have for 7-Eleven as a brand from my Temple University days, I am well aware that consistency is lacking when it comes to their cappuccino. My go-to combination is a 16 oz. cup with ½ Pumpkin Spice Cappuccino, ½ regular coffee. If the machine is having a good day, the flavor can be nice. Today, it smelled pretty good but tasted like a hint of cinnamon in watered-down coffee. This is Pumpkin Spice Coffee for people who really only care about getting a caffeine fix  but want to pretend to be Pumpkin Spice-fanatics. Sorry, Sev.
Rating: 2.5/5
Jessica:
I was definitely skeptical about trying Pumpkin Spice Coffee from 7-Eleven. With so many awesome coffee options around my work, Sev isn't the first place that comes to mind when I need a caffeine jolt. However, I was pleasantly surprised by their coffee and my entire 7-Eleven experience. Rachel clued me in to her little trick of  ½ Pumpkin Spice Cappuccino, ½ regular coffee, so I gave that a try. We both agreed that the coffee tasted more cinnamon-y than pumpkin-y, but I happened to really enjoy it. I wanted to give Sev a 3/5 because I genuinely liked the coffee, but since this is #ProjectPUMPKIN and this coffee wasn't very pumpkin-y, I'm going to have to go with a 2.5
Rating: 2.5/5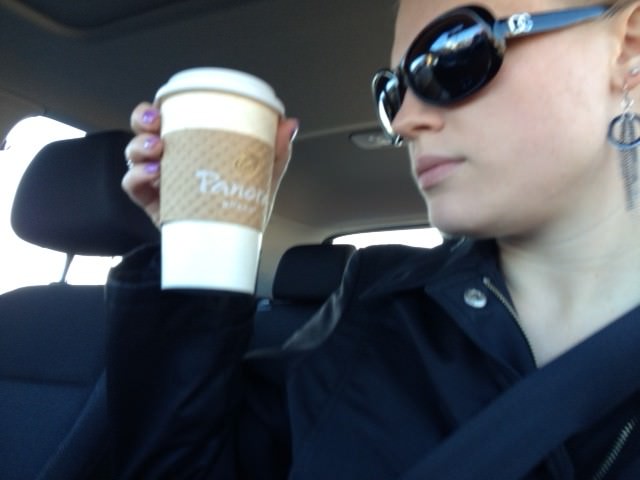 Day 3. Panera Bread
Rachel:
Well, I am sad to say that Panera Bread's Pumpkin Spice Latte did not live up to my expectations… not even a little bit. I'm not even sure that the Pumpkin Spice flavor ended up in my cup-it just tasted like warm milk. Definitely would not try that again.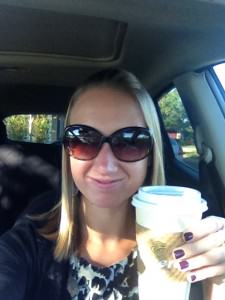 As a side note to baristas everywhere- when people order skim milk, there is usually a reason. If you do not have it, just let me know. I was disappointed to watch the Panera employee preparing my coffee put 2% milk in without batting an eye (I did check my receipt, it said skim). I know this sounds pretentious, but when you have dietary issues that can be avoided by
drinking skim milk, you shouldn't have to worry about sneak-attacks from employees who just do not care (or who possibly don't know the difference).
Rating: 1/5
Jessica:
YIKES. I really did not want to have to slam any of the #ProjectPumpkin contenders, but Panera Bread's Pumpkin Coffee was a huge disappointment. At Panera, I asked the barista to give me a little bit of the Pumpkin Spice syrup in a cup and then I filled the rest with regular coffee. I took three sips and unfortunately had to dump the rest. It was barely drinkable- way too processed and tasted like cough syrup. No, thank you.
Rating: 0.5/5
Day 4. Starbucks
Rachel:
Today I tried a Starbucks Nonfat Pumpkin Spice Latte (hot). The flavor was excellent-it had the perfect amount of spicy, pumpkin-y flavor that warmed both my hands and my spirits on a cool Friday morning! If Starbucks was not so expensive ($4.82 for a Grande), this would be a beverage I'd savor more often!
Rating: 4/5
Jessica:
I was in the mood for iced coffee on this crisp Friday morning, so I went with Starbucks' Nonfat Pumpkin Spice Iced Coffee. I ordered a tall (whoa…when did those cups get so tiny?!) but truly enjoyed every sip of my drink. The pumpkin flavor was clearly there with just the right blend of coffee. I really love Starbucks, but their coffee tastes very rich to me so I like to savor it every so often, on special occasions or on days where I really need a treat to get me going!
Rating: 4/5
Day 5. Wawa
Rachel:
I love the variety of flavors that Wawa offers, but the pumpkin department was a surprising letdown. I ordered a Pumpkin Latte from the touch screen (meaning that an employee makes the drink, rather than pouring it yourself from the coffee station), and while it had good coffee flavor, it was not very pumpkin-y. I will give Wawa a 3 out of 5 for their variety of pumpkin offerings (cappuccino, coffee and latte) but they get points off for the weak flavor.
Rating: 3/5
Jessica:
People in the Philadelphia/South Jersey area seem to LOVE Wawa coffee, but to be honest, it has never done much for me (although I am a HUGE Wawa fan and feel bad for all you people who don't have one near you!). I found that sentiment to hold true when testing their Pumpkin Spice Coffee flavor (from the regular coffee machine, not the touchscreen with fancier drinks). I can't exactly pinpoint WHY I didn't fall in love with this coffee, but it just tasted pretty average to me, especially compared to some of this week's other contenders.
Rating: 2/5
And the winner is…
***Dunkin' Donuts Pumpkin Iced Coffee!***
Both Rachel and I agreed that the great flavor mixed with an affordable price (plus, Dunkin' almost always has amazing coupons!) makes this our #1 choice! If you haven't tried their delicious Pumpkin Coffee yet, run (don't walk) to your nearest Dunkin' to try it for yourself.
Happy Pumpkin Spice Coffee season!
Weigh in! Who makes your favorite pumpkin-flavored coffee? 
PS- We had so much fun live-tweeting this experiment throughout the week! Kudos to the brands who played along and chatted with us on Twitter. In case you were wondering: Dunkin' Philly and 7-Eleven both jumped in and and joined the conversation. Sadly, Panera Bread ignored our comments on Twitter. Starbucks favorited one of our tweets and Wawa didn't interact at all. It was interesting to see which brands "get it" and have fun engaging with their superfans!