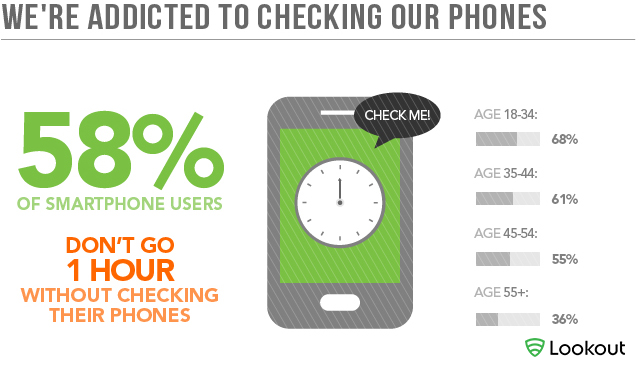 Do you know where your smartphone is?
According to a Mobile Mindset study, 73 percent of you would feel panicked if you didn't know where your phone was at this exact moment.
Hi, my name is Jessica and I'm addicted to my iPhone.
I bet you are too…well, maybe not your iPhone, but Android or Blackberry…whatever your choice of smartphone.
Articles about smartphone addiction are everywhere. New reports come out all the time with interesting stats about how we use our smartphones in the bathroom (gross), on the road (dangerous) and even in our beds. This is clearly nothing new, but it's definitely getting worse.
Last night I went to an hour and a half hot yoga class. Obviously, there's a pretty strict rule that phones are NOT allowed in the studio. I kept my phone tucked away in my bag in a cubby in the reception area for the hour and a half class. It's probably the longest amount of time during the day (besides when I sleep) that I'm away from my phone. (Yikes…that's sad).
The moment class ended, I noticed every single student (myself included- guilty!) immediately pull their phones out of their bags,  instantly forgetting the zen-like atmosphere we just immersed ourselves in and jumping right back into the real world.
I started thinking about all the other tell-tale signs of my iPhone addition:
The serious anxiety I felt while my phone updated to iOS7 and I was without it for about an hour- although, in my defense, I was on my way to an important work event without access to my phone- bad timing.
Immediately checking my email on my phone the moment my alarm rings before I even get out of bed. Not to mention the amount of time it takes to go through my  Twitter, Facebook and Instagram accounts all before I've even left my bed in the morning
That moment when an airplane lands and the entire plane grows quiet and hungrily powers up their phones to catch up on everything they may have missed while in the air.
Constantly rummaging through my bag to find my phone, fearful that I may have lost it, when I realize it's sitting right next to me, or even worse, is on my lap.
The stats are everywhere. The New York Times recently wrote a piece titled "Step Away From The Phone" highlighting the serious addiction we all have with our smartphones. The article goes on to talk about the "phone stack" game- while out to dinner with friends, everyone has to put their phones in the center of the table; whoever reaches for their phone first has to pick up the check. It's a smart idea. How many dinners have you been to where phones are a fixture on the table and taking a moment to glance at it has become totally acceptable?
This is what it has come to. I don't know when or how we got to this point, but I don't think it will be changing any time soon.
I'm definitely not arguing that this is all a bad thing. After all, I truly love my smartphone, the access it gives me and the connection it provides to other apps that help make my life and work easier and better.
But the addiction is definitely there. It's strong. And it's getting worse.
I talked about disconnecting after I went to Punta Cana in March and was without my iPhone for five days. I learned some important lessons during those five days that I hoped to carry with me in my regular life. Did I succeed? To some extent, yes…to some extent, no.
After that trip, I vowed to make three changes in my life in an attempt to be a little less connected. Let's check in on my progress:
1. Turn email off when I go to sleep. I'm proud to say that this is one change I've been able to embrace and adopt. My life completely changed the moment I turned off all alerts/sounds on my phone. Prior to that I had been waking up in the middle of the night to the ping sound of emails and other notifications. Now, I sleep completely soundly, although I still do keep my phone right next to me on the nightstand next to my bed. Next step…moving the phone across the room? Maybe.
2. No more blog reading/social media during dinner or other meals. I would say I've HALF succeeded on making this change. When I eat breakfast and lunch, I definitely am usually on my computer reading blogs, checking email or scanning Twitter. When I'm home and we're not eating dinner as a family, I make attempts to read magazines or just simply enjoy my meal without the need to be stimulated in some other way.
3. Read before bed. Total fail. I kept this up for a couple of weeks after returning home from vacation, but am embarrassed to say that I haven't completed a book in the longest time. Instead, I usually use the last few minutes before I fall asleep reading blogs or checking my Instagram feed and work Instagram feed one last time before bed. It's definitely not good and I need to work on this.
Clearly, I still have a lot of work to do when it comes to curbing my iPhone addiction.
There is no easy answer here, but I think talking about it opens the doors to some interesting and important discussions. Let's hear them!
What about you? Are you addicted to your smartphone? Have any interesting ideas for how to better disconnect?
Want more gutsy content delivered straight to your inbox twice a month? Be sure to sign up for my FREE #Get Gutsy e-newsletter filled with inspiration, ideas and action items to get out of your comfort zone.