Social media is an ever-evolving medium and just when I think nothing can impress me, a brand has to go and truly blow me away.
This is another story (like my FatCow example here or Dunkin' Donuts Philadelphia story here) about a company who just gets it when it comes to communicating online.
Last week, my precious little pup Buddy turned two years old (everybody say "awww!"). On the morning of his birthday, I posted a photo on Instagram of Buddy when he was just a few months old and shared that post to Twitter.
Fast forward hours later to the afternoon. I'm sitting at my desk at work, click to refresh Twitter and see a tweet from Purina, the pet food company, wishing Buddy a happy birthday. I see a link to a TwitPic and click and view the below message.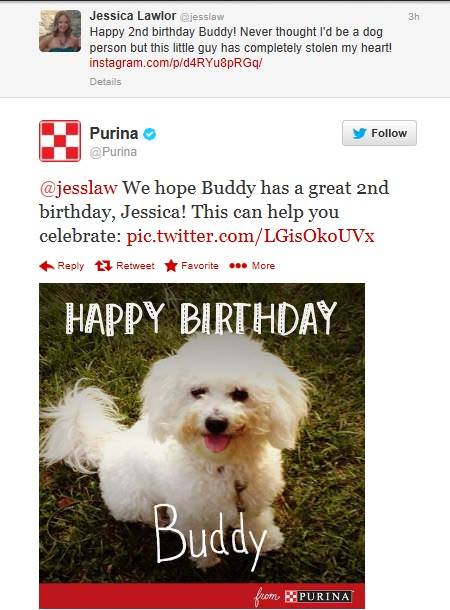 Whoa! Purina just sent my puppy a birthday card via Twitter. Color me SUPER impressed!
The company used the photo I posted to Instagram and Twitter, added a brief message, branded it with their logo and sent it back out into the Twitterverse. It probably took them all of a couple of minutes to complete, but made a huge impact on me.
Let's keep a couple of things in mind:
I'm not a Purina customer (although I'm now considering it after seeing the level of care they have for those with pets)
I wasn't previously following Purina on Twitter before this interaction (and I'm still not).
I didn't tweet my happy birthday message to anyone specific on Twitter, nor did I use any specific hashtags that might help Purina easily find my tweet.
A couple of people have asked me how I think Purina found my tweet. Easy! Their social media team likely monitors relevant keywords like "dog" "cat" "dog person" "pets" etc. on Twitter. They pay attention to those streams on Hootsuite (or their preferred social media management system) and actively seek out opportunities to engage customers or potential customers. In my case, they either found my tweet through the word "dog" or "dog person" and jumped on the chance to impress.
After sharing how blown away I was by Purina's social media efforts and spreading the word both on my personal Twitter and Facebook, I did a little more investigating into Purina online. Their birthday message to Buddy certainly wasn't abnormal; in fact, Purina engages with individuals on Twitter on a daily basis, almost always including a personalized message or photo.
Purina is excellent at social listening and then responding when appropriate. Take a look at their Twitter stream (be sure to click 'all replies' so you see their original tweets AND replies to others)
There are so many awesome examples of ways Purina is interacting with potential fans on a personalized level…let's look at this tweet from less than 24 hours ago as a prime example.
Random Twitter user Michael introduces his new dog to the Twitter world by posting a photo. Similar to my example, Purina writes a welcome message on the photo and sends it back to Michael. Super impressed, Michael replies and thanks Purina and asks, "I thought Purina only does cat food?" Purina replies and shares a link to their dog products page on their website. BAM! Instant potential new customer who has been engaged in a personal and friendly manner. On top of that, now he's also educated about the company's offerings. It's a win-win all around.
Definitely check out their Twitter stream for more awesome examples; I had so much fun clicking through and seeing the playful, humorous and compassionate tone they use when interacting online.
What I like most about Purina's strategy is that it isn't pushy in any way. In no way did they try to sell me anything through their interaction with me online. In fact, they didn't even mention any of their products or link me back to their website. Purina simply sent an adorable message that resonated with me and made me think about the company in a new light. This positive interaction will certainly have a lasting effect.
And who knows? The next time I'm shopping for pet food, maybe I'll think twice about which brand I choose.
+1 for Purina. Keep up the awesome work on social media and beyond.
Has a brand ever blown you away online? Share your stories in the comments below.