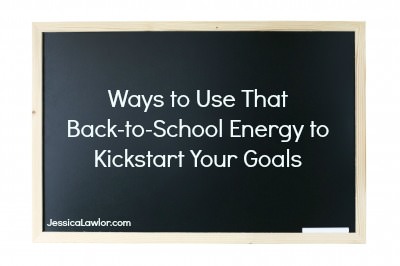 It's back-to-school week!
Although I'm not heading back to school (a weird feeling even four years later), I still get completely energized by the start of a new school year.
There's nothing like those back-to-school commercials, fresh notebooks, school supplies and big yellow school buses on the road to signify the start of something shiny and brand new.
I know I'm not the only one who finds inspiration in the start of a brand new month, specifically September, a month where "new" is the name of the game.
With so many people all around you setting goals and vowing to turn over a new leaf as we welcome a new season, allow yourself to get swept up in the excitement and reignite your passion for whatever dream it is you're trying to achieve.
Here are four ways to use that back-to-school energy to kickstart your goals this fall:
1. Wipe your slate clean.  One of my favorite things about beginning a new school year was the chance to start over; embracing the feeling of "I can be whoever I want to be and accomplish whatever I want to accomplish this year." If you haven't been focused on your goals this summer, look at September as a clean, blank slate. A new start. Forget about the barriers that held you back from going full-throttle at your goal in the past and look toward the future as a brand new opportunity to do something great.
2. Get organized. Goals feel less daunting when you break them down into manageable chunks and create a solid plan. Consider pulling out that dusty old pen and paper planner or getting comfortable with your favorite online calendar. Visually laying out your schedule along with self-imposed goal deadlines makes it that much easier to conquer the mountain ahead. Similarly, clean up your space! September always feels like the perfect time to do a complete closet purge and to go through old files at work to make room for new projects and initiatives.
3. Buy something new. For me, the start of a new school year was always synonymous with shopping: a new backpack, fresh school supplies and a brand new wardrobe to start the year off on the right foot. Even though I've been out of school for a couple of years now, I still like to go shopping around the start of September. For example, this year I plan to purchase a new notebook for jotting down to-do lists and quick notes at work. I also plan to hit the mall this week because with so many great back-to-school sales, now is the perfect time to purchase staple pieces to carry you through fall and winter. I'm not encouraging anyone to go crazy spending, but if purchasing something new helps move you closer to your goals or motivates you to get started, it might be a worthy investment.
4. Join something. Remember back in high school when the beginning of a school year meant sports and extracurricular activities starting again? The same holds true for the real world. Lots of organizations, events and activities pick back up in September after a quiet summer. Take some time this week to research your favorite hobbies to see if there are organizations or groups in your area that you can join to meet people with similar interests. For example, this week, I plan on attending my first Philly Blog Love event to meet other awesome bloggers in the Philadelphia region. I also plan to redeem a LivingSocial deal I purchased for a local yoga studio to try out hot yoga.
Whether you've been out of school for many years or are fresh off of graduation, find your inner elementary school spirit to harness that awesome, shiny, "everything's new" energy to make your goals a reality this fall.
Are there other ways you feed off that awesome back-to-school energy to get a kickstart on your goals? Share in the comments below.
Want more gutsy content delivered straight to your inbox twice a month? Be sure to sign up for my FREE #Get Gutsy e-newsletter filled with inspiration, ideas and action items to get out of your comfort zone.
*Some content from this post originally appeared in a post written for Brazen Careerist last year. Image courtesy of scottchan at FreeDigitalPhotos.net