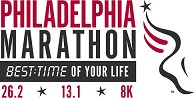 The Philadelphia Half Marathon is exactly ONE month from today.
This time in one month, I'll be eating my standard pre-race toast with jelly, fiddling with my carefully orchestrated playlist and preparing to toe the line to run 13.1 miles through this beautiful city.
I won't lie. This has not been an easy training cycle.
Training for the Broad Street Run last winter/spring was not easy either, but since it was my first time doing a long distance race, every single training run and long run felt like a mini-win. The Broad Street Run had such significant meaning to me; it was the culmination of a year and a half's worth of weight loss, daily 5 a.m. runs and many, many trips to the gym. Broad Street Run was my end goal…the finish line I thought about during every difficult workout. The Broad Street Run was my way of saying, "look how far I've come!"
I'm certainly not saying that the half marathon isn't important to me; it is! I guess what I'm trying to say is that perhaps the half marathon doesn't hold the same emotional tie for me that the Broad Street Run did. But when I think about it, that's a good thing! It shows how much progress I've made since 2010 when I finally made the choice to get healthy.
This past weekend, I participated in a 9 mile race. I nervously texted my friend Sarah (who I did many of my Broad Street Run training runs with) and said, "I miss having a race buddy! All the people here look super athletic! I could very well come in last place" to which she replied:
"Haha, oh please, you are a runner now. You're one of those people we were afraid of last year."
And I realized that Sarah is right. I am a runner now.  It's difficult for me to say that out loud because just a year and a half ago, it was such a laughable thought, but I realize now that it's true. I'm definitely no expert and I'm certainly not the fastest runner, but running 4-5 times a week and training hard for races absolutely makes me a runner, no matter how fast or slow those miles are.
So, even though this isn't my first long distance race and it may not hold the same place in my heart as the Broad Street Run, it's still going to be an amazing accomplishment when I cross the finish line and I need to start thinking about it in that way.
With eight weeks of half marathon training behind me, and four weeks left with a 10-miler, 11-miler and 12-miler (eeks!) ahead of me before race day, I'm looking forward to changing my attitude a bit when it comes to training. Instead of comparing this race to Broad Street, I'm going to look at it as a completely new challenge, one that deserves the same amount of respect as my beloved 10-miler last spring.
Because believe me when I tell you, 13.1 miles is NOT going to be easy come race day. Even though I'm proud of my training so far and excited to keep moving forward with my long runs, I know that every step and breath will be a challenge on November 18. And when I cross the finish line (and hopefully crush my goal time!) I want to feel 100 percent happy with the way I trained for this race.
One month to go! The countdown is on.
Have you ever run a half marathon? Currently training for a long distance race? Share your stories in the comments below!