Happy Thanksgiving! This holiday (and the entire holiday weekend) is my absolute favorite: delicious food, plenty of family time and the true arrival of the Christmas season. In my mind, there's nothing better!
But of course, Thanksgiving also has a larger meaning…giving thanks for all that we have. This year, I'm feeling especially grateful, about things that are both serious and silly. Because come on, there's lots of BIG things to be thankful for, but it's just as important to recognize the smaller, less significant silly things that make you happy on a daily basis.
Serious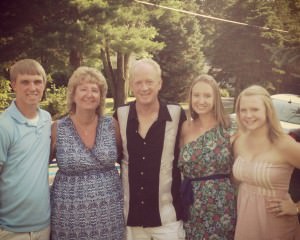 1. Family. Of course, the thing I am most thankful for 365 days of the year is my incredible family. That's a given! My mom, who I
become more like every day; my dad who supports me unconditionally and is my biggest cheerleader; my amazing sister who I can't go a day without talking to and my little brother, who is becoming such a little grown up before my eyes, it's scary.
2. Friends. More than ever this year, I've realized the importance of friendship. As I get further and further away from college, it naturally becomes more difficult to stay in touch, and through this process, I've realized who my true friends are. I've learned that friendship comes in many forms whether it be regular phone dates on the way home from work, meeting up for dinner and drinks or going for runs together.
3. Good health. Every day, I am so thankful for my health, especially for the fact that I'm strong and healthy enough to cross crazy things off my bucket list like running a half marathon. I know other people aren't so fortunate and it's a privilege to be able to do the things my body allows me to do. On that same note, I'm especially thankful that I found running, something that has pushed me out of my comfort zone further than I ever thought possible.
4. My career. How many people can truly say they love their career? Not many. I'm so lucky to have had two jobs so far in my career that I love, along with the chance to freelance and pursue my other passions on the side.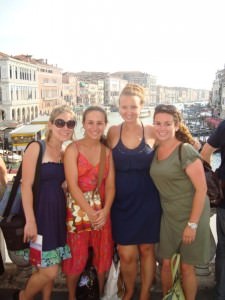 5. Education. I will be forever grateful for my education at Temple University. I loved everything about my experience at the school, both in and out of the classroom. Being a Temple student afforded me so many other opportunities including completing five amazing internships, honing my leadership skills and studying abroad in Rome. Of course, I'm proud to be #TempleMade.
6. Opportunities. I feel incredibly grateful that as I continue to grow both personally and professionally, more and more great opportunities present themselves. Through my commitment to PPRA, a PR organization in Philadelphia, I've been able to take on a bigger leadership role this year as VP of Programs. Through this blog, I've met incredible people whom I otherwise would have never met. Through my job, I was able to travel to an amazing tourism conference where I had the chance to present about a topic I'm passionate about: social media.
Silly
1. Social Media. It's no secret that I'm obsessed with social media: Facebook, Twitter, Pinterest, Foursquare, Foodspotting, Instagram…you'll find me on all of those sites. It may seem crazy but social media has allowed me to connect with so many people from around the world whom I've been able to form meaningful relationships with. Plus, both internship and job opportunities have been offered to me because of social media. And of course, on the even sillier side, I'm thankful for funny pins and blog posts that make me laugh on a daily basis.
2. My Keurig Coffee Maker. Oh, what an amazing investment. I hemmed and hawed over whether to purchase my own coffee maker or to continue buying coffee on a daily basis, but I decided to buy a Keurig about a year ago, and couldn't be happier with my decision. My mornings are so much better with this machine- I realized after buying it that I slowed down, woke up a few minutes earlier and actually sat down to enjoy my coffee with breakfast at home rather than grabbing a cup on the way to work. Much more relaxing. Plus, there are so many delicious flavors!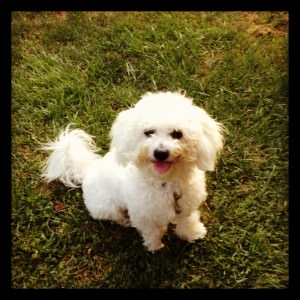 3. Buddy. My handsome little pup. This little guy came into my life a year ago and although he's crazy and a handful, he makes me so happy. He makes me laugh on a daily basis and even though my parents won't admit it, I think he makes everyone in the house just a little bit happier. I mean, look at that face! How could you not adore him?
4. My Under Armour running leggings. Obviously, I love running. I think that's pretty clear at this point. However, I really LOVE running in the winter. Specifically, because I love putting on my Under Armour running leggings. Yep, it's extremely silly, but they are SO incredibly comfortable and warm. No lie, one time on a REALLY cold day, I wore them under my dress pants to work. On that same note, I'm also thankful for my pink, fuzzy robe.
5. Hulu. Thank goodness for Hulu. Because I'm completely Type A and can never do one thing at a time, I've developed a new routine where I catch up on a TV show on Hulu every morning while I straighten my hair for work. My favorite shows right now? New Girl, Guys With Kids, The Mindy Project, The New Normal and Modern Family.
6. Peanut butter. Come on; do you even need a reason to be grateful for peanut butter? It's basically the best snack ever and can be enjoyed in many different shapes and forms. Peanut butter cookies, peanut butter bars, peanut butter crackers- I love them all. (I told you this list would be silly!)
What serious (or silly) things are you grateful for this Thanksgiving?