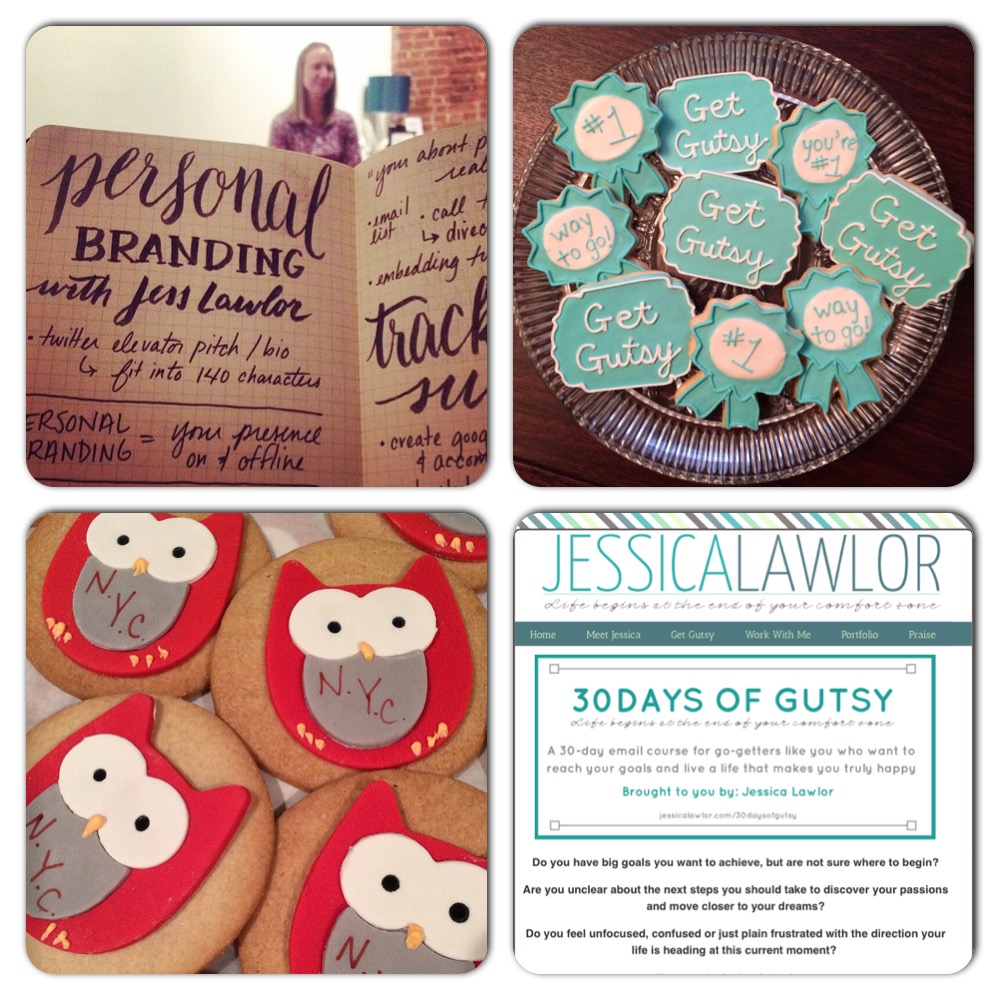 Each month, I share three things I accomplished in the previous month and preview three things I'm excited about or hoping to accomplish in the month ahead. It's fun to look back and forward, and as an added bonus, these monthly check-ins keep me accountable to reach my goals.
I hope you'll join in and share your three things in the comments section! I've been thrilled to see that other bloggers enjoy my monthly check-ins and have adopted the format for their own blogs- this is AWESOME! If you write a similar monthly check-in/look ahead post, please feel free to utilize this format and be sure to leave a link in the comments below so we can all support you in your goals for the coming month!
In February, I…
1. Launched the 30 Days of Gutsy course. Ah! My first product launch is complete. Whew! Launching a course was a massive undertaking (one I plan to document in detail for you very soon) but it was totally worth it. I was terrified to write a sales page, promote the course, ask others to help me spread the word and *gulp*, actually SELL the thing and get real live human beings to sign up. The beginning half of the month was spent perfecting the sales page and the second half was focused on promoting the course. I'm so proud of the end result and it feels amazing to have such a labor of love out there in the world.  Launching the Get Gutsy Essay Contest in December, hosting Get Gutsy Week in January, launching 30 Days of Gutsy in February and running the course in March has been a bit exhausting, so I'm looking forward to settling down a bit in the months ahead to get back into planning mode.
2. Hosted a Personal Branding Bootcamp Session with PHLBloggers. Talking about personal branding is one of my favorite things to do, so I was honored when I was invited to speak on the topic to a room full of Philadelphia bloggers. The venue couldn't have been more perfect- the event was hosted at The Hive Philly, an all-female coworking space (its founder, Melissa Alam, was featured here on the blog a few months back). The session went extremely well! Two attendees even wrote awesome recaps featuring some of my tips- you can check out those posts here and here.  I would LOVE to present this bootcamp again, so if anyone knows of a group looking for speakers, please send them my way!
3. Amped up my side-hustle. My my side hustle excites me every single day. February was filled with awesome opportunities, including bringing on two new clients! In February, I also completed two major articles for a magazine I write for called Cancer Fighters Thrive and two stories I wrote for the last issue were published (you can check out the pieces here on pages 12 and 24). I wrote another feature story for an alumni publication I write for that will come out later this spring and also began working with a local university on some copywriting. It has been SO exciting to have great opportunities come my way and be able to pick and choose based on which projects align with my goals.
In March, I will…
1. Begin my journey to become a yoga teacher with yoga teacher training! I've been patiently (okay, anxiously) awaiting the month of March because March 7 marks the first weekend of yoga teacher training! I've been thinking about yoga teacher training since the summer, finally decided to apply in November and have been dreaming about it ever since. I'll share much more later this week about my feelings before teacher training and I do plan to blog about the experience, so if you've ever been curious about what it's like to become a yoga teacher, stay tuned! I'm beyond excited to learn more about yoga and myself…and share my love and passion for yoga with others through teaching! Let the journey begin!
2. Turn 27. March holds a special place in my heart because it's my birthday month! This year, I'm turning 27 and while I admit that each year, birthdays become a little less exciting and a little more scary, it's always a fun and special day. No big plans for my birthday this year, but I'm looking forward to seeing what the year ahead brings! Each year, I feel a little more clear and confident around my goals, my vision for the future and who I am in the present. I hope 27 will be an incredible year filled with new chances to step outside my comfort zone and get gutsy!
3. Complete the first public run of the 30 Days of Gutsy course. After a successful launch in February, the 30 Days of Gutsy course is officially underway with more than 15 students! Right now, my focus is on delivering amazing lessons, being present for my students via email and in the Facebook group and providing incredible value to those who made the decision to get gutsy and reach their goals with me this month. We're already on Day 4 and I'm super excited about how well the course is going! I can't wait to bring this back for even more of you to sign up next time. I'm thinking that the next round of 30 Days of Gutsy will likely be this fall! If you're interested in being the first to know when the course re-opens, please drop your name and email address here.
February Posts You May Have Missed
Tell Me: What's Your Big Goal Right Now?
Get Gutsy With Amanda Piccirilli: I Overhauled My Lifestyle to Become a Better Version of Myself
A Reverse To-Do List: Why What You Say NO to Matters More Than You Think
Five Reasons You Should Register for the 30 Days of Gutsy Course (Course Begins 3/1!)
Jessica Around The Web
Guest posts, articles and other places you can find me this month online.
Guest Posts:
How To Write Enticing Sales Copy To Support Your Content Marketing Efforts– for Scribewise
Conduct Better Phone Interviews: 5 Strategies for Freelance Writers– for The Write Life (my first piece for this outlet!)
Energy Management, Your Time Management Supplement– for One Woman Shop
Features:
This Collection of Essays Will Inspire You to #GetGutsy in 2015– from Brazen Careerist
Takeaways From PHLBloggers' Personal Branding Bootcamp– takeaways from my personal branding bootcamp session with PHLBloggers
8 Personal Branding Tips– more takeaways from my personal branding bootcamp session.
#LeadingLadies: Jessica Lawlor– featured as a Leading Lady in Stephanie Carls' series to
Life Begins at the End of Your Comfort Zone– an interview with my friend Samantha Un about the quote that changed my perspective on life.
Get Gutsy with #LYD Star Jessica Lawlor– featured on UChic's blog as one of their Live Your Dream Stars
What did you accomplish in February and what are you looking forward to accomplishing in March? Share your three things in the comments below!
Want more gutsy content delivered straight to your inbox twice a month? Be sure to sign up for my FREE #GetGutsy e-newsletter filled with inspiration, ideas and action items to get out of your comfort zone. When you sign up, you'll also be sent a FREE copy of the Get Gutsy ebook, filled with 19 inspirational stories to help you get gutsy.