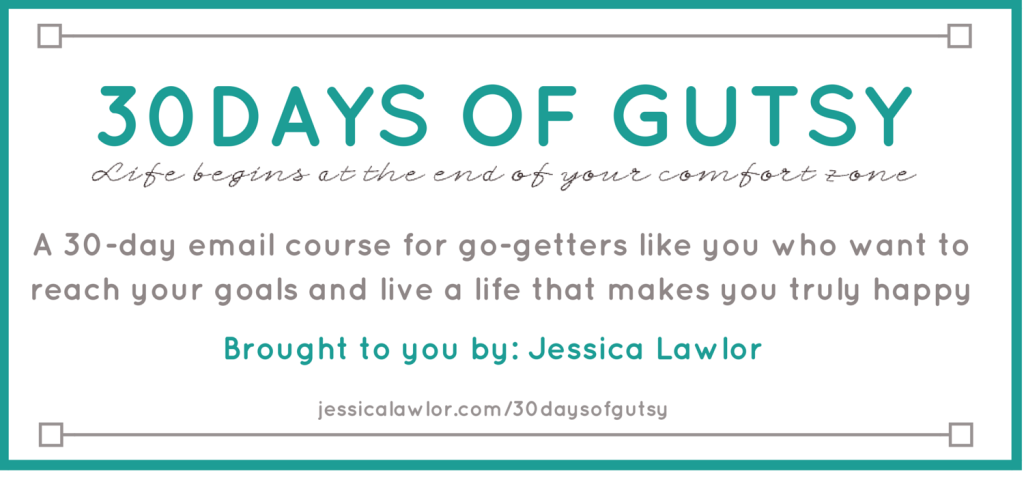 I'm beyond excited to share that my brand new course, 30 Days of Gutsy, is officially open!
30 Days of Gutsy is an email-based course with (you guessed it!) 30 inspiring and action-oriented daily lessons, exercises and challenges to help you focus in on that nagging, exciting, scary and just-begging-to-be-reached goal you can't stop thinking about.
Click here to learn all about the course and what it entails!
For the past two and a half years, I've shared my thoughts, experiences and best advice here on the Get Gutsy blog. Now, I want to take it to the next level and work even more closely with go-getters like you who are ready to reach your goals.
Three years ago, I was in a very different place. Confused about the future, unclear about my goals and uncomfortable in my own skin, I felt lost.
I decided to take a chance. I changed my attitude. I made the decision to get out of my own way and begin taking risks to explore and reach my goals to live a happier, more fulfilling life.
You can do the same.
That's why I created this course.
To help you do that.
To help you see that your fears really aren't so scary after all. To show you that your dreams are actually within reach. To open your eyes to the possibilities that lay ahead if you step outside your comfort zone.
To help you get gutsy.
Thinking about joining, but not quite convinced yet? Here are five reasons to join the 30 Days of Gutsy Course.
1. You'll narrow in on one or two big goals you want to focus on. You probably have A LOT of goals in mind for yourself for the next month, year or several years. This course will help you focus in on the one or two that you want to focus on right now to make the most impact and help you live your most fulfilling life.
2. You'll become part of an ambitious community of fellow go-getters. Goals don't happen alone. You need a team. A community of people behind you, rooting for you along the way. 30 Days of Gutsy students gain access to a private and active Facebook community, where we'll continue discussion from the daily lessons and support one another in our exercises and weekly challenges.
3. I'll give you the tools you need to make your goals a reality. Setting goals no problem for you? Great! This course will also give you the tools you need to make those goals an actual reality. For 30 days, expect an amazing dose of inspiration AND action in your inbox, featuring daily lessons, quotes, additional resources, exercises to encourage reflection and weekly challenges to inspire ACTION.
4. You'll gain exclusive access to private/group coaching with yours truly. My inbox will always be open to 30 Days of Gutsy students. In addition, students get two personal email check-ins throughout the course, as well as the chance to take advantage of my "office hours" where I'll be available via phone, Skype, Google Hangout or whatever your favorite form of communication may be.
5. You'll have lifetime access to the course materials. Since this is an email-based course, the course materials are yours forever. At the end of the 30 days, you'll even receive a neat little guide to all the lessons for easy saving if you're interested in putting the lessons learned toward a different goal at a later time.
A BIG thank you to all of those who helped me with the course: the 25+ amazing beta testers, my accountability partner Sara Frandina, my genius web/tech/marketing guy Sean Rose, my expert colleagues who helped with the sales page: Amy Chick, Sara Frandina, Gina Horkey and Janelle F.
Convinced? Click here to learn more and join the course. Hurry though! Registration is only open through 2/28 and the course will begin on 3/1.
Want more gutsy content delivered straight to your inbox twice a month? Be sure to sign up for my FREE #GetGutsy e-newsletter filled with inspiration, ideas and action items to get out of your comfort zone. When you sign up, you'll also be sent a FREE copy of the Get Gutsy ebook, filled with 19 inspirational stories to help you get gutsy.