Do you have big goals you want to achieve, but are not sure where to begin? Join my 30 Days of Gutsy course! 30 Days of Gutsy is an email-based course with (you guessed it!) 30 inspiring and action-oriented daily lessons, exercises and challenges to help you focus in on that nagging, exciting, scary and just-begging-to-be-reached goal you can't stop thinking about. The course begins on March 1, so register by 2/28 if you're ready to get gutsy and reach your goal.
Welcome to the Get Gutsy interview series! Each month, I interview people who are getting gutsy– stepping outside their comfort zones to reach their goals and live a life that makes them truly happy.
Click here to read past Get Gutsy interviews.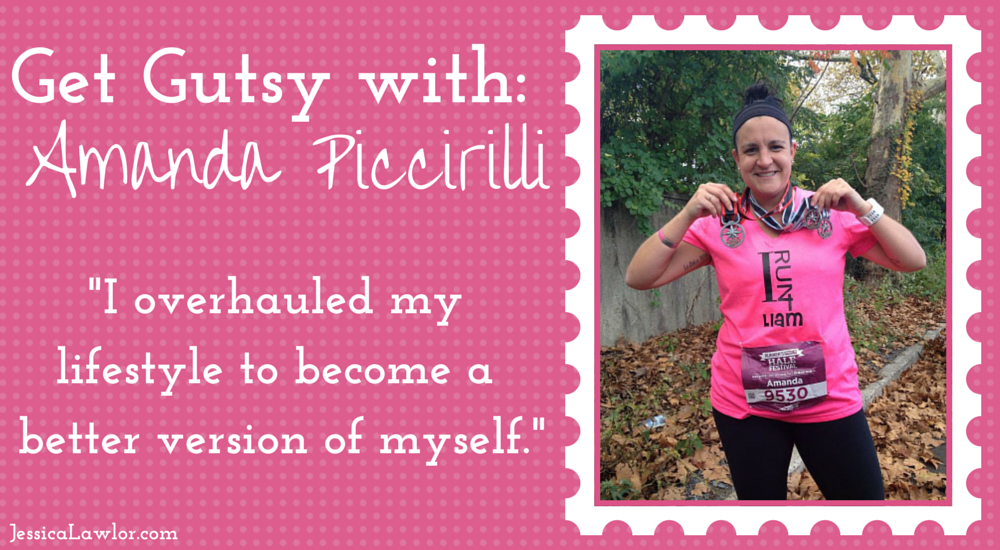 Today, I want to introduce you to one of my real life good friends (whom I actually met online first!) Amanda Piccirilli.
Here's a quick story about me and Amanda:
Rewind more than three years ago. I'm new at my job working in tourism public relations. This girl named Amanda is a reporter for a local newspaper. She was on my radar for awhile for work, but she also just seemed like a cool and down-to-earth girl. I met up with her for a work meeting over coffee and I thought to myself, "I really want to be her friend!" I guess Amanda felt the same way because we quickly formed a friendship. We share a similar love for running and healthy living and even ran the Broad Street Run together two times! Over the past year, I'm constantly amazed at all that Amanda has accomplished to take her healthy living efforts to the next level.
I know Amanda's story will inspire you to take action when it comes to your own health and happiness. Read on!
1. Hi Amanda! Thanks for being on the blog today. Could you please give us your best Twitter-style introduction? (140 characters or less!)
I'm a director of communications at a non-profit by day, blogger/writer by night. Runner. Yorkiepoo owner. I wear high-heels & have high hopes.
2. Tell us about how you are getting gutsy.
Since I was 5 years old, my entire life was soccer-tournaments weekend after weekend, practice three days a week, sometimes twice a day. All of my hard work paid off as I was offered and accepted a Division I scholarship to Loyola College in Maryland. I worked hard for nearly 20 years of my life to be fit and active playing the sport I loved. But like a drop of a hat, I lost my fitness level, "let myself go" and turned into someone I never want to be again.
It was on September 4, 2013 when I decided to get gutsy and turn my life around-back into a healthy and fit Amanda- not the woman who was overweight and unhappy deep down inside. It honestly all started off as a bet with my boyfriend to see who could lose the most weight by January 1, 2014. But despite the bet, I was ready for a new me and I now strive each day to better myself- physically, mentally and emotionally.
On that September day I promised to push myself to limits I have never stepped on before because I knew I was mentally tough enough, knowing that the road would not be easy and I would have a long way to go. (Which to this day I still have a ways to go and I'm okay with that!)
3. Wow! You've completely changed your entire lifestyle over the past year. Was there a moment that prompted that change? How did you do it?
One day I was looking at pictures on Facebook and I honestly didn't even recognize myself. When I looked at myself in the mirror I didn't think I weighed that much, but pictures don't lie- that was me and I DID NOT like it.
My friend Emily Benton reached out to me months prior to that realization offering me the opportunity to work with her as she is a certified health and wellness coach. I knew I couldn't start this journey alone so I hired her as my health coach. So many people are afraid to ask for help or think people will look down on them for asking for assistance. Reaching out to Emily was the best decision of my life.
My coach Emily taught me the skills I needed on making proper food choices, how my emotions were affecting my food choices and how my life surroundings were playing a part. Once I got the food thing down, my fitness activity kicked to a whole new level. I was always running even when I was overweight, but after dropping a few pounds, my running has been brought to a new level and I now consider myself a runner! I've run half marathons and marathons- crushing my previous times significantly. I've joined two running groups that now mean the world to me. I can't image my life without them.
4. Were there smaller milestones along the way? What kept you going when you wanted to give up?
I think every month was a milestone- I made it through a month of losing pounds, I made it through a month of challenging myself to try new foods, I made it through a month challenging myself to run 100 miles. I'm a big believer of small, obtainable goals, so that is what I did. But those months when I only lost one pound or only ran 40 miles, I pushed myself to do better the next week.
The option of giving up was NOT in the cards for me. I would do my best that I could every single day.
Work, home distractions and temptation are always there, your willpower has to be strong if you want to make a change. And trust me…wave an ice cream cone in my face and I turn to mush. It was tough, but I wanted it bad enough!
5. Okay, stop being so humble about the running thing! You are a SERIOUS runner. (This girl wakes up early every morning to run in the freezing cold OUTSIDE!) Tell us about your proudest running accomplishments from the past year.
Haha! Yes, I am one of the crazies you see out on the road at 5:15 a.m. four times a week with a bright light-up vest, but I love it! This winter has been brutal but you'll see me and my Run Club friends out there!
This past year in running will be one I'll never forget. I ran lots of races last year with standout moments being the Runners World Festival "Hat Trick" where I ran a 5k and 10k on Saturday and half marathon on Sunday- that half marathon I set a new PR with a time of 2:01 (previous PR was 2:25!) I also set a new PR during the Philadelphia Marathon in November with a time of 4:49 (CRUSHING my previous marathon time by one hour and 15 minutes!!)
But, the greatest thing that happened to me in 2014 was joining the group 'I Run 4 Michael' which pairs workout enthusiasts with children and adults with special needs or disabilities. I was paired with Liam, a sweet three-year-old boy who lives in Ireland, who has a rare metabolic disease called GA1. I now dedicate all of my workouts and runs to him. His mom and I talk daily through Facebook (like pen pals) and after EVERY race I send Liam my medals! This little boy has changed my whole purpose now of why I run — for those who can't!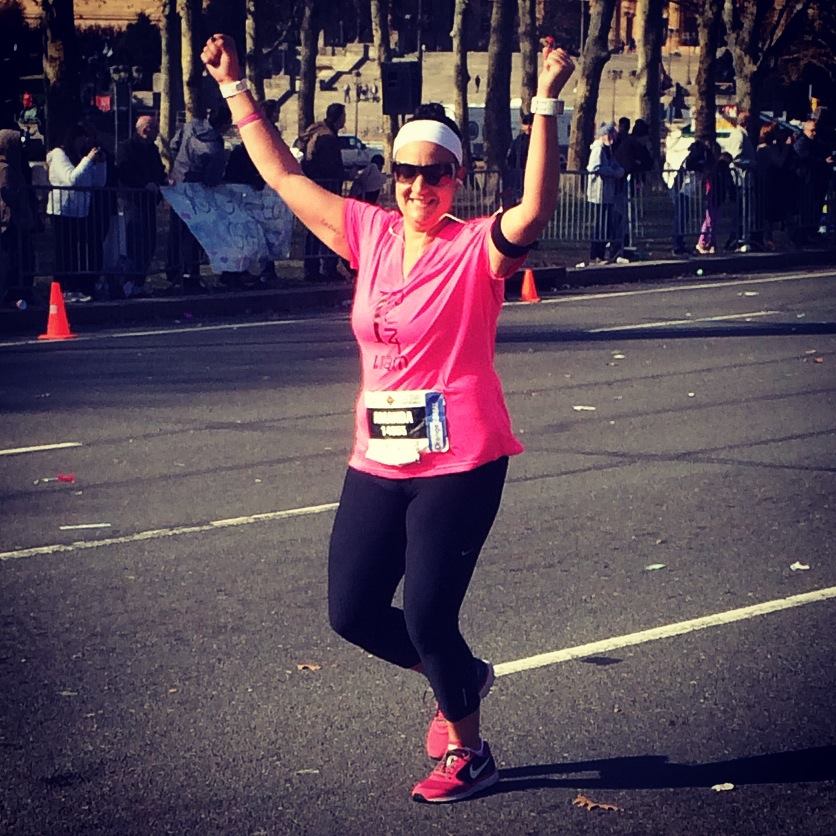 6. That's beautiful, Amanda! Let's talk about challenges. I'm sure there have been many along the way. What's your approach to tackling setbacks?
There are challenges in every aspect of life and this is just another hill to climb.
During my whole lifestyle change, I was obsessed with the scale. Stepping on it every morning and night, looking at numbers stay static, looking at numbers gain, looking at numbers drop. It was a HUGE head game when finally one day I told myself stop going on the scale. I was down sizes in my clothes, I was more tone and fit, so why stress about numbers? I now base myself on how I feel with an occasional step on the scale to see where I am. I'm happy to say I'm still down 30+ pounds from where I started.
Another huge setback is seeing that some people aren't supportive of your new lifestyle. And that is okay because I am doing this lifestyle for ME, not for anyone else. I don't go out nearly as much as I used to and I'd prefer to go for an 8-mile run on a Saturday morning than stay out until 2 a.m. on Friday night. I love taking selfies of where I'm running and how serene nature is, but I know lots of people get annoyed by it. But hey – I'm okay with that. I'm happy and I'm doing what I love. If you don't like it, unfollow me!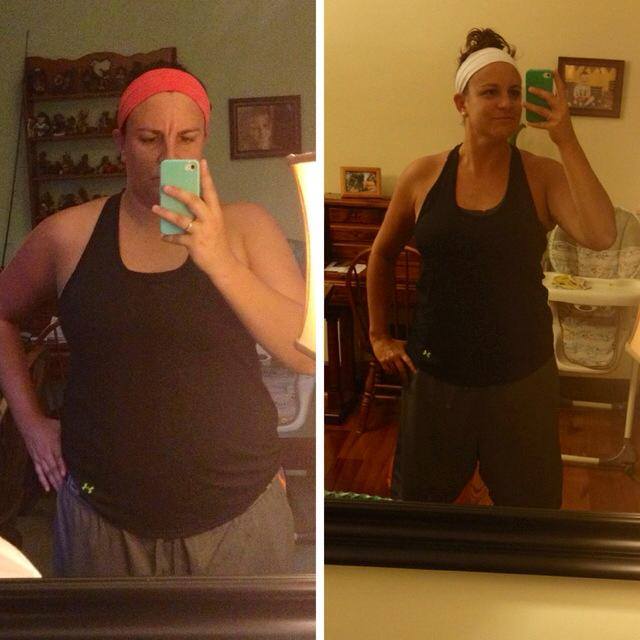 7. What has life been like since you've overhauled your entire lifestyle?
Each day is a struggle. Food has been, and always will be, my biggest struggle when it comes to my health. I can run miles and miles on end, but if I'm not putting good fuel in my body, it's a waste. But since September 4, 2013 I have given up soda completely (I use to have around two a day!!) and my ice cream intake is significantly down (God, I love ice cream!).
Overall, I feel great! My energy level is high, I'm sleeping so much better and when I don't work out I get cranky. (Who knew?!)
8. What one piece of advice would you give to someone who wants to follow your path by changing their lifestyle?
If you want it bad enough, you can do it!
I'm just an average woman setting new health and fitness goals every single day for myself. I love setting a goal and achieving it- everyone should try it whether it is going to the gym two days a week for 30 minutes, running your first 5K or trying one new food a week! People get discouraged with failure so start small with obtainable goals.
I love when I post pictures on Instagram of my accomplishments and see comments from friends who tell me I motivate them. I hope it allows them to see that they can do it too! Don't be afraid to ask for help, that is what it is there for.
9. What does your life look like five years from now? More importantly, how do you hope to feel?
I sure hope in five years from now I'm the happy healthy Amanda I am today- running marathons, setting new personal records at my races, hopefully starting a family at some point in that timeframe and continuing to challenge myself. Lots of stress I used to have was comparing my life to my friends and family. Now I just live in the moment, taking each day in stride and understanding that everything happens for a reason.
10. What does getting gutsy mean to you?
Your possibilities in life are endless, but unless you get gutsy and give it a try, you'll never know your true potential! Be better than yesterday!
Want to connect with Amanda?
Twitter // Facebook // Instagram // Blog
Know someone you think I should chat with for the Get Gutsy interview series? I'd love to hear about them! Let me know in the comments below!
Want more gutsy content delivered straight to your inbox twice a month? Be sure to sign up for my FREE #GetGutsy e-newsletter filled with inspiration, ideas and action items to get out of your comfort zone. When you sign up, you'll also be sent a FREE copy of the Get Gutsy ebook, filled with 19 inspirational stories to help you get gutsy.