Do you have big goals you want to achieve, but are not sure where to begin? Join my 30 Days of Gutsy course! 30 Days of Gutsy is an email-based course with (you guessed it!) 30 inspiring and action-oriented daily lessons, exercises and challenges to help you focus in on that nagging, exciting, scary and just-begging-to-be-reached goal you can't stop thinking about. The course begins on March 1, so register by SATURDAY if you're ready to get gutsy and reach your goal.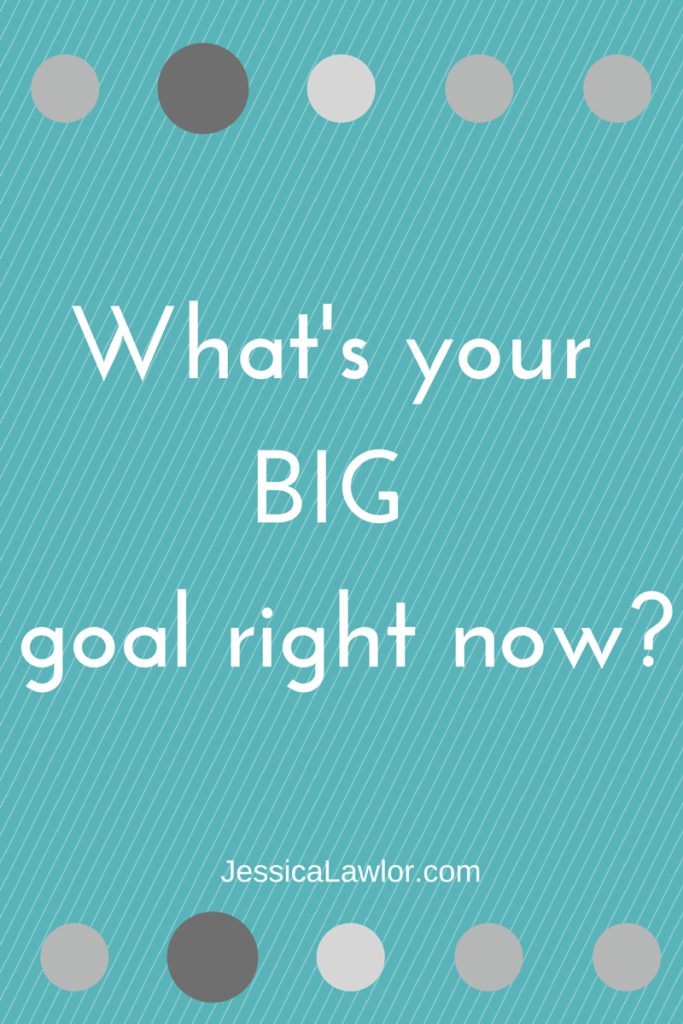 I'm itching to know…
What's the one BIG goal you're working toward right now?
(Seriously. I really do want to know. Comment on this post and tell me!)
What's that nagging, exciting, scary and just-begging-to-be-reached goal you can't stop thinking about?
Maybe you aren't quite sure about what that goal is yet. Maybe the picture is still a little foggy. That's okay, too.
Setting goals often means coming face to face with our wildest, scariest dreams. How's that for stepping outside your comfort zone, eh?
Allow me to let you in on my big goal, as of late. Okay, two goals, actually.
1. Become a yoga teacher. After falling in love with yoga more than a year ago, I've had this little voice inside of me urging me to explore yoga teacher training. I decided to apply in November, was accepted and will start my journey to become a yoga teacher next weekend! I feel all kinds of emotions when I think about the journey ahead. Mostly feelings of excitement and joy, but also feelings of fear. That's natural, of course, but I'm trying to focus on the amazing possibilities ahead. When I think about standing in front of a room full of yogis and sharing with them words and actions that inspire, motivate and help them become a better version of themselves, I seriously get chills. It's powerful and I can't wait to dive in and learn more about yoga…and about myself.
2. Launch and run a successful 30 Days of Gutsy course. Months of preparation led me to the moment I finally launched the 30 Days of Gutsy course, my labor of love since the summer. Even though the course is out there now, my big goal moving into March is making sure I provide the best experience possible for the people who have made the gutsy decision to join in and take their goals seriously for the next 30 days (and beyond).
Setting and reaching big goals. That's really what the 30 Days of Gutsy course is all about.
Want to learn more about 30 Days of Gutsy? Click here for all of the course details.
(Eeeks! There are just THREE days left to sign up!)
I asked a few 30 Days of Gutsy alumni about the BIG goals they accomplished throughout the course. Here's what a few of them had to say:
Janelle F. says, "The 30 Days of Gutsy course played a huge role in the creation of my very first product (the FRESH START 2015 calendar) which was a big, scary, intimidating goal before I started the course. The daily lessons helped me break down my goal into manageable steps and tackle them one by one."
"Joining the Get Gutsy e-course helped me plot out and feel confident in blazing the trail toward three goals that were truly daunting to me before. Beyond that, the course itself and the community around it also provided the tools, the mindset-shifting nudges and the support I needed to actually achieve my goal of planning, preparing for and embarking on a 35-day trip expedition across New Zealand and Australia in January!" says Sara F.
Graciela R. says, "30 Days of Gutsy gave me the tools I needed to finally launch my own business selling lavender sachets. It taught me that I don't have to wait for someone to give me an opportunity. I can create that opportunity for myself."
Powerful stuff! I LOVE these success stories.
Last night, I reached out to the Get Gutsy email community to ask them about THEIR big goals. I was amazed when the replies came pouring in! Here are some of the big goals the community is currently working toward:
Stop overcommitting.
Get first paid freelance writing job.
Structure savings plan for early retirement.
Launch a blog writing course.
Get better at rolling with the punches and stop taking things so personally.
Grow an audience from writing great online content.
Move out of a family's house and into their own place.
Write an ebook.
Quit 9-5 and launch a business.
Go back to school to learn more about business and run a B&B.
Start blogging regularly again.
Getting a career back on track after a difficult year.
Find an agent and get a children's book published.
Waking up earlier to work out.
Creating a dream job.
Train for and run an amazing Broad Street Run in May.
Get a master's degree.
Figure out a way to make side income that fits into life/goals.
Conquer forearm stand.
Perform music live at an open mic event before Labor Day.
Let's keep this list going! Send me your goal and I'll add it to the list.
The 30 Days of Gutsy course begins on March 1, so register by Saturday if you're ready to get gutsy and reach your goals.
Thinking about joining? If you have any questions, I'm happy to answer them! You can also check out more details about the course and other FAQs here.
PS- I wasn't kidding. I want to hear those big goals! Leave them in the comments below.
Want more gutsy content delivered straight to your inbox twice a month? Be sure to sign up for my FREE #GetGutsy e-newsletter filled with inspiration, ideas and action items to get out of your comfort zone. When you sign up, you'll also be sent a FREE copy of the Get Gutsy ebook, filled with 19 inspirational stories to help you get gutsy.