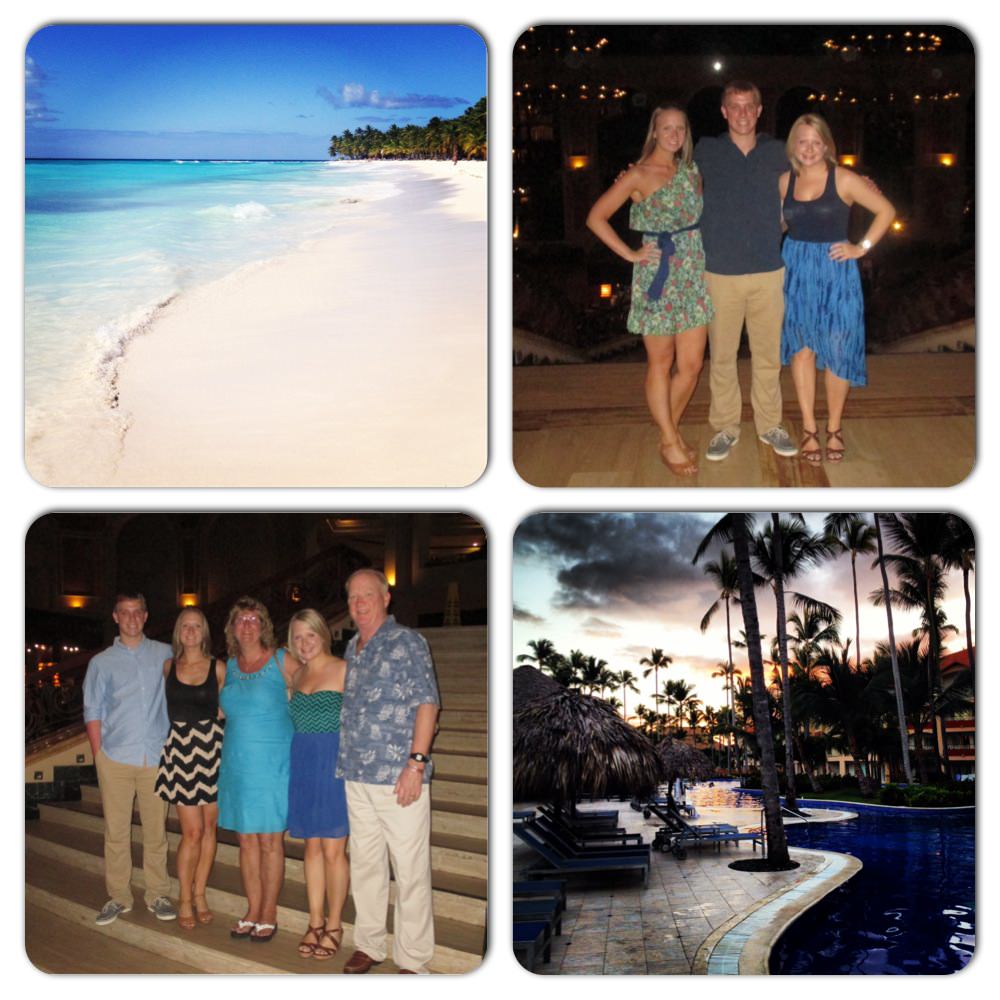 Each month, I share three things I accomplished in the previous month and preview three things I'm excited about or hoping to accomplish in the month ahead. It's fun to look back and forward, and as an added bonus, these monthly check-ins keep me accountable to reach my goals.
I hope you'll join in and share your three things in the comments section! I've been thrilled to see that other bloggers enjoy my monthly check-ins and have adopted the format for their own blogs- this is AWESOME! If you write a similar monthly check-in/look ahead post, please feel free to utilize this format and be sure to leave a link in the comments below so we can all support you in your goals for the coming month!
In January, I…
1. Vacationed with my family in Punta Cana. Ah, in the midst of all this snow in Philadelphia, it's hard to believe that just three weeks ago, I was laying on the beach in 85 degree weather with a fruity drink in my hand. This was the first full family vacation (all five of us together for an entire week) we've taken in years, and it was fantastic to spend time with the family in such a beautiful setting. I was able to catch up on reading (check out the books I've read so far in 2014 here), eat delicious food, walk along miles of perfect beach, swim in the ocean and disconnect (almost) completely from social media. My next vacation is in June (a cruise to celebrate my little sister's college graduation!) and I'm already counting down the days.

2. Started off the year strong with lots of freelance writing and blogging. The week before I left for vacation, I was a writing machine! In addition to writing four guest posts (see links below!) and prepping my freelance work for the month, we celebrated Get Gutsy Week here on the blog! I was blown away by the response to the essay contest and so honored that 29 of you shared your very personal stories. Additionally, I hit a new blog milestone last month- my web traffic reached an all-time high in January, so thank you for continuing to read! I hope this upward trend continues through 2014.
3. Made yoga a priority and achieved crow pose! Last month I mentioned that I'd be signing up for a three-month unlimited hot yoga pass to the studio where I practice. Prior to that, I was paying for classes one at a time, which turned out to be pretty pricey if I wanted to go more than once or twice a week. Now, I'm practicing three times a week (hoping to increase that to four) and I'm already seeing so much progress! Last week, I achieved crow pose for the first time, and now I can't stop doing the pose everywhere, just to make sure that one time wasn't a fluke. I'm so excited to see where my practice will take me in these next few months!
In February, I will…
1. Begin training for the Broad Street Run. I mentioned recently that I've been struggling a bit with running since the Runner's World Holiday Run Streak challenge ended on January 1. In addition to being burnt out by running, in general, I think the weather has a lot to do with it, too. To get myself motivated, I signed up for the lottery for the Broad Street Run (I'll find out later this month if I made it into the race). If I get in, this will be my third time running this iconic Philadelphia race. I know that creating a training plan and having a goal to work toward will get me moving…and will hopefully make me fall back in love with running!
2. Speak at Stockton PRSSA's speed networking event. I love public speaking and I'm starting the year off strong with a roundtable discussion on personal branding to a group of PR students at Stockton College in New Jersey. I was honored to be invited and I can't wait to join the other awesome roundtable panelists for a great day of learning. I always look for new opportunities to speak to groups- check out the topics I can speak about, if you're ever looking for a speaker!
3. Spend time reconnecting with friends. The holidays were absolutely insane and I feel like I went weeks without properly hanging out with my friends. I found myself keeping my calendar clear to keep my stress levels down (sometimes you need to do that!). But this month, my social calendar is filled to the brim and I love it! It may seem weird to include this item as one of my "goals" or "looking forward" items for the month, but the truth is, nurturing friendships can be just as important for our well-being as our professional or health-related goals. I've found that since graduating college, friendship takes a lot more work, but it's an important part of my life, so it's a priority for me to make time for it.
January Posts You May Have Missed
Get Inspired With Get Gutsy Week
Winning Entry #1: My Journey to Entrepreneur by Caroline Winn
Winning Entry #2: Getting Gutsy- It's Supposed To Be Scary by Amy Chick
Winning Entry #3: Restricted Free-Agent by Kami Mattioli
Jessica Around The Web
New this month, I'll also be sharing links to my guest posts from around the web.
Five Ways To Make Your New Year's Resolutions Stick– for Philly Blog Love
Be Your Own Publicist: How to Promote Your Work Online– for A Writer's Bucket List
What To Do After Hitting Publish: A Content Distribution Checklist– for Scribewise
Five Ways To Make a Gutsy Transition From Student To Professional– for PRSSA National
What did you accomplish in January and what are you looking forward to accomplishing in February? Share your three things in the comments below!
Want exclusive content NOT featured on the blog delivered straight to your inbox twice a month? Be sure to sign up for my FREE #Get Gutsy e-newsletter filled with inspiration, ideas and action items to get out of your comfort zone.