After reading nearly 30 entries to the Get Gutsy Essay Contest, over the next few days, I'm thrilled to share the three winning entries! Be sure to click over to this post to read the gutsy stories from 29 inspiring participants.
The third and final winning entry comes from Kami Mattioli, a social media editor for a sports website, cupcake lover and blogger at Elite Ate. Kami's story struck me immediately because of this quote: "Sometimes being gutsy means being alone." Her story is one of courage and leaping into the unknown, without any reservations. Read on.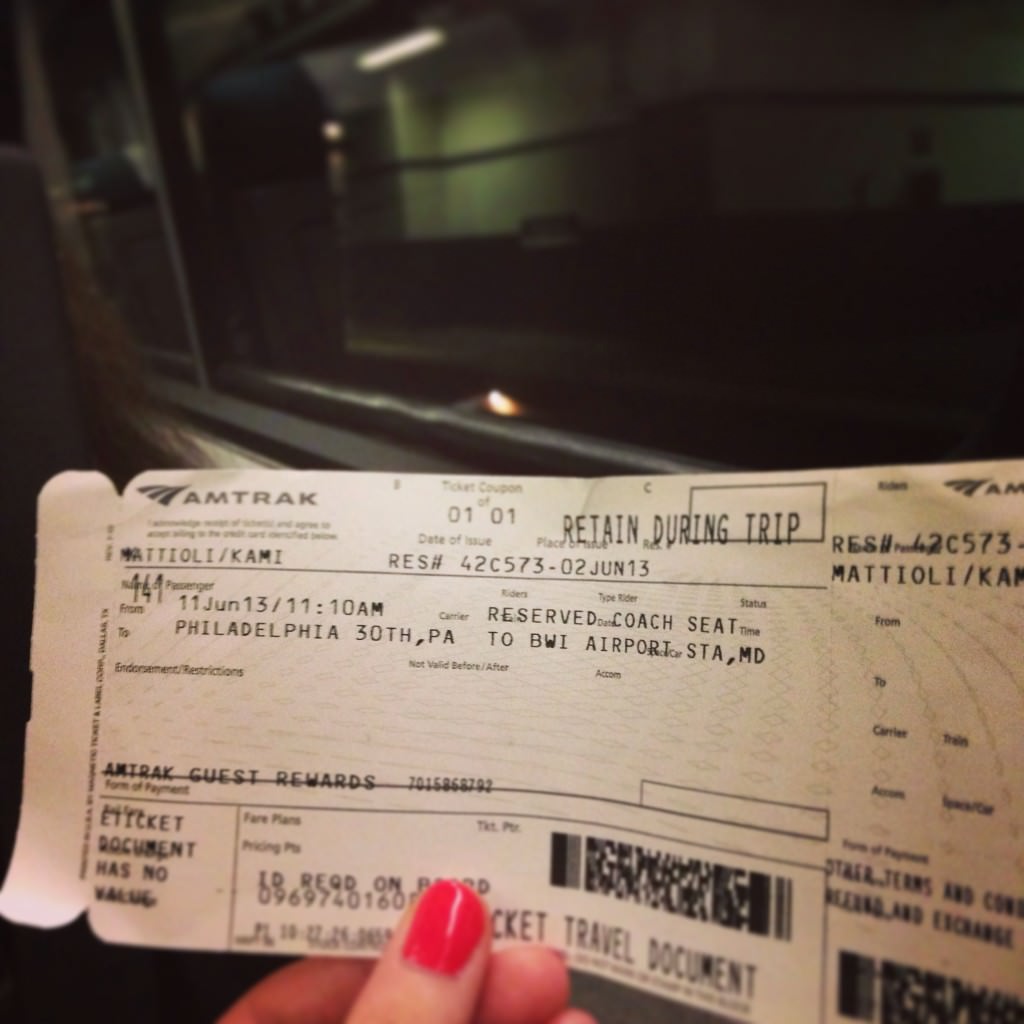 I stood in at Gate 6 in Philadelphia's cavernous 30th Street Station with a massive blue floral suitcase (borrowed from my mother) and a smaller, understated maroon suitcase (my own) huddled at my feet.
In my hand I clutched a one-way train ticket to BWI, rumpled from me nervously wrinkling it in attempt to distract myself from the inevitable goodbye looming in the background.
The departures board clicked and shuffled every few minutes as commuters swirled around behind me.
"I'll miss you" were the last words I was able to stammer to my mother before we both succumbed to tears.
As we hugged each other in a dramatic goodbye in the moment my life as I knew it forever changed, other people were going about their daily routines.
Sometimes being gutsy means being alone.
And that's how I was this past June when I moved to a city where I knew no one.
**
Everything changes when you become a visitor to the place where you were once a permanent resident.
After I got the phone call that I had gotten the Charlotte job, I spent 10 days packing up whatever bits and pieces of my life I could cram into two massive, 50-lb. boxes and two suitcases.
I signed a lease for a place I found online""one that I never saw in person until the day I actually moved in.
I plodded my way through difficult goodbyes to many of the people""friends, family members, teachers, coaches, mentors""all of whom helped guide me through the first 24 years of my life in a number of different ways.
And then, on the morning of June 10, I sat in the passenger seat of my mom's car driving away from the only house I've ever lived in equipped with just that one-way train ticket, two suitcases and blind faith that everything would work out.
I didn't know anyone in Charlotte, or anyone within two hours of the city, really.
"You're crazy to do this," I remember my friend (who has both jumped out of a plane in the Swiss Alps and bungee-jumped off the tallest bridge in Australia) telling me.
Maybe I was crazy.
But I knew that taking a risk isn't crazy""it was gutsy. And being gutsy, well, that's how you grow.
I knew I had outgrown Philadelphia.
Its jagged skyline, once so formidable, became a reminder that I was too comfortable.
The gridlocked streets, so many with memories of times past, became souvenirs of places I had lived or visited or simply already been.
And souvenirs become extra baggage when you gather too many in one place.
Tired of being weighed down, I was ready to fly.
So I did.
**
When United Airlines flight 2323 touched down at Charlotte Douglas Airport, I was home.
Later that afternoon, the leasing agent handed me a set of keys to my very first apartment and there, looking out my window as the sun refracted off of the downtown skyline, I realized that I was going to be okay.
Not just okay.
I was ready to become a better me.
And six months later, I can say that I have.
This post was written by Kami Mattioli as part of the Get Gutsy Essay Contest. Be sure to follow Kami on Twitter, where she's super active and very entertaining, and check out her blog.