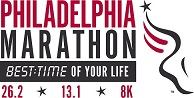 After 12 weeks of training, many mid-week 3-milers early in the morning and late at night and seemingly endless weekend long runs, the Philadelphia Half Marathon is finally here. With the race looming just five days away, I'm excited, nervous (and a little bit terrified).
My mind is certainly running in overdrive and below are the five things I can't stop thinking about five days from the big day:
1. My knee. First and foremost, I'm praying that my knee holds out and allows me to get through 13.1 mostly painless miles. I mentioned a few weeks ago that completely out of nowhere, I started experiencing pain in my knee and had to cut a 6-mile stepback week long run short to a 3-miler. After that, I rested and even went to the doctor and had an x-ray taken of my knee. The doctor didn't see anything alarming and thinks I probably experienced pain from overuse, but even his non-diagnosis still has me worried. During my 12-miler last week, I started experiencing a dull pain halfway through, but it wasn't bad enough to stop me. I'm confident I can get through the 13.1 miles but I trained for this race with a time goal in mind and I want to reach it, while still running smart and healthy.
2. Logistics. Isn't it awful that race day logistics stress me out way more than the thought of running 13.1 miles? The organizers of the Marathon weekend have sent out an email with logistics and provide more details about parking and public transportation on their website, but that doesn't make me any less worried. Unfortunately, I'm heading to this race completely alone after friends decided to sell their bibs, so I'm on my own to figure out getting there. Anyone out there who has done the race who knows of a super secret parking place they'd like to share? As of now, I was thinking of parking in a Center City garage and taking a cab (or walking) as close as I can get to the starting line.
3. Weather. Leave it to me to worry about things I can't even control. A few days ago I started stalking my trusty AccuWeather.com for the race day weather forecast. As of a few days ago, it was forecasted to be an absolutely stunning day, but now I see rain, clouds and wind. Yuck. It's not ideal, but it's do-able. Luckily, there are still five days until the race, so maybe Mother Nature will give us all a little break and make Sunday a beautiful day for a run.
4. What to wear. Speaking of weather, now I have NO idea what to wear. I figured it would be freezing cold and planned to wear my usual winter-weather Under Armour running pants and a long sleeve running shirt. I actually prefer running in the cold, so I was looking forward to a slight chill in the air. However, with the weather forecast so up and down, I'm honestly not sure what to wear on race day. Usually, I like to have this aspect planned for and out of the way during race week, but it seems that I'll need to continue playing it by ear until Sunday.
5. Playlist. I need two and a half hours of upbeat, energetic and motivating songs. Right now I have about an hour and a half of music on my Half Marathon playlist, but definitely need some fresh tunes to keep me going. Your suggestions welcome in the comments!
Are you participating in the Philadelphia Marathon or Half Marathon? If so, what thoughts are running through your mind this week?