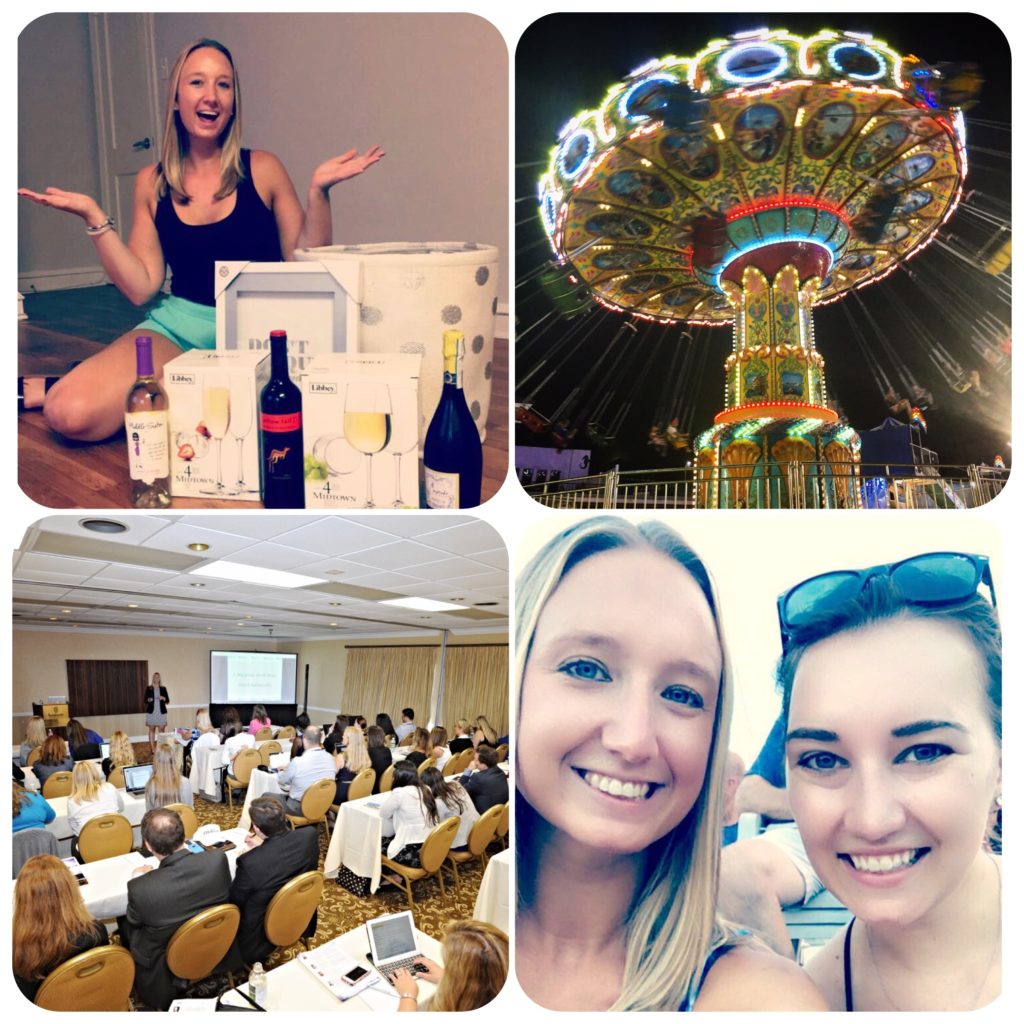 Each monthly check-in, I share three things I accomplished in the previous month and preview three things I'm excited about or hoping to accomplish in the month ahead. It's fun to look back and forward, and as an added bonus, these monthly check-ins keep me accountable to reach my goals.
I hope you'll join in and share your three things in the comments section! I've been thrilled to see that other bloggers enjoy my monthly check-ins and have adopted the format for their own blogs- this is AWESOME! If you write a similar monthly check-in/look ahead post, please feel free to utilize this format and be sure to leave a link in the comments below so we can all support you in your goals for the coming month!
In August, I…
1. Moved! After a brief apartment search, I found an amazing place to live in Chestnut Hill, a super cute neighborhood in Philadelphia that I absolutely love. I spent the month of August shopping, shopping, shopping. No joke; I think I visited every single Ashley Furniture store in the tri-state area at least three times each, searching for furniture. I learned through this moving process that I'm even more indecisive than I thought and it is starting to become a problem. Moving is an exciting thing to do, but I've felt a lot of anxiety around it, which is probably pretty normal, too. I officially slept at my apartment for the first time in mid-August and am beginning to feel more settled. I'm loving this new phase of my life!
2. Spoke at the Florida PR Association Conference. Speaking at the Florida Public Relations Association Conference early in the month was one of the best professional experiences I've ever had. I was extremely nervous for my session; it was the first time I was talking about my blog/brand message, rather than PR or personal branding, but it went amazingly! The room was packed, the attendees were engaged and I received really positive feedback after the presentation. I can't wait to give this presentation again soon. Curious about what it entailed? Check this out. I feel so energized after this experience and know that I want to do much more public speaking. As an added bonus, I met so many awesome people in Florida, including members of the Solo PR group, which I finally joined.
3. Soaked up the last bits of summer. Summer is my favorite season of the year, so I'm sad to let it go. This month, I went to two summer concerts (nothing like rocking out to music outside, right?) I saw Halsey and Shawn Mendes. The Halsey concert wasn't my favorite, but Shawn Mendes was awesome. I made it back to Ocean City, New Jersey for one glorious afternoon, but otherwise, didn't spend too much time outside, unfortunately. I did spend lots of time with friends this month and am hoping to squeeze in one more beach day while the weather is still nice.
In September, I will…
1. Begin teaching my first college class. I am SO excited to share that one of my greatest dreams is coming true way sooner than I expected. Last week, I was presented with an opportunity to teach an undergraduate college class! I am officially a member of Temple University's adjunct faculty and I'll be teaching an Advanced Public Relations Writing course this fall semester! Many of you know that Temple is my alma mater; I sat in this very same class, this time seven years ago. It is so special to me to have the opportunity to teach and share what I've learned over the past several years with the next generation of public relations professionals. Not going to lie, I'm slightly terrified, but knew that I had to say YES to this incredible opportunity. Just call me Professor Lawlor 😉
2. Fully settle into my new apartment. In September, I hope to feel fully, fully settled in my new place. I spent the month of August slowly moving, purchasing furniture and decorating my apartment. It's starting to look really good! I've been sleeping and working here the past few weeks, but I still need a couple of big items to help me feel fully settled. My couch arrives this week and I still need to pick out a kitchen table and chairs. I hope to spend the month of September getting everything organized, so that I feel like I really live here, rather than living between two places like I do right now. I am already loving living alone and feel so lucky to live in this awesome neighborhood. Chestnut Hill also has a few fun fall festivals this month, so I'm especially excited to explore the town!
3. Make some big career changes. At the end of August, I wrote a blog post detailing an extreme moment of clarity. In that moment of clarity, I realized several things I need/want to do to keep my career/business/blog moving forward and thriving. One of the major things I realized is that I need to start building a team. I am already in talks with my potential first team member and I'm so excited about how I know she'll help me grow and expand my brand. I'm also working with a designer to help me get my blog graphics in better shape; I know I'm no designer and want to start outsourcing the things I know aren't my strengths. I'm nervous about these changes, but really excited to keep things moving forward!
August Posts You May Have Missed
Becoming CEO: Month Six of Solopreneurship
I Quit My Job to Take My Side Hustle Full Time. Here's Exactly How I Did It.
Okay, Universe. I Hear You, Loud and Clear.
Jessica Around The Web
Guest posts, articles and other places you can find me this month online.
Get People to Stay on Your Website Longer– for Jetpack
How to Start Freelance Writing: 5 Major Questions Answered– for The Write Life
19 Creative and Clever Gifts for Writers– for The Write Life
Your Content Marketing Social Media Distribution Checklist– for Scribewise
What did you accomplish in August and what are you looking forward to accomplishing in September? Share your three things in the comments below!
Want more gutsy content delivered straight to your inbox twice a month? Be sure to sign up for my FREE #GetGutsy e-newsletter filled with inspiration, ideas and action items to get out of your comfort zone. When you sign up, you'll also be sent a FREE copy of the Get Gutsy ebook, filled with 19 inspirational stories to help you get gutsy.