Back to school, back to school!
For the first time in several years, I'm so excited to share that I'm going back to school this semester…TO TEACH!
After months of pestering (cough, I mean diligent follow-up, cough) with the head of the PR department at Temple University, I was offered a class as an adjunct instructor.
I'll be teaching Advanced Public Relations Writing, a class I sat in myself, not too long ago.
When I started thinking about all of the things I want to tell my new students today, on the first day of class, my mind felt jumbled. So, I did what I always do when I feel unclear.
I wrote.
Here's a letter to my students, which I plan to share with them today, but I thought you might like to read, as well.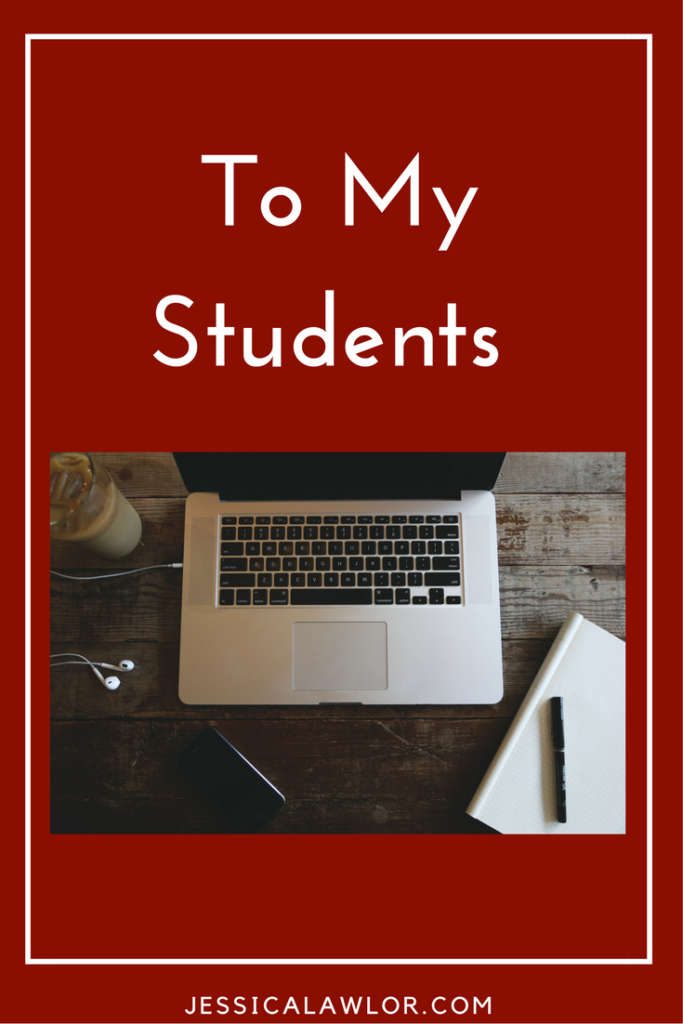 Dear Advanced PR Writing Students,
Hi, I'm Jessica, your instructor for the semester.
Before I officially introduce myself, I want to share with you the reasons why I am teaching this class, your class, this semester.
I want you to succeed. First and foremost, I hope you know that I want you to succeed. I want you to do well in my class. I want you to walk away from this semester better and stronger writers. I want this class to inspire you. Please know that everything we will do this semester has a purpose, even if you might not understand it at the moment. Please know I will never give you "busy work" just because. Please know that I am here because I want to be here; because I want to help you grow, thrive and succeed.
I'm here to help you. Truly. If you're struggling with an assignment or a class concept, please reach out to me. Come to my office hours. Send me your assignments ahead of time for review (yep, that's one of our class policies!) I was hired by Temple because they think my expertise and experience can benefit you. I'm here because I want to help you be better. I want to help you grow your skills so that you can find an amazing job that makes you happy when you graduate.
I hope to show you that the world of public relations can offer you endless career possibilities. I love public relations. If this is your major, I applaud you. You're smart. You're savvy. Know why? Because these skills that you're developing can be applied to literally any industry or sector. Writing and clear communication will always be skills employers are seeking. And you have them! In my career so far, I've worked in communications at a hospital, a winery, a destination, a historic site, with an author and more. I'm not necessarily experts in any of these topics, but my skills are translatable. And yours will be, too. The world is your oyster.
I want you to tell you the things I didn't learn in a college classroom. Yes, of course, there will *always* be some things you can only learn on the job; that's life. I love, love, loved my college experience, but there were some things I learned on the job that I wish we had touched on in the classroom. This semester, we'll cover some of those items.
I may need to utilize some tough love. Yes, I will likely be a bit hard on you. As you see in your syllabus, when it comes to spelling, grammar and punctuation, you will be docked points for errors. I don't do this to be a pain in your butt, but rather because I know this will benefit you long-term. How do I know? Because I lived it. Several years ago, I had a professor named Gregg Feistman (sound familiar?) who used this same policy for writing assignments. I hated it. And yep, I didn't always get an A on my assignments like I had become accustomed to in my PR classes. But I learned. I learned about AP Style. I learned about grammar. I learned about punctuation. And now, I'm a better writer. I've been hired because of my writing. I know that with a little tough love, you'll learn…and benefit, too.
(And guess what? I'm still learning. Full disclosure: when I sent Gregg my syllabus for review, he found a punctuation error and called me out on it…the learning never stops) 🙂
My Temple experience shaped me and I hope yours does the same for you. Perhaps the most important reason I'm teaching is because my experience at Temple University, and specifically as a Strategic Communication major, set me up for success. My professors, mentors, internships, Temple's PRSSA chapter and PRowl Public Relations shaped me. Not only did they shape me, they lit the entrepreneurial flame in me. As you likely know, Temple produces LOTS of entrepreneurs and celebrates people taking non-traditional approaches to building a career. I want to be able to inspire that flame in YOU.
Here are a few other things you should know about me:
I'm a proud Temple alumna, if you didn't already gather that. I still stay involved on campus with various alumni groups. I'm currently the president of the Temple Women's Network.
While I was a student at Temple, I was very involved with Temple PRSSA and was one of the co-founders of PRowl Public Relations, Temple's student-run PR firm. You'll likely hear me get on my soapbox about why you should join these amazing organizations.
After graduation, I worked at a hospital doing internal communications. After that, I worked for a destination doing travel/tourism PR.
In December, I quit my PR job to take my own communications business full-time. I help my clients with public relations, content development/management and social media. Some of my clients include Jetpack, Muck Rack, Crossing Vineyards and Winery, Pennsbury Manor and more.
I'm a big fan of the side hustle. We'll talk more about that in class.
I'm also a yoga teacher.
I love social media. Social media is the primary reason I was able to build a personal brand that opened me up to new opportunities. Feel welcome to follow me on any social media site you see me on.
I can't wait to meet you! Looking forward to a great semester.
Best,
Jessica
Want more gutsy content delivered straight to your inbox twice a month? Be sure to sign up for my FREE #GetGutsy e-newsletter filled with inspiration, ideas and action items to get out of your comfort zone. When you sign up, you'll also be sent a FREE copy of the Get Gutsy ebook, filled with 19 inspirational stories to help you get gutsy.