I have three confessions to make:
1. For the first time in 204 weeks (almost four full years), I missed a Start Your Week Right Sunday blog post.
2. Over the weekend, I broke my 147-day meditation streak. And I haven't meditated since.
3. This is the biggie…about the two items above? I found that I actually didn't really care very much.
During the first half of this week, I definitely struggled with a tiny bit of shame about these two habits I've broken. After all, I pride myself on doing what I say I'm going to do and creating consistency.
But then, something shifted in me.
Last night at dinner with my good friend Emily (also known as Her Philly), I realized something that probably seems quite obvious, but hit me hard as if I were hearing it for the very first time.
I tweeted out this mini-breakthrough.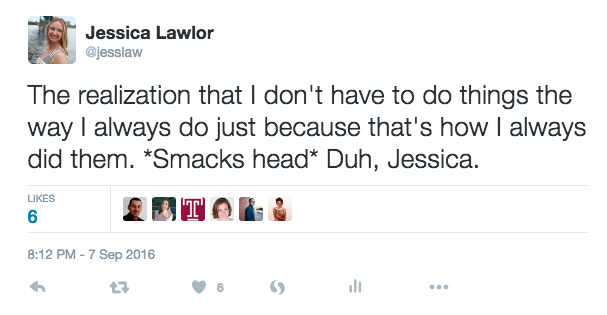 Over margs and guac with Emily (really, the best way to do anything), I said, "I didn't write my Sunday roundup. And guess what? No one even noticed. The world didn't stop spinning. People still visited my blog. It was all okay."
About the meditation thing, I said, "I love meditating, but this weekend, I was *actually* living in the moment. I was having a damn good time doing it and I didn't feel like taking 10 minutes each day to pause and sit in stillness just to check a box and satisfy a streak."
In that moment, I realized, I've been dutifully sharing links every Sunday for the past four years and meditating every day simply because that's what I do. It's what I've always done. I lost sight of the real reason I was even doing these activities.
Instead, I was doing them just to do them. What a waste of time, right?
You don't have to do things the way you always do just because that's how you've always done them.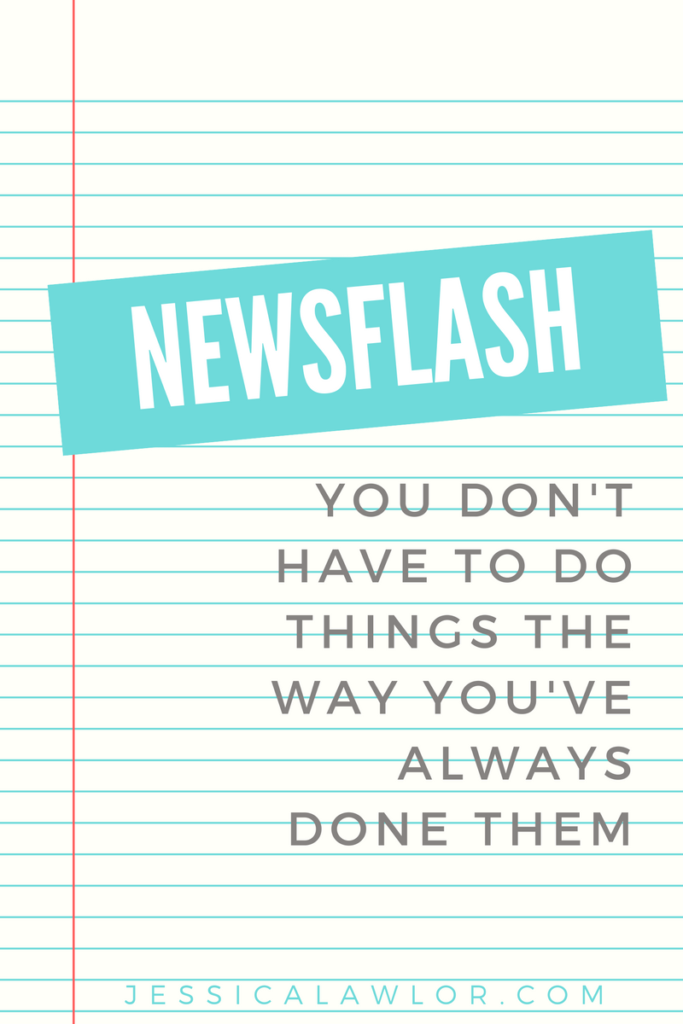 Beautiful words, to my ears.
I know this whole post probably doesn't sound like my usual spiel, but things are changing.
(Don't panic; in a good…even great way.)
I'm changing.
My business is changing.
My day-to-day is changing.
My relationships are changing.
I'm evolving.
And this blog and brand will change and evolve along the way, too. I hope that's cool with you…and if it's not, I completely understand.
But if it is cool with you, I hope you'll join me for this wild ride.
Because guess what? YOU are growing. You are shifting. You are changing.
We're doing this. Together.
Are you ready?
More to come soon on these changes as they unfold.
But seriously, have you ever continued doing something just because it's the way you've always done it? I'd love to hear your stories. Leave a comment below.
Want more gutsy content delivered straight to your inbox twice a month? Be sure to sign up for my FREE #GetGutsy e-newsletter filled with inspiration, ideas and action items to get out of your comfort zone. When you sign up, you'll also be sent a FREE copy of the Get Gutsy ebook, filled with 19 inspirational stories to help you get gutsy.