It's no secret that this summer I've been feeling a little bit…stressed.
That's probably putting it nicely, especially if you ask my poor family and friends who have had to endure the wrath of my anxiety, indecision and overwhelm.
Between living and working from a different city for the month of July, onboarding my biggest client yet, speaking at a major conference in Florida, furnishing/moving into a new apartment and increasing my yoga teaching schedule, I've spent the last couple of months treading water, just barely keeping my head afloat.
It's not a pleasant feeling.
Don't get me wrong; I'm not complaining. The list of things that are currently weighing on me are actually great.
This overwhelm means I'm growing, shifting and thriving. It mean I'm making big moves in my business and my life. These are all good, positive changes that I'm thrilled about.
However, in my day-to-day, that doesn't make life any less wild.
Earlier this week, I sat down after teaching a yoga class to write a description for a yoga workshop I want to host this fall. I set aside about 30 minutes to write the description because I had a long list of client work to tackle, but knew I needed to get this done.
As I was writing, something amazing happened.
The ideas kept flowing.
Not just for yoga workshops, but for blog posts.
For projects I want to complete for my brand.
Speaking ideas.
Client work.
And then I had a huge business breakthrough.
I felt like the fog that has been hanging out in my brain for the past three months suddenly cleared and all of a sudden I could see clearly again.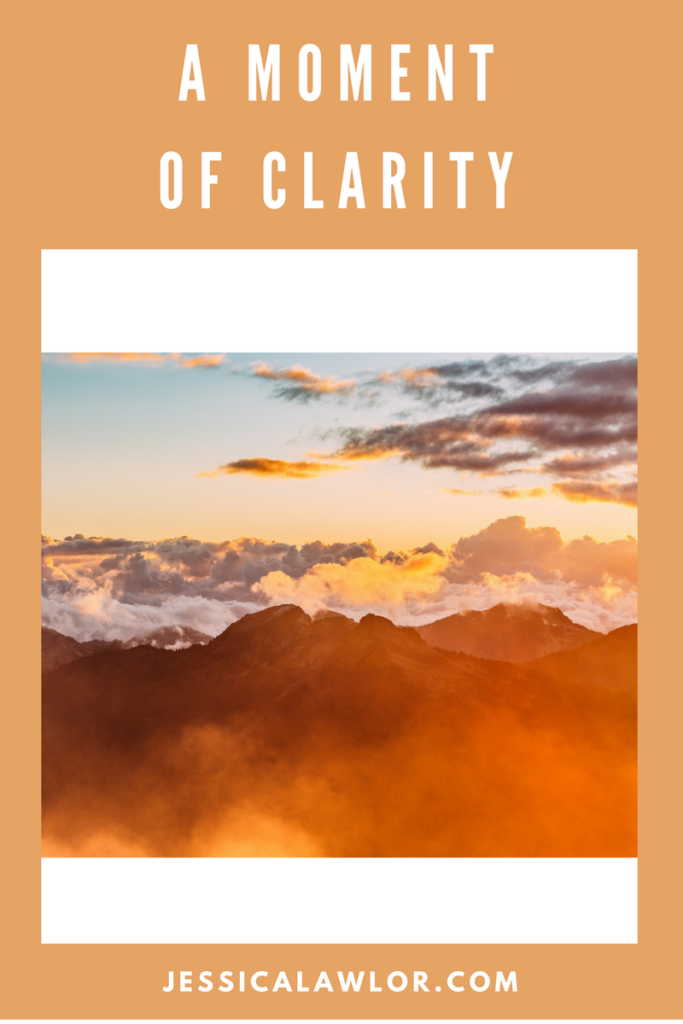 Here are three of the major breakthroughs I experienced during this moment of clarity.
1. I need to hire someone. I need to start building a team. I don't know why this all of a sudden hit me like a ton of bricks, especially considering friends have been telling me to build a team all along, but the other day, I realized, "HEY, OMG, I CAN'T DO THIS ALONE!" Magical realization. Originally, I quit my job to start my own business because I thought it would give me MORE space and time to pursue my creativity- to move my blog and brand initiatives forward. However, my full-time job was replaced with client work, so now I have almost the same exact amount of time for my blog/brand that I did before. To keep my blog and brand initiatives moving forward (more content, courses, podcast, ebooks, email auto sequence, affiliate marketing, etc.), I need to hire someone. I know exactly who I want to hire and I know exactly what I need her help with. She's the perfect fit and she'll be an amazing addition to my team. I'm ready to take this big next step to bring on my first official team member. Eventually, I'd also love to bring on someone to help with client work, too, but right now, I know that this specific person I have in mind can help me take my personal brand to the next level and beyond.
2. Public speaking is something I want to do much more of. Speaking at the Florida Public Relations Association Conference earlier this month was an incredible experience. I felt SO inspired and energized after giving my presentation. I've always known public speaking was something I enjoyed doing (even though it still terrifies me every time), but during this specific session, I felt something different. I felt a buzz I want to chase again and again. I want more of the way I felt that day. I'm already taking steps to put myself out there. I'm working on developing a public speaking page for my website. I know that this is a natural next step to grow both the client side of my business, but also my blog and brand.
3. I'm more confident and clear in the type of client work I want to do moving forward. When I first started my business, I said yes to almost every prospective client that crossed my path. Content management. Media relations. Social media. Email marketing. All of the things. If it had to do with communications, I knew I could handle it. And sure, I could handle it, but does that mean I *want* to handle it? Not necessarily. The past six months have been an amazing learning experience. After working with clients who get it and others who don't quite get it, I now know the type of person/company I want to work with. After dabbling in lots of different projects, some that I've loved and others that I've dreaded, I now know the type of work I want to take on. Again, all of these things could change in the future, but for right now, I know what to say yes to and what to say no to.
Three major breakthroughs. One random Tuesday afternoon.
Even though I know this clarity can be fleeting, I'm grateful.
I'm grateful for a moment to breathe.
I'm grateful to rest my tired arms and legs, after months of swimming and swimming.
I'm grateful to have a clear mind (even if just for a moment) to be creative and to listen to the voice inside me whispering what to do next.
I'm grateful for this life and career I've built.
And I can't wait to see what happens next.
Want more gutsy content delivered straight to your inbox twice a month? Be sure to sign up for my FREE #GetGutsy e-newsletter filled with inspiration, ideas and action items to get out of your comfort zone. When you sign up, you'll also be sent a FREE copy of the Get Gutsy ebook, filled with 19 inspirational stories to help you get gutsy.