For those who are just catching up, in December, I made a career (and life) changing announcement. I resigned from my job working in public relations to take my business, blog, brand and teaching full time. I'm bringing you along for the ride, giving you a glimpse behind-the-scenes of the exact steps I'm taking to make solopreneurship work in the Becoming CEO series.
You can check out previous posts in the Becoming CEO series here.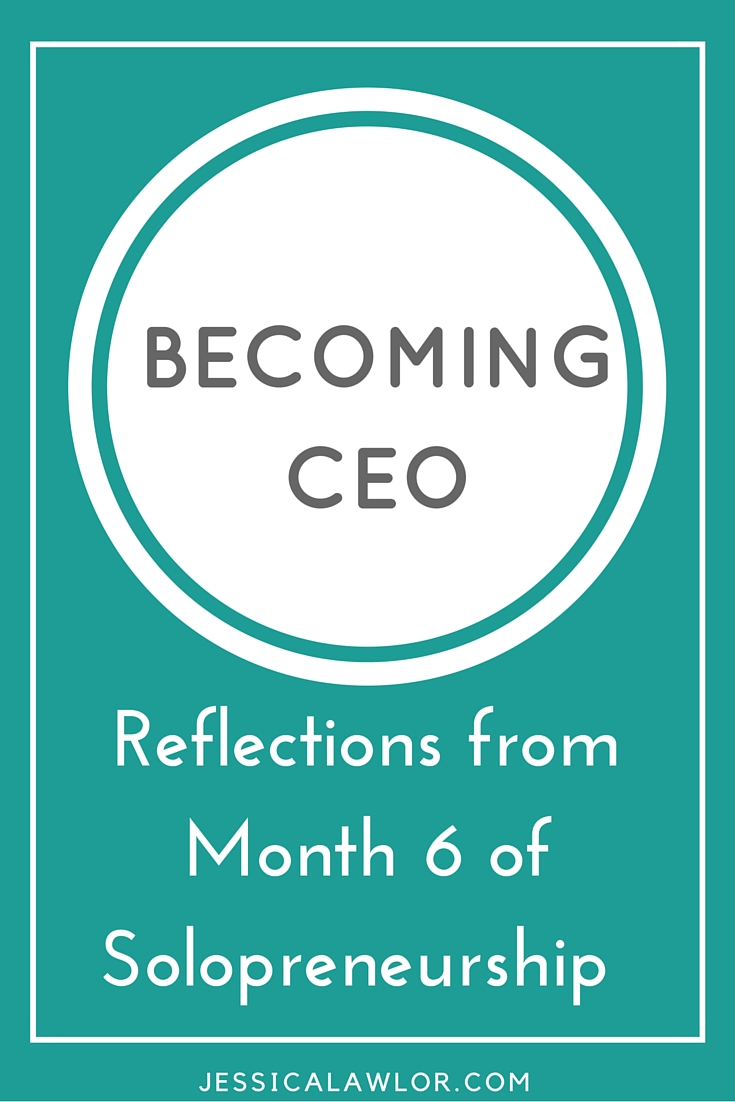 Let's take a look at month six of solopreneurship! Here's my month by the numbers, an income breakdown, lessons learned, the ups, the downs and how I'm feeling.
Month Six By The Numbers:
8 phone/Skype calls (as compared to 10 last month)
4 in-person meetings (as compared to 2 last month)
12 meetings total (as compared to 12 last month)
13 yoga classes taught (as compared to 14 last month)
Month Six Income Breakdown:
Each month, I share a percentage breakdown of my income.
A few thoughts on this month's income breakdown:
Because I added a brand new client (Hi, Jetpack!), content management is now my biggest income stream and where I'm spending most of my time. I'm thrilled with this trajectory as content strategy, editorial calendar development, writing and editing are where I want to be focusing my efforts.
Whoa! My writing was way down in July. Because I was down the shore, I didn't take on too many extra writing assignments. Hoping to do a bit more writing in the fall.
I added TWO new weekly yoga classes in the month of July (Yay!), plus taught a weekly yoga class for a rowing summer camp, so my yoga income increased a bit in July.
Lessons Learned from Month Six:
It's possible to work from anywhere. Part of the reason I wanted to start my own business was for the schedule flexibility and the opportunity to be location independent. I got my first taste of location independence in July! I spent the majority of the month working from Ocean City, New Jersey. I switched my daily routine a bit and worked almost exclusively from 7 a.m. until 1 p.m. each day and then spent the afternoons at the beach. Of course, I'd check in on email and social media and sometimes at night, I'd jump back online, but for the post part, I truly worked "half days" in July and still brought on new clients and kept current clients happy. It wasn't necessarily easy and I did miss having some semblance of a normal routine, but overall, I was excited to see that it's totally possible for me to truly work from anywhere I have an internet connection.
Know (and respect) your capacity. I'm starting to hit my workload capacity, which is AWESOME, but also terrifying. Not being able to take on any more work at this very moment is exciting, but turning down potential clients and projects also makes me super nervous. I knew this would happen eventually and that there will be ebbs and flows as my business changes, but I realized in July I was very close to hitting my capacity. I started to notice my stress and anxiety levels rising, my to-do list feeling more never-ending than ever and in general, I started feeling dread about the amount of things I had taken on. Plus, then THIS happened, and I was like, "Okay, universe. I hear you. I'll be a bit kinder to myself."
Let go of clients who aren't a great fit. I recently brought on a client that I had a few hesitations about, but I ignored my instincts because it seemed like a great opportunity at the time and the referral came from a friend. After only a few weeks working together, I knew my instincts were correct and I realized I needed to get myself out of the situation. This was the first time I had to "let go" of a client and it didn't feel awesome to share that news. However, even though it was tough to do, it also made me feel super empowered that I  truly am the only one in control of my business and the people I work with. If something isn't working for me, I have the power to change it whenever I want. That feels pretty awesome.
The Highs and Lows:
There are always going to be good days and of course, there will always be not-so-hot days. Here are the things that made me super smiley and excited this month, along with some challenges I faced.
The Highs:
I spent the month of July working from the beach!
My second post for The Penny Hoarder went live! Give it a read: How I Turned My Side Hustle into My Full-Time Job (and Make More Than Ever)
I taught a weekly yoga class for a summer camp for teen rowers. It was an awesome experience and I'm hoping to continue teaching rowers in the fall!
I started teaching a new weekly class at Dana Hot Yoga and was offered a new class beginning in August at Y2B Fit (check out my weekly yoga schedule).
I brought on a new consulting client! Even though I'm almost at capacity for content management/PR work, I'm still keeping availability open for consulting hours.
An amazing opportunity working with a DREAM client popped up. I've already applied, sent a proposal and did a mini test project, so I'm keeping my fingers crossed until I hear back!
The Lows:
I let go of a client.
I didn't have much routine due to working from the beach this month.
Even though I was at the beach for a month, I never took a full day off. Next year, I'd like to work in at least a few days that I block ahead of time as a true vacation day.
Working out? Lol, what's that? I miss my normal workout routine. I know I'm much more happy and productive at work when my body is healthy and strong.
How I Feel:
July was a mixture of emotions.
On one hand, I was all, "YAY! I'm working from the beach! I'm awesome!" and then five minutes later, I'd be like, "There's not enough time in the day! I'm the worst. I can't make anyone happy"
Such is solopreneurship…this is really how I feel on a day-to-day basis.
Overall, in July, I was a very happy camper. I had a productive client month, got my daily dose of Vitamin D and spent some quality time with the family down the shore.
However, I'm starting to feel a lot of stress and anxiety creeping in as I head into the final month of summer and the fall. Between moving apartments, onboarding new clients and trying to keep everyone happy, I'm starting to feel a bit crazed. I see myself moving into a scary, stressful place if I continue at the pace I'm currently at, so I'm eagerly working to change that and stay afloat.
(Honesty, y'all)
I'm still feeling very grateful for this opportunity to do what I love, but I'm also trying to be mindful of how much I've taken on so I can sustain this business I've built.
To continued learning, growth and lots of deep breaths!
Onto Month Seven! Stay tuned- I'll continue sharing these recaps monthly.
Have any questions about becoming CEO and my sixth month in business? I'd love to answer your questions and hear your thoughts about this journey!
Want more gutsy content delivered straight to your inbox twice a month? Be sure to sign up for my FREE #GetGutsy e-newsletter filled with inspiration, ideas and action items to get out of your comfort zone. When you sign up, you'll also be sent a FREE copy of the Get Gutsy ebook, filled with 19 inspirational stories to help you get gutsy.