For those who are just catching up, in December, I made a career (and life) changing announcement. I resigned from my job working in public relations to take my business, blog, brand and teaching full time. I'm bringing you along for the ride, giving you a glimpse behind-the-scenes of the exact steps I'm taking to make solopreneurship work in the Becoming CEO series.
You can check out previous posts in the Becoming CEO series here.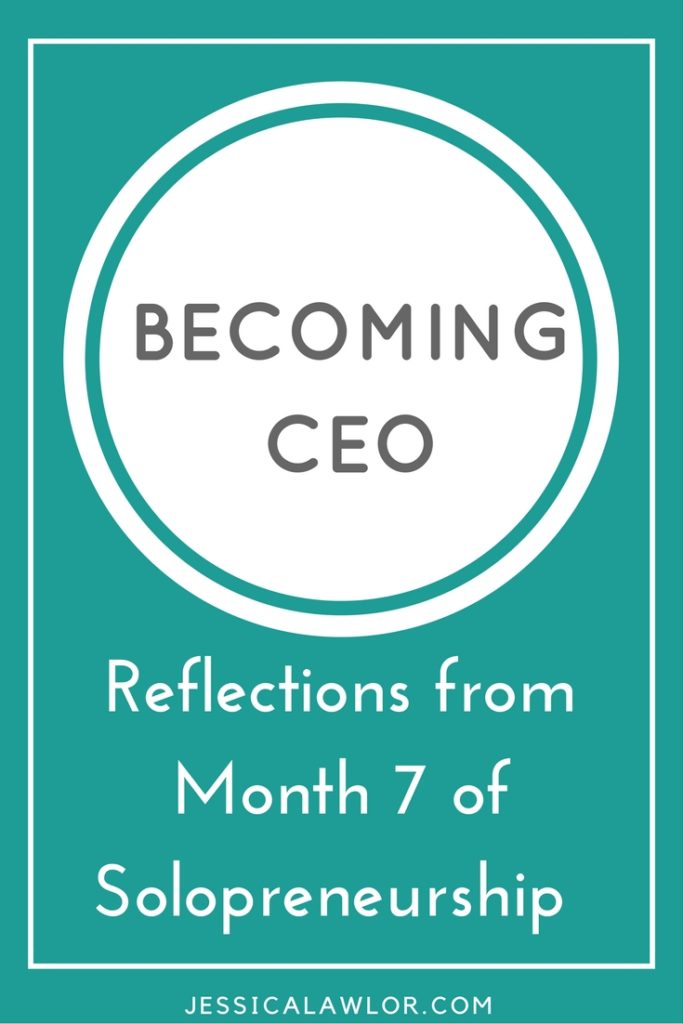 Let's take a look at month seven of solopreneurship! Here's my month by the numbers, an income breakdown, lessons learned, the ups, the downs and how I'm feeling.
Month Seven By The Numbers:
10 phone/Skype calls (as compared to 8 last month)
1 in-person meetings (as compared to 4 last month)
11 meetings total (as compared to 12 last month)
18 yoga classes taught (as compared to 13 last month)
Month Seven Income Breakdown:
Each month, I share a percentage breakdown of my income.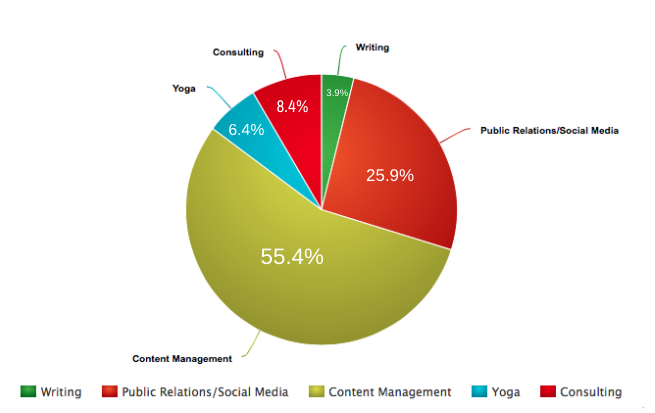 A few thoughts on this month's income breakdown:
My consulting category returned in the month of August! A new yoga studio in the area purchased a package of consulting hours to use with me on various initiatives. We split the hours between actual consulting (teaching, showing the owner how to use Mailchimp, social media, etc.) and having me do tasks on her behalf (writing a pitch for the media, sending it out, setting up an email template). I love this type of consulting work because it's nice extra income and also fun to work on a short-term project that has a clear beginning and end.
Writing continues to decrease as I take on more content management work. I'm sad to not have as much time to write, but I'm also excited about the unlimited income potential there is with content management.
Content management is quickly becoming my most profitable and busy stream of income. The income you see above is currently spread between two of my bigger clients. I just added on one more content management client, so in future months, I expect this percentage will increase even more.
Lessons Learned from Month Seven:
I want to do much more public speaking. Getting up on a stage to speak is downright terrifying…and downright rewarding. I spoke at the Florida PR Association Conference in early August and while I was so nervous, the experience was amazing. It was the first time I spoke about my blog/brand message, rather than PR or personal branding, which was different for me. The room was packed, the attendees were engaged and I received really positive feedback after the presentation. I can't wait to give this presentation again soon. Curious about what it entailed? Check this out. I feel so energized after this experience and know that I want to do much more public speaking.
Procrastination actually seems to work for me. Confession…I have *always* been a procrastinator. For some reason, I thought when I started my business that might change, but it definitely hasn't. I stressed myself out to no end by waiting to do my presentation for my big speech in Florida until the day before I left. Yes, I knew I had months to prepare and I did think about it a lot, but I didn't actually sit down to do the thing until just hours before I had to leave Philadelphia. I finished the presentation on my flight and made final touches right up until 15 minutes before the presentation. The levels of anxiety I felt during these hours was insane, but guess what? The speech went as good as I think it could have gone…better even than if I had prepped weeks before. This is a vicious circle- procrastinate, stress out, still do really well…procrastinate even more. I know some people thrive under pressure and I think I definitely fall into that category.
Major breakthroughs come from anywhere. After months of feeling foggy, all of a sudden, I had three major breakthroughs and instantly felt more clear and focused. It all happened on a random Tuesday afternoon, completely out of the blue. I wrote about the poignant experience here. These three realizations gave me so much clarity and while that moment didn't last forever, it definitely gave me a sense of purpose and new direction.
The Highs and Lows:
There are always going to be good days and of course, there will always be not-so-hot days. Here are the things that made me super smiley and excited this month, along with some challenges I faced.
The Highs:
I had three major business breakthroughs. Finally, a moment of clarity!
I spoke at the Florida PR Association Conference and it was amazing! I loved the entire experience and can't wait to do more speaking.
I officially joined the Solo PR Pros group and I am already benefitting so much from the knowledge of the group and resources offered to members. Highly recommend!
I attended a yoga training at my favorite studio down the shore, Golden Buddha Yoga.
I started teaching a new yoga class at Y2B Fit in Mt. Airy, which as an added bonus, is five minutes from my new apartment!
I accepted a position teaching an undergraduate Advanced PR Writing course at Temple University- more on that next month!
I developed two new yoga workshop ideas and scheduled a few fall workshops.
The Lows:
Moving to a new place + running a business really took its toll on my sanity this month. See below.
I still struggled with finding time to work out in August…and I practiced yoga way less than I normally do. Already in September I'm seeing an improvement, but August was definitely rough.
How I Feel:
In month seven, I felt downright crazy.
My days were spent running around the tri-state area looking for furniture, while simultaneously taking client calls and attempting to keep up my normal work schedule.
I know there will be times where I need to focus on other areas of my life, but it was really challenging to balance life stuff and business stuff this month. I'm hoping to feel much more settled later this fall, now that I am fully moved into my apartment.
The business itself is going very well and for that I am grateful. Financially, I'm doing way better than I ever expected, but in terms of my sanity…this was a very challenging month.
Onto Month Eight! Stay tuned- I'll continue sharing these recaps monthly.
Have any questions about becoming CEO and my seventh month in business? I'd love to answer your questions and hear your thoughts about this journey!
Want more gutsy content delivered straight to your inbox twice a month? Be sure to sign up for my FREE #GetGutsy e-newsletter filled with inspiration, ideas and action items to get out of your comfort zone. When you sign up, you'll also be sent a FREE copy of the Get Gutsy ebook, filled with 19 inspirational stories to help you get gutsy.