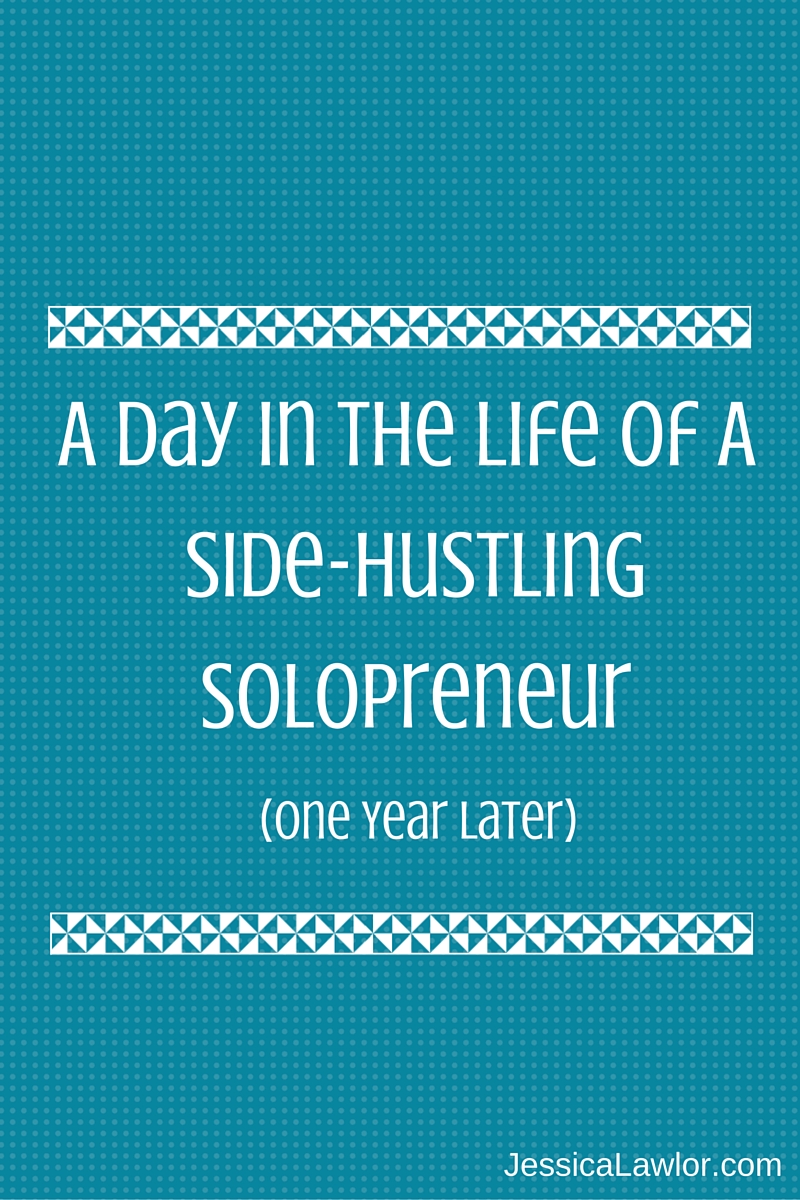 One year ago, I shared with you a glimpse into my life as a side-hustling solopreneur.
I absolutely LOVE my side hustle– many of you know that on the side of my full-time PR job, I run this blog/community, teach yoga, write for a number of print and online publications, serve as the managing editor of other blogs, speak regularly to groups and offer personal branding bootcamp consulting sessions.
A side hustle not only keeps me excited, engaged and passionate about my work, it also obviously serves as an additional stream of income. Many of you have asked me how I do it.
Since just one year ago, SO much has changed. I thought it might be fun to share with you another day in my side-hustling solopreneur life.
But first, I want to share with you an AMAZING offer that I'm super excited about. An offer from the community of women who actually inspired me to write that first day-in-the-life post one year ago.
Have you heard of One Woman Shop (OWS)? OWS is an incredible community for female solopreneur/business owners. I've been a member for a year now and have nothing but positive things to say about my fellow members, the products/courses the community offers and the mentorship/friendship I've gained from the group.
That's why I'm happy to share with you this awesome deal.
The One Woman Shop Solopreneur Success Bundle
The Solopreneur Success Bundle is your one-stop shop for the some of the best resources out there that will unlock your potential as a solo business owner and lead you to greater success.
Writing copy. Creating passive income. Pricing. Streamlining your systems. Launching. Managing finances. Unplugging. These are all things you know are important to your biz, but you could use some help to make them happen.
The Bundle brings you 19 amazing products worth over $1,500 that do just that. Your investment? $99. But here's the catch: it's only available this week, from September 14-18th.
What's more? The impact of your investment doesn't stop with your own business. One Woman Shop is investing $10 on every sale in Kiva, specifically supporting women-run projects and businesses around the world.
Oh, and because I value the Get Gutsy community so much, I'm sweetening the deal!
If you're interested in the bundle and purchase it through my link, I'm throwing in a few extras!
You'll receive my tell-all Ultimate Guide to Freelancing Q&A
You'll receive my personal branding checklist
For the first 3 people who sign up, I'm giving away a free personal branding bootcamp session OR a "pick my brain" session (your choice!)
If you purchase the bundle using my link, please email me your receipt (jessicallawlor AT gmail dot com) so I can send you your bonus goodies! 
Okay, onto a day in my life- a glimpse into how I manage my time and energy– juggling both a full-time job, teaching yoga, a growing side hustle and brand…oh, and a social life!
4:45 a.m. First alarm rings…I likely ignore it, because 4:45 a.m. is not a happy time to be awake.
4:57 a.m. Second alarm rings. Odd time to set on an alarm clock, I know. Anyone else set their alarms for strange times? I finally get out of bed. Why do I wake up so early? There are many, many reasons, but the biggest one for me is that I feel most productive when I first wake up!
5 a.m. Head downstairs to work out. Since running and I have a bit of a tumultuous relationship these days, I've been loving Focus T25. The workouts are only 25 minutes long (easy to fit into a busy day!) but are super impactful and always help me start my day on the right foot. If I'm feeling extra ambitious after finishing T25, I'll throw in a couple of yoga sun salutations and maybe a few minutes of meditation.
5:30- 6:30 a.m. Shower time! I'm still a crazy multi-tasker and use the 45 minutes or so of blowdrying/straightening hair and makeup for catching up on my guilty pleasure TV shows. At the moment, I'm always catching up on Bachelor In Paradise (boo, it just ended) and Big Brother.
6:30 a.m. Head downstairs for coffee and breakfast. I'm a creature of habit and pretty much start every day with a piece of cinnamon toast and coffee. Then, I settle in at my kitchen counter to get to work. My tasks vary on what I'm focused on at the moment and what deadlines I'm currently working toward. Here's a sampling of some of my early AM projects I've been working on lately:
Write a post for this blog, design a graphic to go along with the post, hit publish and schedule social media updates to promote the post.
Work on the #GetGutsy newsletter. This includes sending personal notes to new subscribers, writing content for the newsletter and scheduling emails to send.
Brainstorm, strategize and implement on upcoming Get Gutsy projects. Right now, I'm focused on turning the 30 Days of Gutsy course into an ebook.
Edit, lay out and publish blog posts for one of my blog management clients. Respond to emails and schedule out editorial calendar for that same client.
Work on freelance articles and blog posts for various clients.
Yoga work: work on writing new flows, creating new playlists and developing themes for upcoming classes.
7:30 a.m. Leave for work! I previously left for work much later to be there by 9 a.m. but we now have flexible scheduling, so I aim to get to work by 8 to be able to add an extra hour to my evening. I was shocked by how much longer my evenings feel when I leave work at 4 p.m. It's awesome!
8-4 p.m. Work! I get to my day job working in travel/tourism public relations and I stay completely focused on my full-time job. During lunch, I may catch up on some personal emails, but in general, I also use my lunch hour to run errands or get some work done for the organization I'm a leader with-the Temple Women's Network. Also, since I've become a yoga teacher, I've been teaching a weekly lunchtime yoga class for my coworkers! It's so nice to take a yoga break in the middle of the day.
4:45-5:30 p.m. NAP. Guys, I can't express to you just how much I love napping. Since my mornings begin so early, taking a quick afternoon nap really helps me reset and refocus for the evening. It's a great way to unwind and relax for a little bit. The length of my nap varies- sometimes I take a full hour, sometimes I squeeze in a quick 20-minutes. Every little bit counts!
5:30-11 p.m. My evenings vary depending on the day, but just like my mornings, here's some of what you may find me doing on weeknights:
Teach and/or practice yoga. Since becoming a yoga teacher, I have been subbing around once a week, so I generally spend a lot of time at the studio. I also practice 4-5 times per week, so on any given evening, I can be found doing yoga. My favorite way to be!
Weekly, I've been meeting my new yoga mentor, Jennifer. Our meetings always leave me inspired and excited to continue my yoga teaching journey.
Head into the city for a networking event, Temple Women's Network board meeting or simply to have dinner with friends or hang out.
11 p.m. Bed time! I used to be much better at getting to bed earlier, but my bed time has been creeping later and later. I admit, I spend way too much time scrolling through Instagram in bed. A bad habit I need to break!
And that's it! My days definitely vary and I adapt as necessary, but for the most part, this is how I structure my weeks to be my best, happiest and most productive self 🙂
What's changed since last year?
I spend less time working in the early mornings. I am my most productive in the morning, but with my new flexible work schedule and my desire to start most mornings with a workout, my morning routine has significantly changed. I've cut back on projects I'm not passionate about to create time for only those projects I'm seriously pumped about. I went from having about 2 hours each morning to work on my personal projects to about one hour. This means I have to be even more careful with how I spend my time and energy during that important hour.
Teaching yoga has changed the game for me. My newest income stream (and greatest passion) is teaching yoga. Practicing yoga was already a major part of my life and I spent several nights  a week at the studio, but teaching has definitely increased that. There are times when I'll teach a 5:45 p.m. class and then stay to practice at the 7:30 p.m. class, so I'll end up spending my entire night at the studio. I absolutely love it, but no doubt it has changed the way I structure my evenings.
I prioritize social time. For the past four years since starting my side hustle/blog, I have worked my butt off. I spend countless hours working, brainstorming, thinking about the blog/projects, etc. I definitely sacrificed social time in order to keep my business going. However, over the past six months, I've come to realize just how important my friendships and relationships are and I've prioritized spending time with the people I love. Guess what? I am also 100x happier now. Over the past year, I've learned that it's not ALL about the hustle. It's about finding that elusive balance…and happiness.
Do you have any questions about how I manage my day? I'd be happy to answer them in the comments below!
PS- Here's that link to the One Woman Shop bundle again…remember, you have to click and purchase through my link to get the extra goodies! If you purchase using my link, please email me your receipt (jessicallawlor AT gmail dot com) so I can send you your bonus goodies! 
*When you sign up through MY unique link (any link included in this post) I will receive a commission. I will always continue to provide free content here on the Get Gutsy blog, but in an effort to grow my business, from time to time, I will share an affiliate link (which means I get credit if you make a purchase- at no extra cost to you!). Don't worry; I will ALWAYS disclose when that is the case and I will only do this for products or services I truly believe in!
Have any links or goals you'd like to share? Leave them in the comments!
Want more gutsy content delivered straight to your inbox twice a month? Be sure to sign up for my FREE #GetGutsy e-newsletter filled with inspiration, ideas and action items to get out of your comfort zone. When you sign up, you'll also be sent a FREE copy of the Get Gutsy ebook, filled with 19 inspirational stories to help you get gutsy.