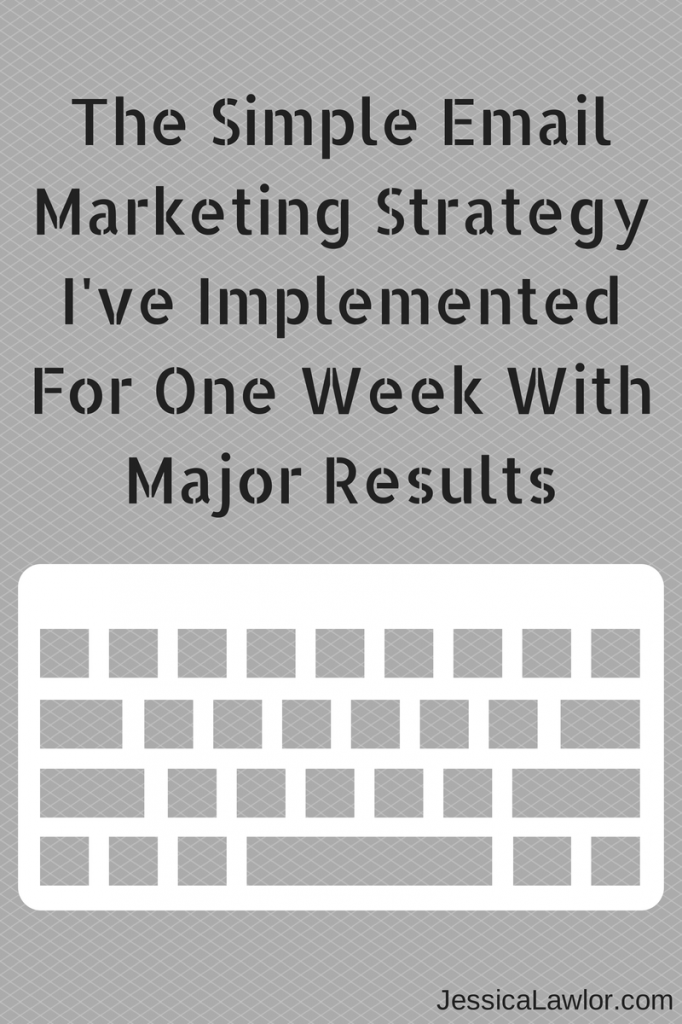 One of my major goals to continue building the Get Gutsy blog/brand is growing my email list.
For more than a year now, twice-monthly, I send out a Get Gutsy newsletter filled with inspiration, ideas and action items to help my community get out of their comfort zone. My email list growth has been slow, but steady. Right now, the #GetGutsy newsletter list is SO close to 500 subscribers (seriously, people..SO close).
Last week, after Alexis Grant featured my pursuit of happiness post in her e-newsletter, I noticed a large increase in new subscribers to my list. How awesome!
But then I remembered, I had JUST sent out a newsletter to my list a couple of days prior, so I wouldn't be reaching out again for about a week and a half. Those 10 or so new subscribers that came straight from Lexi's e-newsletter after reading one post on my blog wouldn't be touched by me or my brand for nearly 10 days. Not good.
I decided to implement a new strategy.
Here's the simple email marketing strategy I've implemented for just one week with major results:
I sent a personal email to every single person who signed up for my e-newsletter.
That's it.
That's my big secret.
Before you dismiss the rest of this post because this strategy is seriously SO simple, how could it possibly work, hear me out.
Here's exactly what I did: I went into my email inbox, found the copy of my most recent #GetGutsy newsletter that had been sent out a few days prior, clicked "forward," pasted in the new subscriber's email address and wrote a brief message like this:
Hi Sarah!
I just wanted to reach out to thank you for subscribing to the Get Gutsy newsletter. I appreciate it more than you know!
Since you signed up for the list right after I sent out the latest newsletter, I wanted to send it your way (see below) to get you all caught up 🙂
Would you mind hitting reply on this email and telling me who you are and how you found my blog/newsletter? I really value getting to personally chat with those who sign up and read my blog, so I'd greatly appreciate it.
Have a great day!
Copy, paste, personalize.
Before sending the email to each individual, I sometimes did a quick Google search to see if I could find a website/Twitter account…some common ground that I might be able to mention in the email to make it a little bit more personal. For those I couldn't find anything specific for, I simply sent the above email.
Guess what happened next?
The replies began pouring in.
Replies from people I likely NEVER would have heard from otherwise. People who may have signed up for my list, forgot they had done so, received my next newsletter 10 days later and hit unsubscribe because they already get too many emails.
But now? Because of that simple email that took me five seconds out of my day to send, we have a connection. We're in the beginning stages of a personal relationship.
And the best part? I get to know members of the Get Gutsy community better. 
I get to hear their stories. I've only been implementing this strategy for one week, but I've already heard about the goals, struggles and dreams of more than 10 of my email subscribers.
I'm also gaining valuable knowledge about HOW these people found me and what they want to know more about. This will help me shape my future blog content, Get Gutsy projects and the direction my business will take down the road to better serve the needs of my community.
Sure, I could just sent up an autoresponder welcome email that immediately gets sent to new subscribers through Mailchimp, but anyone can tell that those emails are automated.
This email came directly from me, from my Gmail account, straight to the recipient, no third-party involved.
Oh, and here's the key…when someone replies to your email to tell you more about them? Send them a reply back! Continue the conversation. Yes, I know email is time consuming and we all want LESS email in our lives, but if you are trying to grow an audience and community, here's the perfect way to do just that.
Show the members of your community that they have access to YOU. That's why people read your blog, follow you on Twitter, subscribe to your e-newsletter…because it's all been said before, but hasn't been said by you and that's what they sign up for.
*I get it. This strategy may not be for everyone. I realize this may be EXTREMELY time consuming, especially if you already have a large email list that grows by 50-100 subscribers per day. But for those just getting started or those like me who see maybe 10-15 new subscribers per week? This is totally do-able…and way worth the time to build relationships and get to know your audience.
Give it a try! I'd love to hear about your results.
Have any simple email marketing strategies that work well for you? Tell me about them in the comments below.
PS- If you'd like to help me grow my email list, I'd love for you to consider sharing this tweet.
Want more gutsy content delivered straight to your inbox twice a month? Be sure to sign up for my FREE #GetGutsy e-newsletter filled with inspiration, ideas and action items to get out of your comfort zone.