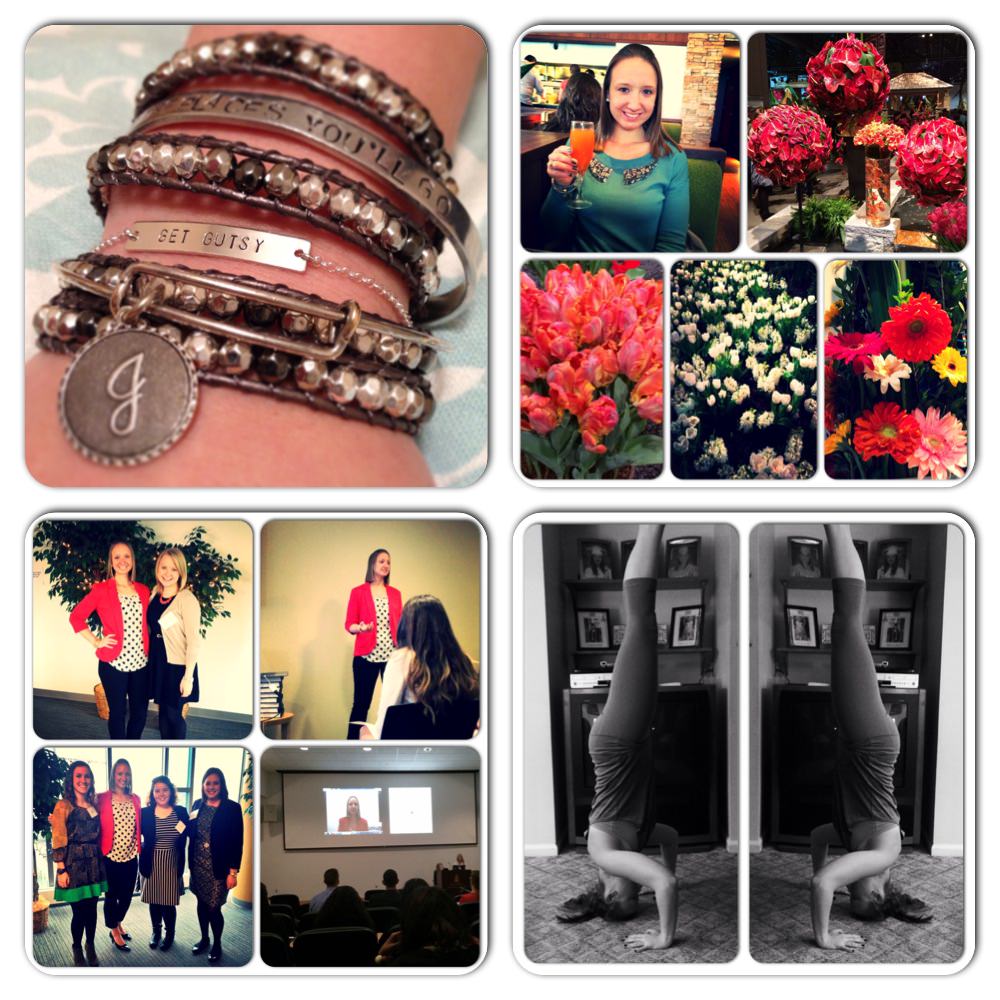 Each month, I share three things I accomplished in the previous month and preview three things I'm excited about or hoping to accomplish in the month ahead. It's fun to look back and forward, and as an added bonus, these monthly check-ins keep me accountable to reach my goals.
I hope you'll join in and share your three things in the comments section! I've been thrilled to see that other bloggers enjoy my monthly check-ins and have adopted the format for their own blogs- this is AWESOME! If you write a similar monthly check-in/look ahead post, please feel free to utilize this format and be sure to leave a link in the comments below so we can all support you in your goals for the coming month!
In March, I…
1. Appeared in my first-ever podcast interview and did FIVE speaking engagements. Whew! March was just a tad crazy when it came to talking about personal branding, social media, freelancing and getting gutsy. I kicked off the month with my first podcast interview on Melissa Anzman's Launch Yourself show. A couple weeks later, I was invited to participate in Quistic's Launch A Freelance Writing Career course and presented live about personal branding for freelance writers (Thanks so much to those of you who participated in the course!). I closed out the month by speaking to a group of PR students at Temple University and later that same day, I Skyped in to Southern Illinois University's BrandU event for a presentation on personal branding and blogging. I LOVE speaking to groups, so I'd definitely consider this month a big success when it comes to speaking engagements.
2. Nailed a headstand in yoga! If you've been reading this blog for any period of time, you likely know that I'm newly-obsessed with yoga. One thing I love most about it is how quickly you are able to see progress when you practice consistently. After months of being fearful of inversions, I decided to give a headstand a try at home without a wall….and nailed it! From there, I continued practicing and the next time I was in class at the studio, I was able to get into a headstand and hold it for a good period of time in a class setting! Now it's all headstand mania over here at #GetGutsy HQ. The next pose I really want to nail? Bird of paradise.
3. Turned 26. Any other March babies here? I love having a March birthday…it turns an otherwise somewhat dull month into something to look forward to! Last month, I mentioned that my birthday would be much more lowkey this year- in past years, I've traveled on my birthday week to fun places like Jamaica, Punta Cana and Arizona. This year was much quieter- a normal work day, a brunch and date to the Philadelphia Flower Show with my sister and a family dinner. I definitely can't complain and I'm looking forward to seeing what 26 brings! Oh! And my sister gave me the most perfect birthday gift ever…check out that photo above; see the Get Gutsy bracelet? So special!
In April, I will…
1. Go on adventures! I don't know about you, but I've been feeling a little…bored lately. This winter kept me inside much of the time and after going on an awesome vacation in January, I haven't been anywhere exciting since. This month, I hope to discover a little bit of adventure and get out and about to enjoy the spring weather. I have day trips planned to DC and NY in the coming weeks and I'm very excited about it! If anyone has ideas for other mini-adventures, I'm all ears!
2. Launch a video series on the blog. After participating in the freelancing course a couple of weeks ago, I came to the conclusion that I need to launch my own video series. The reason? That was my first time "on camera" and I felt pretty uncomfortable. I took some time to set up my space, angle the camera properly and get situated, but ultimately, being on camera feels pretty weird until you get used to it. So, in an attempt to improve my video skills and comfort level on camera, I'm getting gutsy and launching a video series for the blog. I would LOVE your feedback! What kind of content would you like me to share that you'd prefer to see visually, rather than read about on the blog? All ideas welcome!
3. Continue training for the Broad Street Run. The Broad Street Run is on May 4 and I'm in the midst of training. This round of training is definitely not as consistent or successful as in past years, but I'm hoping to really focus on running this month and making sure that I'm fully prepared for the race. I've been in a definite running slump for months and after this race, I don't know my plan for future races or running, but I at least want to do this race justice and improve on my time from last year.
March Posts You May Have Missed
Developing Your Personal Brand: Tactical Tips for Using a Blog to Stand Out From The Crowd
Developing Your Personal Brand: Tactical Tips for LinkedIn, Pinterest and Google+
Developing Your Personal Brand: Tactical Tips for Twitter and Facebook
Launch a Freelance Writing Career Course Announcement
The Spectacular Ripple Effect of Inspiration
Lessons From My First Podcast Interview (Plus My Dirty, Little Productivity Secret)
Jessica Around The Web
Guest posts, articles and other places you can find me this month online.
8 Ways Blogging Can Boost Your Career– for CareerMeh
A New Pro's Guide To Starting Your Own Blog– for PRSA New Pros
Four (Hidden In Plain Sight) Places To Find Content Inspiration– for prTini
Stop Making These Excuses and Start Creating Content Now– for Scribewise
5 Ways to Build Your Online Platform With Less Than Five Minutes– for A Writer's Bucket List
What did you accomplish in March and what are you looking forward to accomplishing in April? Share your three things in the comments below!
Want more gutsy content delivered straight to your inbox twice a month? Be sure to sign up for my FREE #Get Gutsy e-newsletter filled with inspiration, ideas and action items to get out of your comfort zone.