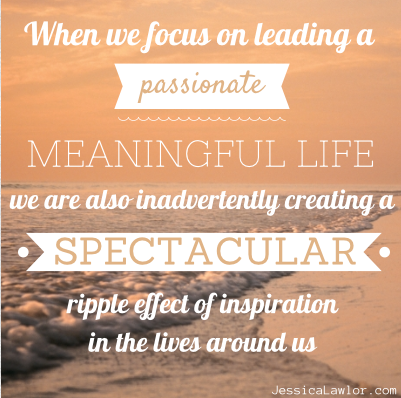 Today is my 26th birthday.
The quote below perfectly describes how I want to live out my 26th year (and the rest of my life).
"When we focus on leading a passionate, meaningful life, we are also inadvertently creating a spectacular ripple effect of inspiration in the lives around us. When one person follows a dream, tries something new, or takes a daring leap, everyone nearby feels their passionate energy; and before too long, they are making their own daring leaps while simultaneously inspiring others."
I heard this quote in (where else?) yoga last week and attempted to commit it to memory, so I could look it up when I got home from class.
When I found the quote online, I read it again and was immediately struck by how closely the words align with my goals, thought processes and values.
Ultimately, this quote perfectly describes exactly what I strive to do here at #GetGutsy headquarters.
I started this blog as a place to share all the ways I'm getting out of my comfort zone to live a life that makes me truly happy…and along the way, it has become SO much more than that. It has truly become a community. For that, I am incredibly grateful.
When I share a personal story of success, struggle or trying something new, you respond. You open up and share yourselves with me through emails, comments and tweets. You share your own gutsy stories. And that, I think, truly defines a community.
This blog is so much more than just me now. It is about you. All of us.
This is why I will continue to share my stories for as long as I can.
It's my purpose; my passion.
When we open up, no matter how big or small our audience may be, we have the beautiful privilege of impacting the lives of others. If my words can inspire even one of you to step out of your comfort zone, make a change or take a tiny step toward a happier and more fulfilling life, it has all been 100 percent worth it.
The ripple effect of inspiration goes both ways, too. While I hope that you find what you're looking for when you read this blog, I want you to know that I feel incredibly lucky to draw inspiration from your stories, strength and insights, as well.
In my 26th year, I hope to:
Continue stepping out of my comfort zone whenever possible.
Say yes to amazing opportunities, even if they scare the daylights out of me.
On the flip side, say no when something doesn't feel right.
Follow my heart and trust my gut instincts.
Openly share my successes and failures with you.
Learn from my mistakes.
Stop playing the comparison game and be content with where I am.
Embrace uncertainty.
Here's to another year! Thanks for sticking by me, cheering me on and making this community a wonderful place to seek and find inspiration.
PS- Do you like the quote graphic? I created it using an awesome new-to-me tool called Canva. I have four free invites left, if anyone is interested in trying out this awesome design site.
Want more gutsy content delivered straight to your inbox twice a month? Be sure to sign up for my FREE #Get Gutsy e-newsletter filled with inspiration, ideas and action items to get out of your comfort zone.