Want even more personal branding tips? I'm teaching a session on personal branding for freelance writers in an online course called Launch A Freelance Writing Career. You'll get access to five freelance writing experts + I'm giving away bonus materials to those who sign up through my blog. Click here for more details and to register. (The course began last night, but it's not too late to sign up! All participants will receive videos from each presentation!)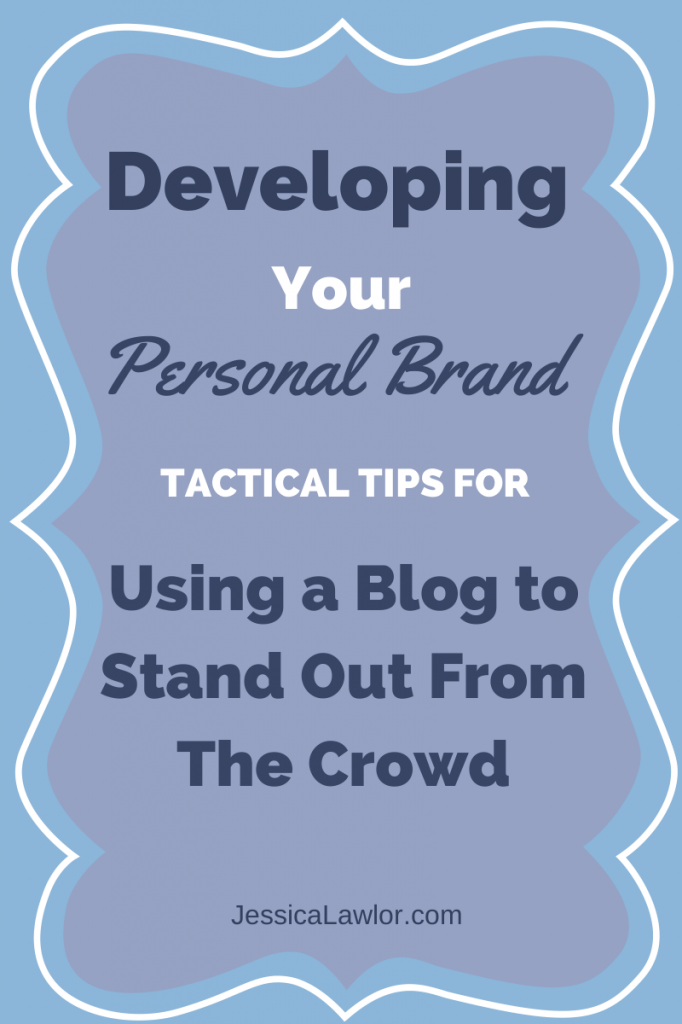 Today we're continuing our personal branding discussion from last week about why it is so important and how it can lead to all kinds of awesome career, freelance and personal opportunities. Did you miss the first two posts in this series? Check out tactical personal branding tips for Twitter and Facebook here and even more hands-on tips for LinkedIn, Pinterest and Google+ here.
Before we dive into today's tips, let's refresh our memories with a definition of personal branding:
Personal branding is your online AND offline reputation; it's what immediately comes to mind when someone says your name. (Like this definition? Tweet it!)
Today, we're focusing on how you can use a blog to stand out from the crowd to build your personal brand.
My single best piece of advice for those seeking new career or personal opportunities is to start a blog. When I started blogging a few years back, I had no idea how much it would impact every aspect of my life, but especially so when it came to developing my career as a public relations professional and freelance writer. Having my own website and blog has served as a digital introduction to me and my work and has opened the door to job opportunities, writing gigs, speaking opportunities and freelance work. (For more reasons how blogging can boost your career, check out my post for CareerMeh).
Here are five quick things you can do (in less than five minutes) on your own blog or website to develop your personal brand.
1. Get Started. The first step to reaping the benefits of blogging is to simply get started! Many people wait for the *perfect* time to launch their blogs, but in reality, there is no perfect time. It's challenging to start something without a solid plan in place, but know that your blog will always be a work in progress. My site has been live for almost two years and every day, I make tiny tweaks to it to continue improving my reader's experience. If you've been thinking about it, just get started!
2. Create a comprehensive "About" page. Develop an "About" page where readers can learn more about who you are and what they can expect from your blog. Down the line, you may also use this page to direct new readers to some of your most popular posts. The About page is probably one of the most difficult parts of your site to craft, but again, know that it is a work in progress and can constantly be changed. I have plans to revamp mine soon, too!
3. Make it easy for others to contact you. How can you take advantage of awesome opportunities if you make it challenging for readers and potential employers to contact you through your blog? I have a tab on my site called "Contact" with a form to reach out and I also provide my email address for those who want to contact me directly. Similarly, help your readers connect with you on other platforms by including social media buttons on the main page of your site.
4. Share your resume/portfolio. If you'd like to use your blog to attract potential career or freelance opportunities, be sure to create a portfolio to showcase your resume or links to guest blog posts or other writing and work samples. You might even consider sharing testimonials or recommendations from those you've worked with who can vouch for your work. Ask those who have recommended you on LinkedIn if you can repurpose their recommendation for your site.
5. Write amazing, consistent content. Last, but certainly not least, a blog wouldn't be a blog without well-written, thoughtful and consistent content. Whether you blog once a month or three times per week, pick a consistency and stick with it. Need content inspiration? Here are four (hidden in plain sight) spots you can find it. When you post, be sure to use the rule of three and share your work on at least three social media platforms.
Have other tips for developing your personal brand on through blogging? Share them in the comments below! Oh, and if you're interested in even more tips and tricks, here's the link to register for that course!
Want more gutsy content delivered straight to your inbox twice a month? Be sure to sign up for my FREE #Get Gutsy e-newsletter filled with inspiration, ideas and action items to get out of your comfort zone.