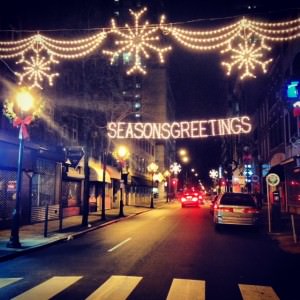 Start your week right! Every Sunday I post my favorite links from around the web and share my goals for the upcoming week.
Links
On Planning and Inspiration:
How to Make a Vision Board on Pinterest: I've never been one to make a vision board, but after reading Ashley from Your Super Awesome Life's post on how to create one on Pinterest, I'm inspired. I'll share my 2014 vision board next week. Would love to see yours if you create one!
On Freelancing:
21 Responses for Handling Awkward Client Conversations With Poise: Ash Ambirge's blog is a must-read and this post with real-life scripts for awkward client conversations is super useful for any freelancer or small biz that services clients.
On Life:
Why You Need To Find Reasons To Throw Confetti: Jessica from The Brazen Bible reminds us why it's important to be *excited* about life. Simple, but powerful.
On Getting Gutsy:
Each week leading up to the deadline for submissions for the #GetGutsy Essay Contest, I'll share the awesome entries I've received so far. Don't forget to share your story!
Gutsy With Intent: On Deciding and Doing: Abbigail Kriebs discusses how she reached her 2013 goal of starting her own business and details her gutsy plans for doing even more in 2014.
Getting Gutsy: It's All About The Journey: "Life is not about finding your comfort zone. It's about getting away from it," says Meg Huber in her contest entry. I completely agree!
When I Got Gutsy and Took My First Steps: Katlynn Ni details how she rose above a tough family situation to create a better life for herself, no matter what it took.
This Week on JessicaLawlor.com:
The Power of Paying It Forward: Paying it forward can be a powerful experience. Here's my story of how one small random act of kindness changed my entire outlook.
Peace, Love and Joy: Merry Christmas From The Lawlors: From my family to yours, I wish you peace, love and joy this holiday season, New Year and beyond! Here's our 2013 Christmas card.
The 10 Most Popular Get Gutsy Posts In 2013: It has been quite a year here on the Get Gutsy blog. Here are the top 10 most popular posts on JessicaLawlor.com in 2013.
Goals
Finish out the #GetGutsy essay contest strong! All entries are due by January 5, 2014. Starting the 6th, we'll be celebrating #GetGutsy Week and I'll share the top three entries! Come on…you know you want to enter.
Discover some new reads….I'm going on vacation in January and need some new books to keep me entertained. Have any recommendations?
Officially complete the Runner's World Holiday Run Streak Challenge! I've run every single day since Thanksgiving and I'm more than ready for the challenge to be over.
Have any links or goals you'd like to share? Leave them in the comments!
Want more gutsy content delivered straight to your inbox twice a month? Be sure to sign up for my FREE #Get Gutsy e-newsletter filled with inspiration, ideas and action items to get out of your comfort zone.