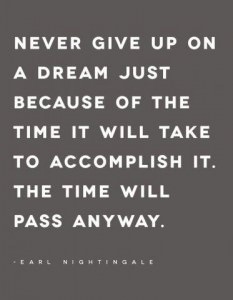 How many times have you heard someone put off a dream out of fear?
It's more common than you may think…I should know. I know I'm guilty of this. You may be too.
In college, I dreamed of writing a young adult novel. I devoured book after book in the genre, subscribed to writing and publishing industry blogs and even took a creative writing class, but never completed writing the book.
The reason? The task ahead felt extremely daunting. I was scared.
Instead of taking the process one step at a time and focusing on getting words down on paper, I busied myself with other writing-related tasks like research, outlining and reading up on the publishing industry. These things are all important, but I was missing the most obvious step: writing the novel.
Another fear holding me back was the fear of time, or more importantly, the fear of wasting time. I'd read blog post after blog post of authors who shopped their book around for years before it was finally accepted by a publishing house, or even worse, authors who gave up and put their beloved drafts away.
As I was browsing Pinterest, the Earl Nightingale quote above caught my eye:
Never give up on a dream just because of the time it will take to accomplish it. The time will pass anyway.
Just think; if I had focused on writing one or two pages a week from the time I was in college until now, I'd have an entire novel complete. Of course, there's no guarantee that the book would be published, but at least I would have been one step closer in the process.
Instead, I got in the way of my own dream, out of fear and because of how long I thought the dream would take to accomplish. (Can you relate to this? Click here to tweet it.)
Luckily, I've learned my lesson, and I'm no longer letting time scare me.
I have big dreams, and I'm steadily working toward them, one small step at a time. I know that many of the things I want to accomplish may take years; and that's OKAY. As long as I stay focused, and continue making decisions and committing time to the things that will help me move closer to my goals, I'll be on the right track.
Can we all agree in 2013 to at least begin working on the dream that scares us the most? Let's agree to not freak out about the big picture  and focus on doing something small each week (or month) to work toward the end goal. Deal? Deal.
Is there a dream that you've been putting off out of fear? Share your stories in the comments below.