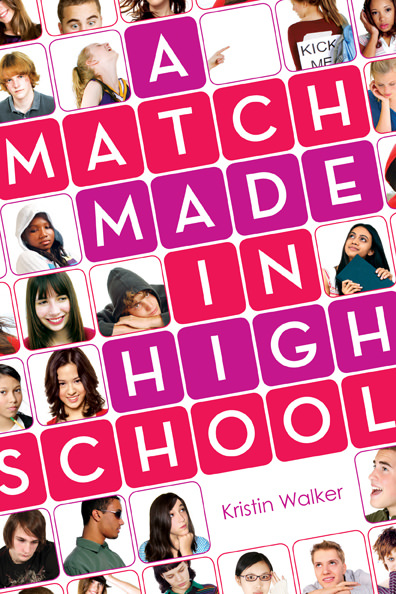 One year ago today, young adult author Kristin Walker's debut novel A MATCH MADE IN HIGH SCHOOL was published.  February 4 was a special day for Kristin, as well as for me, because I had the amazing opportunity to help with the publicity for the book's launch.
How it all happened
This time last year, I was a senior public relations student at Temple University, just beginning my job search. Doing PR for books was one of the career paths I was looking into, so the opportunity to help Kristin came at just the right time!
About a month prior to the book's release, I received an email from Kristin's husband Sean. He had found my blog and was impressed by my PR experience and was looking for someone to assist with PR for Kristin's book launch.  Kristin was already working with one of Penguin's wonderful publicists, but wanted additional help to give the book that extra boost to create buzz for its release.
Of course, I eagerly accepted the chance to work with Kristin and got busy working on a PR plan.
Publicity tactics
Blog Reviews: Something you're all quite familiar with, book blogs obviously play a huge role in getting the word out about a book. Razorbill (an imprint of Penguin) had already sent out quite a few ARC's for review, but I compiled a list of other influential book blogs (number of followers, quality of posts, number of posts per week, number of comments were all things considered) and reached out to bloggers inviting them to review the book. More than 30 reviews and interviews were posted during Kristin's launch week.
Twitter: Prior to her book launch, Kristin was not yet on Twitter so we set up an account and I trained her in how to use Twitter to effectively reach her target audience. I provided her with a list of authors who were using Twitter well and a list who weren't and explained why. I compiled a list of authors and book bloggers for Kristin to follow to help her start engaging. We discussed that engaging with others is the main point of Twitter and Kristin did a great job interacting with fans and other authors, as she began to learn the ropes of Twitter.
Online radio opportunities: I did some research on different online radio shows focused on discussing authors, books and writing. I sent a short email pitch and booked Kristin on a few different online radio shows. This was a great opportunity because it gave Kristin a chance to speak at length about the book and her writing.
Press kit: Kristin was interested in doing both traditional media relations, as well as social media, so I suggested we put together a press kit, to provide more information to any media (or blogger) who might request, for example, a high-resolution photo of the book cover, or a biography of Kristin. Together, we wrote a biography,  fact sheet, a round up of reviews and also provided high-resolution photos. The press kit is available on Kristin's website.
Newspaper pitch: I pitched a few local newspapers in Chicago, where Kristin lives but didn't get many bites. While I would never discount the value of traditional media, this experience solidified in my mind just how important social media and building a community online really is when promoting a book.
One year later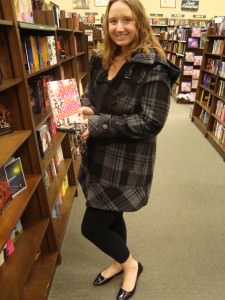 From all of the online buzz, it appears that many book bloggers loved the book and I noticed that several featured it as one of their favorite books of 2010!
I couldn't be happier that I had the chance to meet and work with Kristin. Looking back, I only wish we had had more time before the launch because then we could have gotten REALLY creative, but in the time-crunch we had (one month!) I'm proud of what we accomplished. Not only did promoting Kristin's book help me realize my dream of pursuing book publicity sometime in the future, it also was an excellent experience to add to my resume, and something I was able to talk about to demonstrate my PR skills when I interviewed for my current job.
Many of you know I graduated from college in May and I currently work in health care PR at a hospital in Philadelphia. My job is extremely rewarding and I love what I do. However, doing PR for authors is still one of my passions- and something I'm interested in doing on a freelance basis after work and on the weekends. If you or someone you know might be interested in learning more about what I can offer, please feel free to point them to my services page, or have them contact me.
And finally, THANK GOODNESS for social media. Without it, I wouldn't have met Kristin (or any of you!) and I wouldn't be able to take advantage of fabulous opportunities like this one. The future for book publicity is so bright; I'm excited about how much room there is for creativity and relationship/readership building when promoting a book.
Happy one year book birthday, Kristin!
*Let me know if you would be interested in more posts like this one (PR related, etc.)
*This case study was inspired by a post I wrote last year.