I absolutely LOVE my side hustle- many of you know that on the side of my full-time PR job, I run this blog/community, write for a number of both print and online publications, serve as the managing editor of other blogs, speak regularly to groups and offer personal branding bootcamp consulting sessions.
A side hustle not only keeps me excited, engaged and passionate about my work, it also obviously serves as an additional stream of income. Many of you have asked me how I do it. How I got started. How I manage my time. How I deal with client requests.
You asked…and I answered. More than a year ago, I allowed the Get Gutsy community to ask me ANYTHING about becoming a freelancer or starting a side hustle. The questions poured in!
I answered the questions in an e-newsletter series back in 2013 and put together a PDF of the 20+ questions and shared the final result with the Get Gutsy email community back in 2014.
It's time to update and enhance the guide. I'd love to open up the comments section below for your freelancing questions to make this guide an even more amazing resource.
I want to share with you a sneak preview of the current guide (keep reading!) but first I need to tell you about an amazing deal that will allow you to get your own copy of the guide now.
An Amazing Deal For Writers of All Kinds
Have you heard of The Write Life? It's my absolute favorite website for writers, and they've put together an incredible package of resources for writers of all kinds. They've bundled together NINE ebooks and courses on freelancing, self-publishing, marketing, productivity and more. It's pretty amazing.
The nine resources available through this bundle retail for more than $1,000 if you were to purchase them each individually. However, for the next three days ONLY, you can grab the entire package for just $99.
It's called The Writer's Bundle, and you can download it here.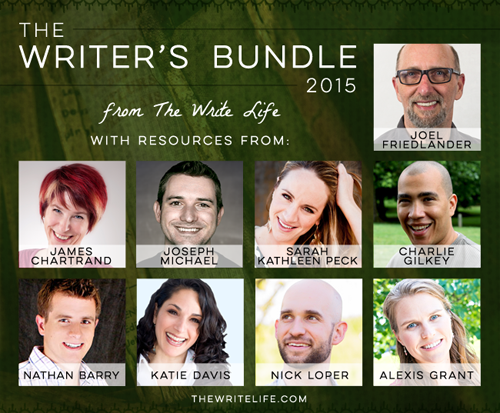 Here's the catch: It's only available until Wednesday, March 11th, at 11:59 p.m. EST (coincidentally, the very end of my birthday!) That means if you want it, you should click this link NOW.
Oh, and because I value the Get Gutsy community so much, I'm sweetening the deal!
If you're interested in the bundle and purchase it through my link, I'm throwing in a few extras!
You'll also receive my tell-all Ultimate Guide to Freelancing Q&A (sneak preview of some of the Q&As below!)
You'll receive my personal branding checklist.
For the first 5 people who sign up, I'm giving away a free personal branding bootcamp session OR a "pick my brain" session (your choice!)
If you purchase using my link, please email me your receipt so I can send you your bonus goodies! 

Again, if you're a writer…or dreaming about becoming one, this bundle is for you.
Onto the Freelancing Q&A preview…
Getting Started With Freelancing
1. How do you get started, especially with no prior freelancing experience?
The best way to get started, especially if you have little to no prior freelancing experience, is to do these two things:
Use the work you already have completed to begin building a portfolio. You may have no "freelancing" experience per say, but I bet you do have samples of the kind of work you want to do on a freelance basis! For example, if you want to become a freelance writer, you might have a blog that showcases your writing or if you want to do social media for small businesses, perhaps you already work at a small business and manage their social presence. Use those samples to showcase your expertise and to help you reach toward paying opportunities.
Work for free. Let me clarify: work for free, in the beginning, and only to gain experience. For example, back in 2010, I helped a young adult author with publicity for her book launch. She didn't pay me, but I walked away with valuable experience and results that I now promote in blog posts and on my services page. I've proven that I can do the work I say I can and working for free once or twice helped me get there. Also, sometimes it may make sense to continue working for free for the right opportunity. For example, I now have paying clients, but I write guest posts for credible websites for free because I see value in having my name and work associated with those sites.
Dealing With Clients
2. What if my client is pushing me to deliver more than we agreed upon in our contract?
This is a sticky situation and not a fun one to be in. Sometimes clients (whether they realize it or not) ask for more than you've outlined in your contract. Here's how I recommend dealing with it: first, evaluate the scope of what the client is asking you to do. Is the task something somewhat simple that you could do this one time, for the sake of maintaining peace in the working relationship? If it is, reply with the following, "I'm happy to complete X this month, but because this isn't included in our agreed-upon contract, I'll have to charge you X if you'd like me to add this service moving forward."
Most of the time, after receiving a reply like this, the client will realize they've made a mistake (and sometimes it really is an honest mistake!) and will back off.
And if not? Perhaps this isn't a client you want to work with, after all. Better to know now.
Promoting Yourself and Your Work
3. I'd love to know your thoughts on setting up either a "work with me" page (like you have) or a website for your freelance offerings. What parts of your "work with me" page get the most comments/feedback?
I definitely recommend including a "work with me" page on your website, although I'd also urge you to include a portfolio there too. My online portfolio is actually viewed more than my "work with me" page and I find that when potential clients reach out, it's because they've seen my work somewhere and want to discuss how we can work together. From there, I usually develop an individual proposal package specific to their needs, so sometimes my "work with me" page is completely bypassed in the process, which is totally okay!
Some entrepreneurs choose to separate their blog and their freelance offerings on different sites, but I've noticed that when clients find me, it's usually because someone has shared a recent post of mine on social media, which leads them to my site. Once they are on my site, they generally click around and learn more about me and what I offer. I like to look at my website as one giant portfolio/writing sample! Potential clients see exactly who I am right off the bat, since my website and blog are intertwined.
The Business/Financial Side of Freelancing
4. How do I figure out what to charge for my services?
This is the number one question I hear from those interested in freelancing. Also, even after nearly five years of freelancing myself, I still struggle with the answer to this question.
The honest (and not very helpful) answer is: it really depends. I make decisions about what to charge based on the scope of the project and how long I think it will take me to complete. It also depends on experience. Newer freelancers may not be able to charge as much as those who have been at it for years.
As a freelancer, you can choose to charge clients hourly or on a retainer or project basis. For my blogging/writing clients, I charge per post or per article. Some clients prefer to pay by the word. For my blog management clients, I charge a flat monthly rate for all the work I do. I choose not to charge hourly for any of my clients because I like to base my fee on the services/value I provide, rather than the amount of time I put in. Of course, when I'm putting together a proposal package, I consider how long a project will take me to complete, but I don't let that become the deciding factor.
In terms of freelance blogging/writing, I've found that most blogs that pay tend to offer writers between $50 and $100 for a post of around 400-500 words. For longer feature stories, perhaps in a magazine or other type of publication, the rate can go much higher; between $200 and $1,000, or even more, depending on the project.
Here's a piece of advice though that was taught to me by Alexis Grant; ALWAYS aim higher than what you really expect to be paid for a project. It doesn't hurt to ask for more and the worst that can happen is the client says no and you negotiate down to something more reasonable that both parties are comfortable with.
Work/Life Balance
5. How do you address your restricted availability with your clients if you think that might be an issue?
I am VERY upfront with my clients about my availability to complete freelance work. I let them know right off the bat that I have a full time job and I won't be available during normal work hours out of respect to my employer. I've never had anyone give me trouble about this.
Has not being available 24/7 prevented me from getting certain clients or projects? Sure. But those aren't the right kinds of jobs for me right now, anyway.
For example, a client inquired about having me manage their entire social media program- I let them know that it likely wouldn't be the best arrangement since I wouldn't be available to respond to tweets and posts throughout the day. Instead, we compromised and I now schedule out all of their social posts and someone else on their team handles replies and day-to-day management of the accounts.
Don't be afraid to be honest with a client about your availability. They will respect you more for being upfront with them.
What do you think? Want your own copy of the freelancing guide? Have more questions about freelancing? Leave them in the comments below
PS- Here's that link to the Writer's Bundle again…remember, you have to click and purchase through my link to get the extra goodies! If you purchase using my link, please email me your receipt so I can send you your bonus goodies! 
*When you sign up through MY unique link (any link included in this post) I will receive a commission. I will always continue to provide free content here on the Get Gutsy blog, but in an effort to grow my business, from time to time, I will share an affiliate link (which means I get credit if you make a purchase- at no extra cost to you!). Don't worry; I will ALWAYS disclose when that is the case and I will only do this for products or services I truly believe in!
Want more gutsy content delivered straight to your inbox twice a month? Be sure to sign up for my FREE #GetGutsy e-newsletter filled with inspiration, ideas and action items to get out of your comfort zone. When you sign up, you'll also be sent a FREE copy of the Get Gutsy ebook, filled with 19 inspirational stories to help you get gutsy.