We've officially entered the dog days of summer.
While summer is my favorite season, and I'm loving these bright and sunny days, I do have a bit of a confession.
Over the past few weeks, my motivation has hit an all-time low.
It's bad. I've been struggling…hard.
Each week, I carefully curate a to-do list. I implement my "do one thing" productivity hack. I start each day with the very best of intentions.
But by 10 a.m., I find myself completely drained, aiming to complete the bare minimum to stay afloat. My inboxes are out of control, I've had writer's block for weeks and I've been slacking on posting on social media.
Not to mention, I recently spilled coffee on my MacBook Pro, leading to a tearful morning of stress-eating and watching Riverdale on my couch as my laptop sat upside down drying on my desk.
Needless to say, it hasn't been the most productive season of my life.
As a go-getter who typically thrives on being busy and productive, this isn't how I like to operate.
And while I haven't figured out a foolproof solution to my conundrum, there are a few simple habits I'm incorporating into my day for a boost of motivation.
Here are eight things you can do to instantly boost your productivity — and spoiler alert: they'll improve your day too.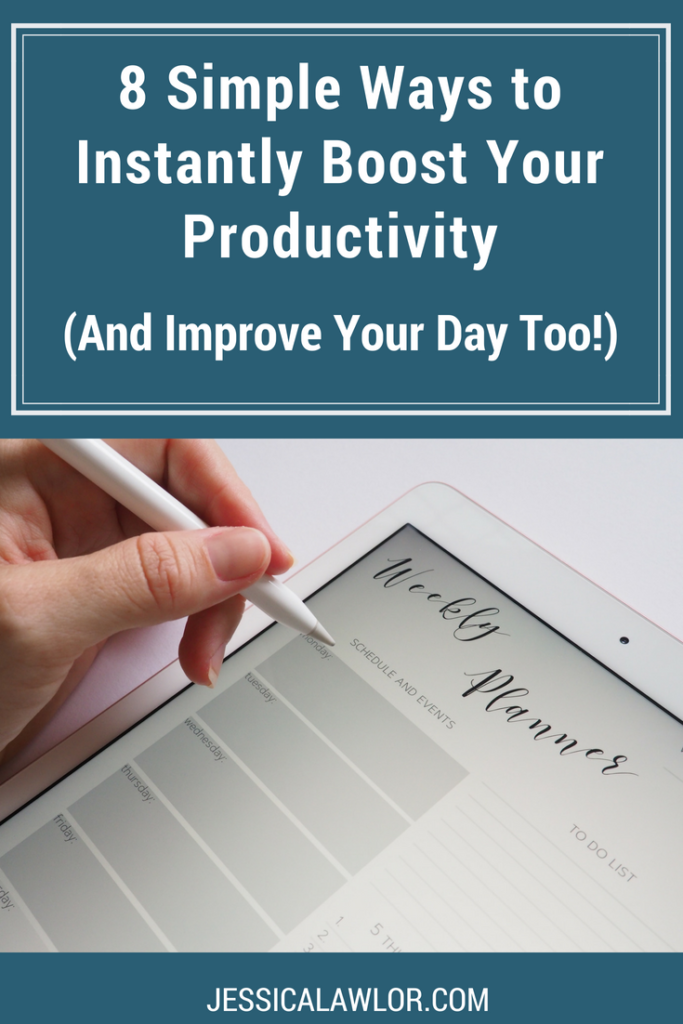 1. Guzzle a glass of water
Hungry? Drink a glass of water. Tired? Drink a glass of water. Cranky? Drink a glass of water.
So many of life's problems can be solved by ensuring we've been drinking enough H2O.
It's a scientific fact that dehydration can lead to reduced motivation, so when I'm feeling extra unmotivated, I ask myself if I've drank enough water yet that day.
And as an added bonus, sometimes guzzling a glass of water gives me an instant shot of energy, giving me a needed boost to complete whatever task is next on my list.
2. Take a walk
With the weather being so nice, I've been using my lack of motivation as an excuse to move more (I also may be a little bit obsessed with my Apple Watch and hitting my goals/steps each day).
In the afternoon, which is when I *really* tend to feel my motivation wane, I'll pop out for a quick walk through my neighborhood. It feels like a productive way to get out of my home office, especially when I'm already struggling to get things done.
Apparently, walking increases blood flow to your brain, and I often notice I return home with a little more energy than when I left.
3. Complete a chore
Do you make your bed every morning? I do.
Admiral William H. McRaven, navy veteran and author of the book Make Your Bed: Little Things That Can Change Your Life…and Maybe the World popularized the idea that making your bed each morning "gives you a small sense of pride, and it will encourage you to do another task and another."
In that same fashion, completing small, seemingly trivial, hands-on chores around my apartment always helps me to feel like I've actually accomplished something throughout the course of the day.
My go-tos? Loading the dishwasher, laundry and taking out the trash. I also tend to declutter when I'm feeling unmotivated — often times, clearing off my desk gives me that "blank space" feeling I need to get started again.
4. Consume someone else's content — listen to a podcast, catch up on your favorite blogs, watch a show
You already know I'm a big podcast person (check out the 50+ podcasts I listen to on the regular), I have a long list of blogs I read weekly, and I love me some Netflix and Hulu, so I'll often allow myself a break when I'm feeling really unmotivated to listen, read or tune in.
Consuming someone else's content often inspires me — hearing their story on a podcast or reading their latest tips and tricks on a blog gives me my own ideas, and usually motivates me to take some kind of action myself.
5. Soak up the sun
Listen, here in Philadelphia we don't get that many nice weather months, so when we do, let's take advantage.
Summer tends to be a bit slower in the business and blog world (anyone else really feeling that this year?!), so I haven't felt as bad taking an hour out of my day to lounge at the pool and soak up that sweet Vitamin D. In the frenzy of fall and winter, I'd feel extra guilty taking time away from my desk.
Plus, it's no secret that being in the sun (or lack of being in the sun) impacts our mood, so I'm giving myself lots of extra passes this summer to get outside and enjoy.
6. Take a nap
Say hello to the nap queen!
Sometimes you have to just pack it in and succumb to the temptation to hide under the covers for an hour or so on a lazy afternoon.
Not going to lie, I usually don't wake up more motivated to work after a nap, so for that reason, I try to use napping as a bribe for getting my work done.
7. Shower
Since I work from home and work out in the morning, I typically don't shower until after lunch.
While sometimes showers have the opposite effect on me (i.e. I feel so warm and cozy I want to curl up in bed for a nap post-shower), oftentimes, showering also wakes me up and allows me to feel like I'm starting the day anew, even if it's already 4 p.m.
Case in point: I'm writing this post at 5:30 p.m. on a Tuesday after a shower on a day where I anticipated getting literally nothing checked off my list.
8. Let it be
And sometimes, it just is what it is and nothing's going to change that.
I've come to accept that perhaps the reason I feel so unmotivated is because it's my body and mind's way of telling me, "Hey! Slow down. You don't always have to be doing something."
Luckily, summer is a time where it's a bit more socially acceptable to do less (especially as a small business owner who makes my own schedule) so I've accepted that this might just be a season of life where I don't get as much done as I typically do.
Seriously — told you they were easy!
Don't laugh! I know some of these tips are stupid simple, but that's the point!
It's often the little things we forget about that make the biggest difference.
How do you boost your productivity when you're feeling super unmotivated? Let me know in the comments below!
*Photo via Pexels
Want more gutsy content delivered straight to your inbox twice a month? Be sure to sign up for my FREE #GetGutsy e-newsletter filled with inspiration, ideas and action items to get out of your comfort zone.