A version of this post originally appeared on the Craft Your Content blog.
Solopreneurs and small business owners wear many hats — no surprise there.
Planning, budgeting, customer service, emailing, writing, invoicing, marketing — the list is endless.
However, there's one key responsibility many content creators and marketers tend to neglect: public relations (PR).
Believe me, I get it. As the founder of JL&Co, PR is the last task I want to think about when I have a laundry list of to-dos to keep my business afloat.
However, with nearly a decade (wait, what?!) of PR experience, I know firsthand the importance of developing stories and sharing them with the media. I'm well aware of the power that a successful PR campaign can have on a business.
It's something you should be aware of, too.
Developing a PR campaign around your own personal brand and story is something every content creator should consider doing — especially since you're likely already writing.
While self-promotion may make you feel a bit uncomfortable, PR actually can make a difference, and many content creators are missing out on serious opportunities by pushing PR to the back burner.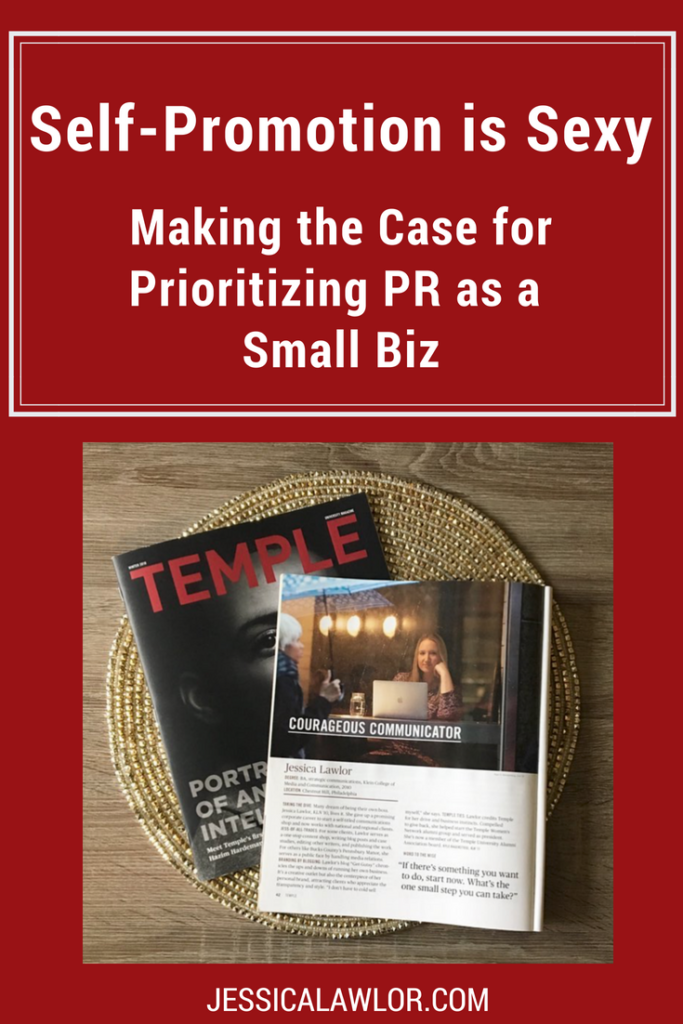 What is PR anyway?
At its very core, PR is about telling stories and allowing your message to be seen and heard by the audiences you most want to reach.
A PR campaign involves working directly with journalists to tell your story to their audience through their platform.
PR is about relationship building with the media and with your key audiences.
Get over your fear of self-promotion
"But I hate self-promotion."
"Ugh, it feels weird to talk about myself."
I know. Sending an email to a journalist saying, "Hey, write about me!" can feel a little bit self-indulgent.
Sometimes in our businesses, we have to conquer our fears and do things that scare us.
But here's the truth: Everyone has a story to tell, and our stories matter. Stories can inspire, and they can make a difference. You sharing your struggles, your passions, and your lessons can be the catalyst that changes someone else's world just a little bit.
Self-promotion doesn't happen only when you have a product to sell or a course to fill. Maybe you're a travel blogger helping your audience plan the perfect vacation or a budding comedian with a podcast making your audience laugh or smile throughout their day. You're making a difference in your own small way, and that's a story worth telling.
When you shift your mindset from "This feels icky" to "Wow, I can actually help someone here," the idea of promoting yourself begins to make more sense.
The case for making PR a priority
Here's why PR is important for small business owners, entrepreneurs, and content creators:
PR builds credibility for you and your business. A strong PR campaign can help position you or your company as a thought leader in your chosen space. PR can help to enhance your company's reputation.
PR is cost-effective. While advertising costs money, PR is free. Of course, you'll still need to budget for the time it takes to do PR, but at the end of the day, no one will be sending you a bill.
PR can drive traffic to your website. Think about it this way: You probably have a website or blog, but your local newspaper or a site like Forbes likely gets way more traffic than you do. By earning a media placement elsewhere, you increase the chances of traffic being sent to your blog. Plus, an earned media hit can help your search engine optimization efforts.
PR can send new customers or clients your way. Most importantly, PR can impact the bottom line. A story in a prominent newspaper or online publication can introduce your business to new prospective customers.
It works! A PR success story
After a year into running my communications consulting business, I knew I had to turn my attention to my own PR efforts to share my entrepreneurship story.
But first, I needed a compelling hook.
Last May, with college graduation season around the corner, I wondered if I might find media success by hooking my personal story to a timely and newsy angle. I did research around recent grads and the elusive post-college job search. I quickly found many supporting statistics showing that in today's work climate, new grads are actually turning away from traditional careers in favor of entrepreneurship.
Bingo! I had my angle.
The research and statistics supported my personal story of quitting a stable nine-to-five job to start a business.
Writing the pitch and finding a partner
I began drafting the pitch that I planned to send to members of the media, and in the process of writing, I realized the story might be even more appealing with an added voice besides my own.
I enlisted the help of Brian Hart, a fellow business owner and PR pro in the Philadelphia area. Since we were close in age with similar stories of how we launched our businesses, I had a hunch that, together, we could make more of a media splash. (As an added bonus, Hart and I share an alma mater, helping to make our case in pitching our former university.)
We co-wrote a short email pitch, cited recent research, briefly shared our stories, and included a call to action to interview us on the topic. Most importantly, we positioned our story as a trend piece — we didn't simply email journalists asking them to share our personal stories with no purpose in mind.
For content creators looking to share their story, finding a fellow writer to partner with may make sense. I recommend seeking out someone whose story is similar enough to yours in scope that it proves your angle is a newsworthy trend, but different enough that you're not necessarily promoting your competition.
The pitch
Here's the pitch Hart and I jointly distributed to select members of the media.
Subject line: It's Graduation Season! Why More Millennials Are Opting for Entrepreneurship

Hi X,

College graduation season has arrived, and all over the country, newly minted grads are searching for jobs. However, not all of them are looking for traditional work.

According to a 2016 analysis from the Kauffman Foundation, startup activity in the U.S. is on the rise, and women and millennials are leading the charge. In today's work climate, where turnover is high and job satisfaction is low, it's not surprising that millennials are opting for entrepreneurship.

Jessica Lawlor, a 29-year-old from Cheltenham, Pennsylvania in Montgomery County, is one such millennial who left behind a stable nine-to-five job in public relations to follow her dreams of running a boutique communications agency.

"It started with my blog, Get Gutsy. The blog led to freelance opportunities, and before I knew it, I was waking up every day at 5 a.m. to pursue my side hustle before work," said Jessica. "I reached a tipping point in 2015 where it was no longer sustainable to juggle a full-time job and a growing business. I quit my job and started Jessica Lawlor & Company (JL&Co)."

Brian Hart, 30, worked in financial communications post-graduation, until he realized that there needed to be a change in the traditional public relations model. In 2014, at the age of 27, Brian created his own Philadelphia-based public relations and digital marketing agency, Flackable.

"Leaving a stable job to launch your own business is like jumping off a cliff," says Brian. "But I knew that the temporary pain of failure would be nothing compared to the lasting regret I'd have for not trying."

Adweek recently recognized him as an emerging communication leader in their annual PR Industry 30 Under 30 article.

Jessica and Brian are part of a group of more than 18 million independent workers in the U.S., a number that is expected to grow to approximately 40 million by the year 2019.

I'd be happy to provide more information about this growing trend and set up an interview.

Thank you for considering!
Hitting "send"
Together, Hart and I created a list of our top media targets.
Our list included local newspaper publications like The Philadelphia Inquirer, along with publications from our alma mater, Temple University, and digital business/entrepreneurship- focused websites like Business News Daily and The Penny Hoarder.
We divided and conquered, each sending out a handful of pitches one by one, personalizing each message along the way.
And then we waited.
The results
Here's the not-so-sexy part about PR: It takes time.
Hart and I sent the pitch to about 10 journalists on May 24, 2017. The first media hit that went live was published on July 3, 2017 — nearly two months after first sending the pitch. The latest story was just published in March of 2018, almost a year after hitting "send" on the initial pitch!
PR requires patience, but the results are often worth the wait.
The story appeared in Business News Daily, Temple University's Klein College of Media and Communication online publication, The Penny Hoarder, and Temple magazine.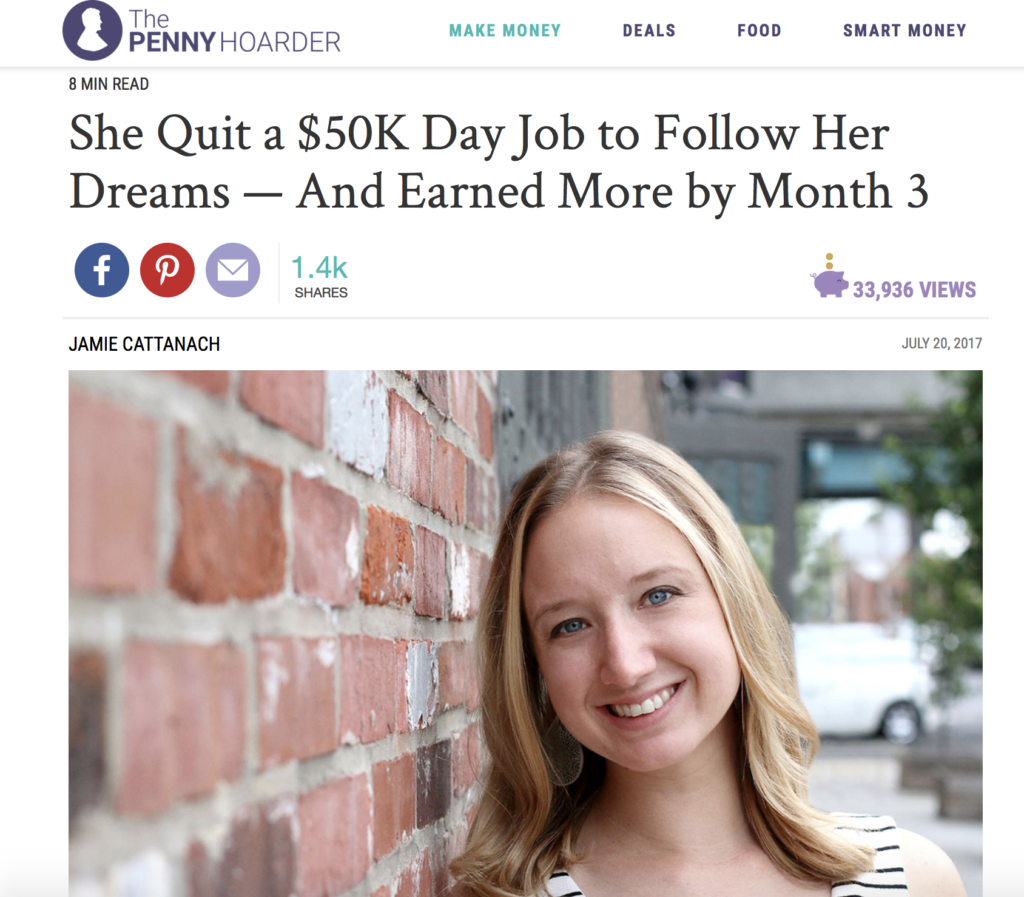 One media hit in particular packed a punch: This profile from The Penny Hoarder written by author Jamie Cattanach. The story was viewed more than 23,000 times the week it was published and shared nearly 500 times on Facebook.
This one media hit had a major impact on my business:
My website was flooded with traffic from The Penny Hoarder.
Fifty new people joined my email list the week the post was published.
I received dozens of congratulatory emails and notes from people in my network, giving me the chance to reconnect with old friends and colleagues.
I also received emails from a handful of new folks, leading to conversations and potential business opportunities down the line.
Make it happen
It's easy to forget that our own stories matter, too.
And no doubt, sharing your vision with your audience through the media can be extremely beneficial for your business's growth and success, helping you to make new connections, grow your audience/readership, and even find new clients.
PR is a strategic way to authentically tell your story through the lens of the all-important third-party endorsement.
While PR takes time and effort, with practice, patience, and creativity, you'll begin to reap the benefits and see positive results for your brand's bottom line and reputation.
Want more gutsy content delivered straight to your inbox twice a month? Be sure to sign up for my FREE #GetGutsy e-newsletter filled with inspiration, ideas and action items to get out of your comfort zone.