The sun is shining, rosé season is here, and I'm breaking out my romper collection — yep, it's officially summertime in Philadelphia.
Winters in the Northeast are rough, but summer makes those dreadful months of December-April worth the struggle.
With no big travel plans on the horizon, I'm spending my summer right here in the city of brotherly love — well, and Ocean City, NJ, which I consider an extension of Philadelphia, especially in the summertime.
And believe me, I'm not complaining about being "stuck" in the city for these sticky, summer months. In fact, I'm pumped.
Philadelphia is always bursting with festivals, events, concerts and awesome spots to eat and drink, but in the summer months, the city really comes alive, and I can't wait to be part of it.
Here's my Philadelphia summer bucket list.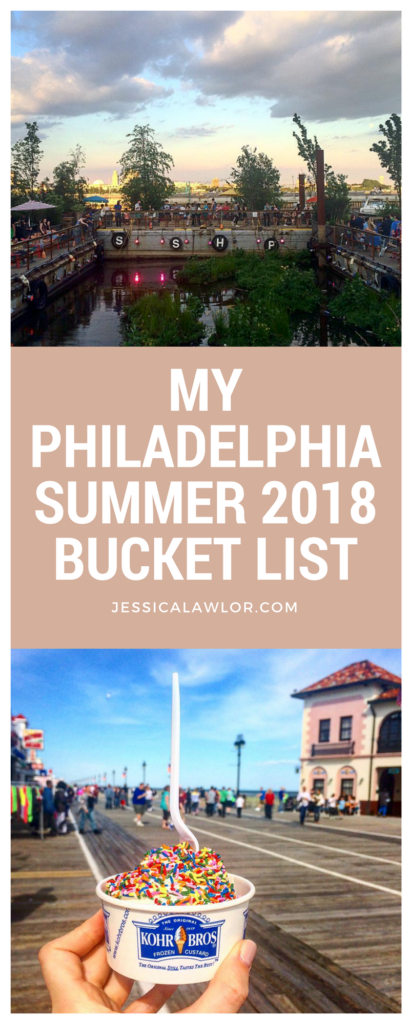 1. Check out Philly's many outdoor beer gardens and bars
Summer = the very best season to sip a cocktail outside, preferably high up in the sky, on the water or in a beer garden. Luckily, Philly has all of these options, and more.
Here are the outdoor hangs I definitely want to visit this summer:
Bok Bar: How I missed visiting this popular bar last year is beyond me, but this summer, it's happening. Bok Bar is a seasonal rooftop bar with incredible views of the Philadelphia skyline, food and drinks. Oh, and they also have workout classes with a view!
Skygarten: A beer garden 51 floors above street level? Count me in. Located on the 51st floor of Three Logan Square, Skygarten seems like to perfect sunset into late night hang.
Morgan's Pier, Spruce Street Harbor Park and Independence Beer Garden: These guys have been around the block for awhile, and I've frequented them many times in summers past, but they make this list because they're tried and true. Can't wait to revisit!
Any must-visit beer gardens I've missed?
2. Weekend getaways to Ocean City, New Jersey
Come on, this wouldn't be a summer bucket list without a couple of weekend getaways to my favorite place on earth: Ocean City, NJ. I've been visiting since I was born, and OCNJ is truly my happy place.
Each year, my family rents a condo "down the shore" (that's going to the beach for all you non-Philadelphians) for the month of July, so you can bet I'll be spending a lot of mid-summer weekends at the beach, riding bikes on the boardwalk, eating Manco & Manco pizza and popping into yoga classes at Golden Buddah Yoga.
Stay tuned for a complete guide to visiting Ocean City, NJ later this summer!
3. Take in a movie at The Mann
Have you been to The Mann Center in Fairmount Park? It's one of the country's largest non-profit open-air music centers — and it's one of my favorite concert venues.
I recently learned that The Mann Center has a series called Movies @ The Mann. Come to The Mann and watch a movie with an orchestra performing the movie scores live. Wait, what?! That's so cool.
The team at The Mann invited me out to experience Movies @ The Mann — I'm still perusing the list of movies (there's a lot of 'em), but I'm definitely eyeing up "A Championship Season", which celebrated our beloved Philadelphia Eagles amazing season and Super Bowl victory.
(#GoBirds)
4. My first Taylor Swift concert
There's truly nothing better than a summer concert, and judge all you want, but I'm totally pumped to attend my first-ever Taylor Swift concert.
Tim surprised me with tickets for Christmas, and I've been excitedly counting down the days to July 14 ever since.
I peeked at the set list when the tour kicked off a few weeks ago, and needless to say, I'm pumped.
5. Soaking up the sun at the pool
One of the many perks of running my own business is that I make my own schedule — meaning, if I want to, I can certainly carve out a little pool time each week!
My gym has a lovely outdoor pool, and I look forward to many post-workout pool sessions over the next few months.
I've also dabbled with the idea of incorporating swimming into my workout routine, so perhaps I'll buy some goggles and swim laps every once in awhile rather than just lounging poolside (though there will definitely be a lot of that, too).
6. Weekend adventures
Summer weekends are the best.
Of course, I've already got a few shore weekends planned, but I'm also keeping my calendar open for other weekend getaways and adventures.
Next weekend, I'm heading back to Valley Forge! I'm working with the Valley Forge Tourism and Convention Board again for a visit to some of the unique small towns in Montgomery County. I'll be hitting up Jenkintown, Ambler and Bryn Athyn, and highlighting some of the most Instagram-worthy spots in the county.
[Did you miss my last visit to Valley Forge? It was quite adventurous]
And excitingly, Tim's family is completing construction on a home in the Poconos, so I'm excited we'll be able to balance out our beach-going ways with some mountain time! I've never been a huge Poconos gal, but maybe I'll learn to love the lake as much as I love the ocean? In any case, it will be so nice to have another fun weekend spot to visit.
Plus, I never complain about a solid weekend at home in Chestnut Hill — there's a lot to do here, and I've got a guide for that.
What's on your summer bucket list? Tell me in the comments below!
Want more gutsy content delivered straight to your inbox twice a month? Be sure to sign up for my FREE #GetGutsy e-newsletter filled with inspiration, ideas and action items to get out of your comfort zone.