There's a major project I've had on my mind (and my ever-present backburner to-do list) for more than a year.
It's a rebrand and redesign of this very website.
I launched JessicaLawlor.com nearly six years ago now. Back then, the site was simply a blog, but over the years, it shifted and eventually turned into the digital home for the communications agency I formed over two years ago, Jessica Lawlor & Company (JL&Co).
However, in looking at my website, upon first glance, you probably wouldn't know that. That's because I haven't rebranded since making this huge shift in my business and marketing strategy.
The photo on my sidebar is several years old. My social media icons don't include Instagram or Pinterest. The design is outdated. If you stumbled upon my site and never clicked on the "work with me" tab, you probably wouldn't know I also run a business.
So here's a confession: I know it's time for a rebrand. But I'm scared. I am truly overwhelmed by the enormity of this project, and there are a couple of major hangups holding me back from making this rebrand a reality.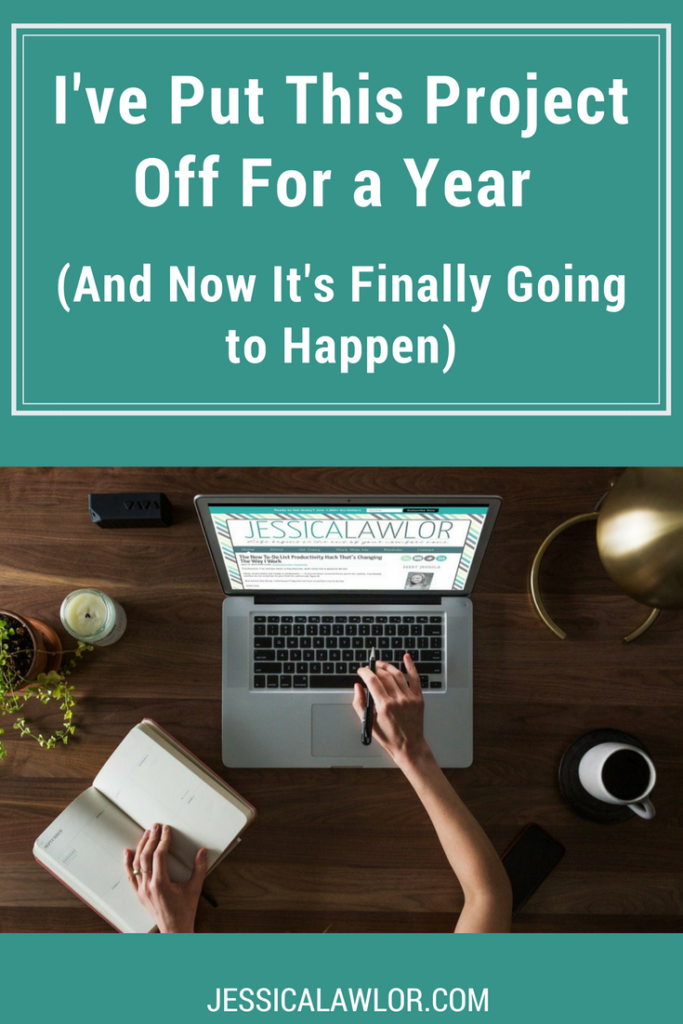 The ongoing blog identity crisis that's holding me back
I've written before about the blog identity crisis I've experienced over the past few years since I started JL&Co, and attempted to juggle what it means to be both a business owner and a blogger.
I started this blog in 2012 for fun. But along the way, my writing here led to amazing connections and freelance opportunities that eventually became the primary reason I was able to quit my job to start my own business.
And now? This blog is a pretty important piece of the pie that makes up my income, business and life.
But it's also led to some internal angst. Who am I now? Am I a blogger? Am I a CEO? Am I a writer? Can I be all of these things at the same time? Am I confusing my audience?
While I've asked myself these questions over and over again for the past two years, I've continued to push forward, using this little website to the best of my ability to showcase my writing and my business.
But I always knew that one day, I'd need to find a solution.
OK, here's the real reason I haven't made rebranding a priority
The honest truth is that I haven't made this rebranding a priority because I haven't felt like I needed to make it one.
Despite my blog identity crisis, I seem to be the only person bothered by it.
This blog is not hurting my business (at least not in a way I've identified or been told). I've never had a prospective client ask me why I blog about travel or about my favorite podcasts. A prospective client has never inquired about why my company logo doesn't appear on the homepage of JessicaLawlor.com or why I don't have a "business" website.
If anything, my blog and the Get Gutsy brand I've built over the past half a decade have helped my business. The blog serves as an excellent conversation piece, often leading to a personal connection with a prospective client. After all, my business IS me. I AM my business. That's how this whole personal branding thing works (and it DOES work, my business is living proof of that).
While my website is definitely doing it's job, I have to wonder — could it be doing its job even better with a fresh face?
Deep down, I know the answer is abundantly, 100 percent YES.
I know there are ways to make it more clear to a new visitor to the website that I run a blog AND a business. I know there are ways to infuse my personality into the business side of my blog.
I just haven't figured out how to do that myself — and so I need to find the right person or team to help me bring this vision to life.
And that's where I've come to a bit of a standstill in terms of this specific project — and why I've pushed this rebranding to the backburner for months on end.
The parts of rebranding that overwhelm me
Now that we've covered the major roadblock holding me back from pulling the trigger on this rebranding project, here are a few of the other aspects that are keeping me up at night.
The cost. I've done a bit of initial research, and while prices vary wildly, it looks like I could be spending anywhere from $1,500-$9,000 to redesign my site. I'm a big believer in investing money into your business to eventually earn it back tenfold, but even so, preparing to drop that amount of cash is a tough pill to swallow.
The amount of time and work involved. I've been involved in website redesign projects before, and I know they always take longer than expected, and involve a lot more work than anticipated. It's not as simple as choosing a designer and slapping a new template the site. I know this project will require a lot of my brainpower (and copywriting). I'm nervous that this project will drag out for months and pull me away from client work or new business development.
The number of decisions I'll need to make. It's probably no secret around here that I have a case of paralysis any time it comes to making a decision. I struggle with even the smallest of decisions, so I feel overwhelmed just thinking about all of the teensy-tiny choices I'll need to make throughout this process, not to mention the bigger ones!
But I can't keep putting this off forever
Ultimately though, the excuses end here.
It's time to finally kick off this project, and instead of feeling overwhelmed, get excited about the possibilities ahead once my new site is out there in the world.
The time is now.
Since implementing the new productivity and to-do list hack that's seriously kicking my booty into gear to get shit done, I know that if I include this rebranding (and the many tasks associated with it) as part of my "Do One Thing" each week, I know I can make this goal happen.
By the end of May, I'd like to identify a brand expert/designer to partner with on this project. I already have a spreadsheet of possibilities, but I need to set aside time to really research and make a decision about who I want to work with on this rebrand Ideally, I'd love to launch my redesigned site by the early fall, though I know a lot of that depends on the designer I choose and their availability.
Any words of wisdom (or recommendations)?
No doubt, rebranding is a daunting process, but one I know will be worth it when all is said and done.
But I need your help! I need you to hold me accountable, and I'd love your advice and input along the way.
Know an amazing branding expert or designer? Have you gone through a major rebrand or redesign? Do you have any ideas about how I might seamlessly blend my business with my blog in a rebrand?
I'd love to hear from you! Feel welcome to leave a comment on this post or shoot me an email.
Here we go!
Want more gutsy content delivered straight to your inbox twice a month? Be sure to sign up for my FREE #GetGutsy e-newsletter filled with inspiration, ideas and action items to get out of your comfort zone.