While I often joke that all I need to do my job is my trusty MacBook and a wifi connection, that's definitely not the case.
There are many other apps, tools and resources (20+ of them, in fact!) that I use to make JL&Co and my blog run seamlessly.
Whether you're a blogger, a small business owner or an aspiring entrepreneur, no doubt, there are tools and resources you need to help you succeed too.
Many of the tools I use on a daily basis are 100 percent free, where others require a bit more of an investment, but truly, without these 25 resources, I wouldn't be able to successfully run JL&Co and this blog.
Here's a complete list of the business and blogging tools I use on a daily basis.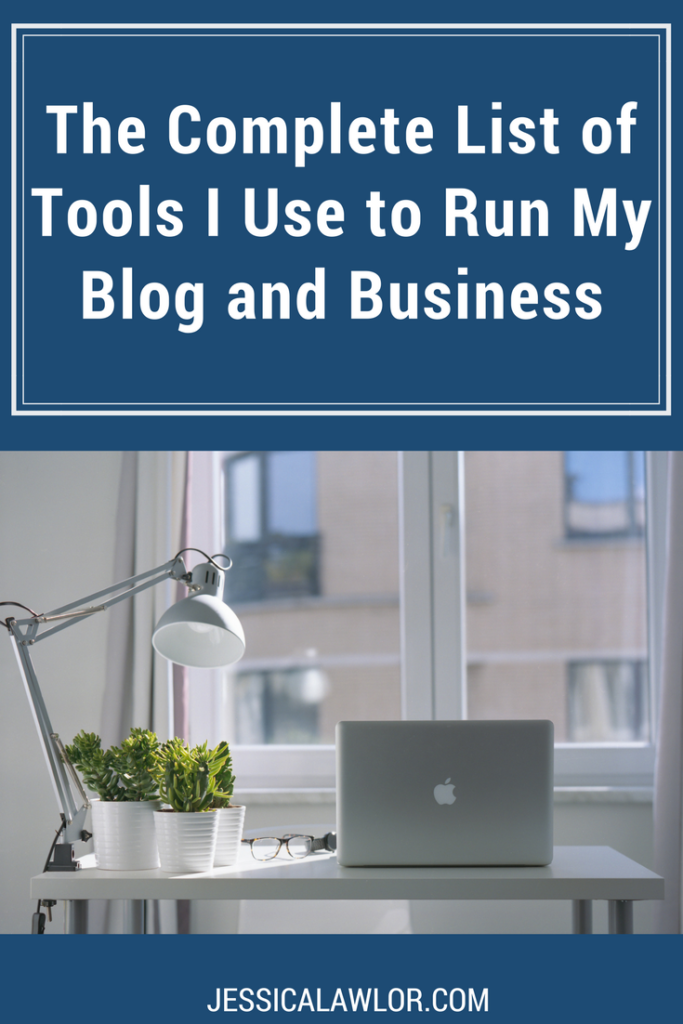 Business Necessities
FreshBooks: FreshBooks is hands-down my absolute favorite business tool. Know why? Because it helps me get PAID! (Very important.) I use FreshBooks to invoice clients, track and receive payments, and keep tabs on my business expenses. Without FreshBooks, I'd be financially lost, seriously. It's the #1 tool I recommend to those who are serious about earning money via their blog or working with clients. Not going to lie, I'm a little bit obsessed with checking FreshBooks to see which clients viewed my invoice, and of course, I love watching those payments come through. P.S. Get 60 days — two months — free here! Cost: $25/month for up to 50 clients
HelloSign: Let's be real. Since I run my business online, and strive to be a paperless company, I don't have a printer, and I certainly don't have a scanner. But I often need to sign and return contracts in order to begin my work with clients. Enter: HelloSign! This tool allows you to upload contracts (I do so via Google Documents) and sign/ask for electronic signatures. Easy-peasy! Cost: FREE for three documents/month, $13/month for unlimited documents
Google Drive: JL&Co runs on Google Drive. Seriously. My whole business lives in my Google Drive. I don't use Microsoft Word, Powerpoint, Excel, etc. Instead, I use Google's suite of products, including Documents, Slides and Sheets. What I love most about Google Drive is that it's collaborative — multiple people can work in a document or spreadsheet at the same time without overriding each other's work or saving an incorrect version. The collaboration aspect of Drive has helped me to work seamlessly with my clients and team member. Cost: FREE with a Google account, though I pay $5.30/month for my own domain name email + extra storage
MacBook Pro: I simply could not run my blog or business without my trust MacBook Pro. I bought my first MacBook back in 2011 and it lasted me more than five years. I upgraded last year to the newer MacBook Pro with a touchbar — love it so much! It's super light, and easy to store and carry while traveling or out and about. Cost: $1,389 + optional warranties and upgrades
Blog Must-Haves
WordPress: I know a lot of other easy-to-use website and blogging platforms have come out over the past few years, but I'm a WordPress gal through and through. I've been using WordPress since 2010, and while there's a bit of a learning curve initially, once you're up and running, it's simple to use. Plus, the plugins are a big added bonus, allowing you to add some bells and whistles to your site. Cost: FREE and paid options, depending on if you decide to use outside hosting
Flywheel: After years on other hosting sites, my web guy convinced me to switch to Flywheel last year, and wow, what a difference! *Knock on wood* but I haven't experienced any site issues since making the switch. I can't remember the last time my website was down, or site speed was slower than usual. Flywheel was made solely for WordPress websites, making them an expert in hosting for WordPress if that's your platform of choice. I know it's tempting to go with a cheaper option for your hosting (and that there are some other well known hosting sites out there), but if your website is a major part of your business or life, it's worth the peace of mind to know it's always going to be taken care of. Cost: $165/year for a tiny plan, $330/year for a personal plan (this is what I use)
Mailchimp: Please tell me you have an email list. Yes? Yes. I've used Mailchimp since I launched my blog, and I haven't looked back. It is super easy to set up a template, gather email addresses and send and evaluate campaigns. Most of my clients also use Mailchimp — it's that good. Cost: FREE for up to 2,000 subscribers, price goes up after
Google Analytics: Again, where would I be without Google? If you have a blog or website, you likely already know about Google Analytics, and use its powerful data to understand your website's traffic. Cost: FREE
Feedly: How do you read blogs? If you're anything like me, you still use an RSS feed, and my feed of choice is Feedly. (Remember the days of Google Reader? RIP.) Feedly allows you to add your favorite websites and blogs to your feed, organize them into categories, and instantly know when new content is available. Cost: FREE
Canva: I'm definitely not a designer, but I feel like one when I use Canva to create professional-looking graphics for my blog. Canva has been a game-changer for me, allowing me to create branded templates, Pinterest-friendly graphics and other images for marketing purposes. Cost: FREE, Canva for Work upgrade available for $12.95/team member/month
Productivity and Staying Organized
Trello: Where has Trello been my whole life? I've heard people talk about it over the years, but finally got on board myself recently. Have a lot of processes in place for your blog or biz? Then you need Trello. Trello allows you to create boards and cards to visually see something through from start to finish. I use Trello to track my client pipeline and freelance writing assignments, and I know many bloggers use it to plan posts and manage their editorial calendars. Cost: FREE for an individual, paid upgrades available for teams
Slack: Teamwork makes the dream work, and Slack certainly helps to keep teams in check. Slack can help to eliminate an endless string of back and forth emails — my largest client exclusively uses Slack to communicate internally. As a consultant on the outside of the organization, I love Slack because it allows me to feel like part of the team, and stay up-to-date with what's going on with my client on a day-to-day basis. I don't get that kind of insight with all my clients, and it absolutely helps me to do a better job. Cost: FREE for small teams, paid upgrades available for larger teams
Gmail Canned Responses: If you're not using Canned Responses on Gmail, get ready to have your mind blown. Find yourself writing a variation of the same email over and over again? Maybe it's a template email you use to respond to a brand who has expressed interest in working with you, or the copy you use when a prospective client reaches out. Canned Responses, a feature from Google Labs, allows you to save that template in your email and click one button to have the content populate when you're ready to reply. I especially use canned responses for my content management clients to respond quickly to emails from freelance writers sending pitches for the blogs I run. Cost: FREE
1Password: Raise your hand if you literally can never remember your password to a website or app. Hello! With online security becoming ever more prominent, it's super important to make sure you have strong passwords, and that you're protecting (and remembering!) those passwords. 1Password helps you create crazy long and secure passwords, then stores them for you, so you can grab 'em when you need 'em. Cost: $2.99/month
Social Media
Hootsuite: I've been an avid Hootsuite user forever, and while I think the app has become more clunky over the years (sad face), it's still the social media tool I use most often to schedule tweets. Cost: FREE for individuals with some limitations, paid upgrades available for larger teams
Facebook groups: Despite new social media apps and platforms emerging, I still love me some Facebook, for one specific reason: Facebook groups. I'm in several groups, some business-focused, and some interest-based, but I can't stress how important Facebook has been for making connections and finding new freelance opportunities. I also run The Write Life's community group on Facebook, so if you're a writer, that's a great place to get started! Cost: FREE
Photography
Canon Rebel T6i: After lots of research over the summer, I made the decision to purchase a Canon Rebel T6i (this is the exact kit I bought) before my big trip to Ireland. Purchasing a nice camera is a big investment, so be sure you actually need one before you buy. I'm definitely not an expert yet when it comes to photography, but I'm loving this camera and its many capabilities. I especially love the wifi function that allows me to instantly transfer photos from my camera to my phone. Cost: $699
Snapseed: Snapseed is my favorite photo editing software. Fun fact: I've had it downloaded for years, but only just started using it. It can be a little complicated at first, but my favorite simple-to-use feature is "looks" (sort of like an Instagram filter) where you can smooth a photo, make it pop or completely change the lighting. Cost: FREE
Preview: The Preview app for Instagram is amazing! If your goal is a cohesive feed, use Preview to plan out your feed by dragging and dropping images to see what future posts might look like when you hit publish. Cost: FREE
Pexels and Pixabay: While I'm not a huge fan of stock photos, sometimes they're a necessity (especially for some of the client blogs I run). I've found Pexels and Pixabay to be two of the best and FREE sites for finding non-cheesy stock photography. Cost: FREE
For My Sanity
Apple Watch: I'm always a year or so late to the party, and that definitely holds true when it comes to the Apple Watch. I got mine for Christmas this year, and I basically haven't taken it off since! I mostly use it to track workouts and steps, but I love that I can check a text message when my phone isn't on me. I especially enjoy those pesky hourly reminders to stand up — especially helpful on those extra busy days I'm planted at my desk with no end in sight. Cost: $203
MindBody app: You all know I love me some yoga, and the MindBody app helps me book classes each week to get out of my office. When you create an account, you can save all of your favorite studios (not just yoga, by the way!) and easily see class schedules and book classes directly through the app. Cost: FREE
Spotify: Working from home can be lonely (the apartment is VERY. QUIET. during the day), so listening to music and podcasts while I work makes me feel not so alone. I'm obsessed with Spotify — I also use it to curate my monthly yoga playlists, so the $9.99/month fee is well worth it. Cost: $9.99 for Spotify Premium
An exercise ball: For the past year, I've promised myself I'd buy an exercise ball to use in lieu of my cozy chair at my desk. And after including it on my holiday gift list for biz owners, my lovely boyfriend bought me a ball of my own! I love bouncing while I'm on client calls. Work out my core while I work? Yes, please. Cost: Between $15 and $30
Do you use any of the tools on my list? I want to hear what resources you use to run your blog or business! Let me know in the comments below.
*This post contains affiliate links. That means if you purchase anything through my links, that means you're supporting me, my blog and my business (at no extra charge to you, of course!) — making it easier for me to continue providing awesome and free content for you on the regular. Thanks for that!
Photo via Pexels
Want more gutsy content delivered straight to your inbox twice a month? Be sure to sign up for my FREE #GetGutsy e-newsletter filled with inspiration, ideas and action items to get out of your comfort zone.