When I tell people I quit my safe job in public relations to start my own business, the first question they ask me is, "How do you find clients?"
It makes sense. Figuring out how to land clients and find paying work is often a huge barrier for those who want to freelance, start a side hustle or eventually run a full-blown business.
The truth is, I've always taken a bit of a different approach to new business development.
I don't send out cold emails to people I've never met. I don't really attend networking events. I don't even actively connect with folks on LinkedIn.
So, how do I do it? After all, I side-hustled successfully for four years, and just hit the major one-year-milestone of starting my business, Jessica Lawlor & Company.
To understand my business development strategy and approach, let's take a look at exactly how I've landed clients over the years.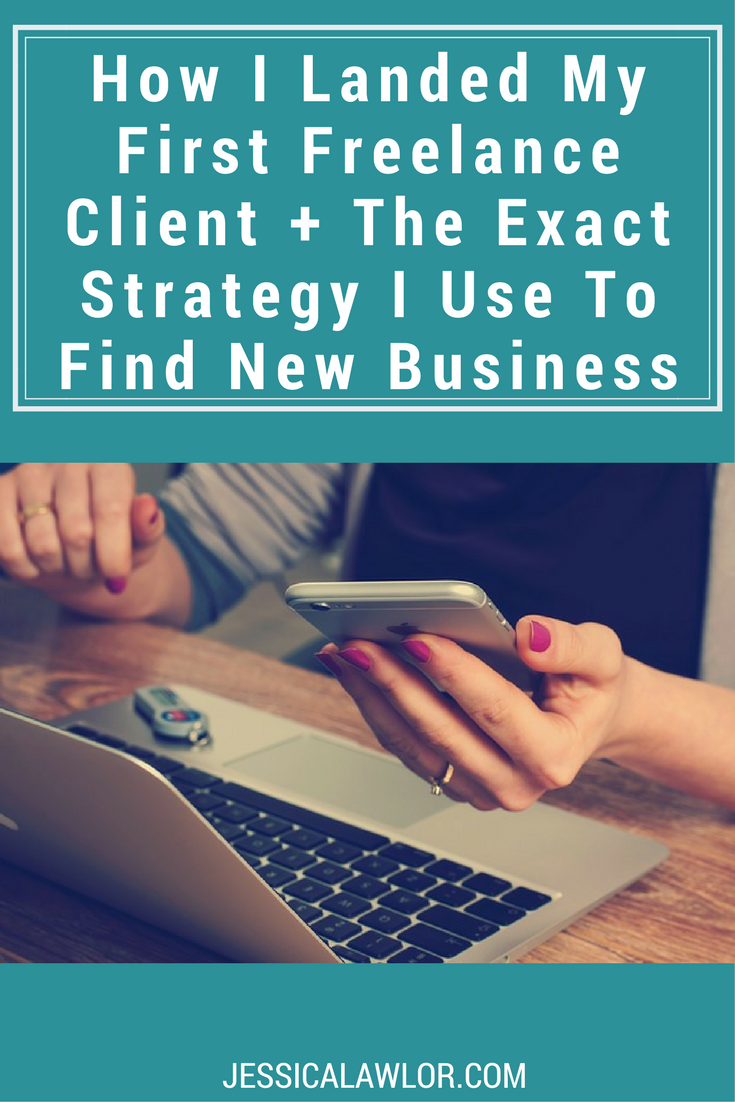 The real story of how I landed my first big client
Five years ago, in December 2012, I stumbled upon an awesome article about public relations written by a guy named Greg Galant. Prior to reading that article, I wasn't familiar with Greg or with his startup company, Muck Rack.
I included Greg's piece in in my Start Your Week Right Sunday roundup post, a place each week where I'd share links I loved (as of last fall, I've discontinued that weekly series). As I did each time I published a new content roundup, I tagged Greg on Twitter to let him know he'd been featured.
Greg liked and retweeted my tweet that day. I didn't think much of it.
The next day, Greg sent me an email:
Jessica,

Thanks for referencing my article on your blog!

Do you do any freelancing? We're looking for writers for Muck Rack.

Best,

Greg
That email led to a phone call which led to an invitation to write a guest post for the Muck Rack blog.
Over the next few months, I wrote a handful of blog posts for Muck Rack, opting for a link in my bio over monetary payment for my work. (Sometimes working for free can be really smart…keep reading!)
In May of 2013, just a few months after I first met Greg through Twitter, we jumped on a call to brainstorm more post ideas. During that call, Greg asked if there were other ways we could work together. He said Muck Rack was interested in producing regular content, and needed someone to manage the process. He asked if I thought I'd be up for the job.
Lots of thoughts went through my head:
Can I do this? I've never done anything like it before. Am I capable? Can I handle this project along with the responsibilities of my full-time job? Will this be a success or a complete flop?
Of course, I didn't let Greg in on my self-doubts. Instead, I confidently said, YES, of course.
Greg asked me to put together a proposal. Cue me frantically googling "how to write a proposal." I'd never written one before. (Fake it 'til you make it, people).
After sending off the proposal and some back and forth negotiation, I signed my first contract, and officially welcomed my first freelance client, Muck Rack.
Now, five years later, Muck Rack is my longest-standing client. Not only do I manage their blog (we publish three times a week!), but me and my team also manage Muck Rack's social media presence and I write and lay out case studies on a monthly basis for the brand. Our work together has grown (and continues to grow) with time.
What started out as one tiny blog post grew into an exciting project that allowed me to start my side hustle and eventually gave me the confidence and know-how to quit my job to take my business full time.
I'll forever be grateful to Greg for taking a chance on a 25-year-old with a blog, an idea and a drive to make things happen.
How I found my other paying clients
I love telling the story of how I came to work with Muck Rack, but I've landed my other clients in some pretty unique ways, too.
Curious about how I landed some of my past and present clients? Here's a brief breakdown.
The Write Life: I've long admired The Write Life founder Alexis Grant. She and I became friends on Twitter back in 2010! I avidly read her blog, featured her in a Q&A on a former blog of mine, and fostered a relationship over the years, often catching up via email or phone. Lexi introduced me to the then editor of Brazen Careerist, and helped me land one of my first paid writing gigs. She later hired me to do some PR monitoring work for her company, and this past summer, when I saw she was looking for a new managing editor for The Write Life, I eagerly threw my hat into the ring. I went through the same application process, interview and editing test as all the other candidates, but no doubt, my relationship and Lexi's knowledge of my skill and work ethic definitely helped me land this role.
Temple University Kornberg School of Dentistry: My sorority sister Ashley previously worked in the alumni communications office for the Dental School at my alma mater. Knowing my career background, she and I chatted about me potentially doing some writing for the school when we were at an alumni networking event. A few months after the event, she emailed me and asked me to write a couple of articles for the school's alumni magazine. Ashley's no longer with the alumni office, but my relationship continued with other professionals at the school, and I've continued writing for the office's publication for several issues.
Crossing Vineyards and Winery: When I officially gave my notice at my full-time job back in 2015, I made a list of professional connections I'd made through my career in tourism PR. Christine and Tom Carroll, co-owners of Crossing Vineyards and Winery certainly made that list. After all, I'd worked with them for four years on various media initiatives. I sent them an email sharing my news and letting them know what I planned to do as I embarked on the journey to start my business. They enthusiastically reached out and told me they wanted to come on board as my first official PR client. We've been working together ever since!
Pennsbury Manor: Similar to the above story, Tabitha Dardes, who worked at Pennsbury Manor at the time I quit my job, also received an email sharing my big news. She emailed me back to congratulate me, but there was no mention of working together (which was totally fine; that wasn't my goal of sending out these emails). However, Tabitha had already been subscribed to my email newsletter, so she received regular updates and blog posts about what I was doing and what I was working on. Toward the end of February last year, she reached out and initiated a conversation about working together on PR and social media for the historic site. Relationships are everything; Tabitha is no longer at Pennsbury, but I've continued my work with them AND I'm starting a new project with Tabitha at her current company. Win-win!
Author Cara Bradley: When I graduated from yoga teacher training two years ago, a friend introduced me to an inspiring woman named Jennifer Kreatsoulas. At the time, Jennifer needed assistance with content/social strategy as she prepared to launch her business. In exchange for my marketing expertise, Jennifer served as my yoga mentor, helping me to become a stronger teacher. After a few months of working together, Jennifer started working with one of her yoga connections, Cara Bradley, who was preparing to publish her first book. Jennifer pulled me into the project to assist with social media and PR. After the book launched, Cara kept me on board for another year managing her social media and email marketing strategy. What started out as a trade (I love bartering!) with one expert turned into a high-paying client for more than a year down the line.
Scribewise: Scribewise founder John Miller found me on Twitter! I couldn't find the exact tweet where we first started chatting, but from our very first email chain, I was able to see that he originally reached out there (After some digging, it appears the day we started talking, a piece I wrote was published by PR Daily, so I'm thinking he may have seen that, and reached out.) We jumped on a call; during the call, John shared more about Scribewise, and I shared more about myself. Still, nothing happened right away. A few months later, John reached out and asked if I'd be interested in writing regular guest posts. From there, I ended up writing more than 30 posts for Scribewise!
Teaching at Temple University: In the fall, I fulfilled a lifelong dream when I had the opportunity to become an adjunct professor at my alma mater, Temple University. How did I land this gig? Pure persistence. As a PR student at Temple University, I became close with the PR department head, Gregg Feistman. When I graduated, I kept in touch, and often saw Gregg at various PR events in Philly. A few years after graduation, I told Gregg I'd love to one day teach a class at Temple; he asked me to send my resume (which I did) and he'd keep me posted. Months went by and I didn't hear anything. Gregg told me they had all their fall spots filled and he'd keep me in mind for spring. He asked me to follow up in the late summer; I did, and quickly received a reply from him, "Can you call me ASAP?" Turns out, a professor needed to drop two classes and Gregg needed to fill a spot for the fall, QUICKLY. I was able to step into that open spot!
My strategy and approach to new business development
Just like I've always been a huge fan of transparency, I've always taken a very genuine and authentic approach to marketing myself and seeking out new business.
Here's my secret: I don't really sell myself or my services. I simply don't. "Selling" feels icky to me, and it always has.
Instead, I openly share what it is that I do:
On this blog
Through guest posts
On social media
Through my email newsletter
Through personal emails to connections and members of my network
During speaking engagements
At my yoga classes
In one-on-one conversations with friends and family
With my students
Instead of selling, put more simply, this is personal branding.
It's storytelling.
Have you ever read my Becoming CEO column here on the blog? Each month during my first year in business, I shared an income report, lessons learned, the work I completed in the previous month, as well as the ups and downs I experienced.
Were the posts interesting? Yes, I thought so. Were the posts useful to fellow biz owners? Hopefully. Were the posts honest. Absolutely. Did they always paint me in the best light? Nope.
Did those blog posts serve as an excellent marketing tool for my business? Yup. BINGO.
This is how I "sell." I sell by being myself. By sharing my story. Honestly. Genuinely. Authentically. By putting that story out there for the right people to find.
All of this isn't to say there won't be a day I'll send a cold email or pass out my business cards at a networking event.
There's *nothing* wrong with that approach.
In fact, one of my goals for JL&Co this year is to actually find ways to reach out to companies I'd love to work with, but don't already know. Moving into the future, if I want to land bigger clients and continue to grow, I'll need to take more risks, so my strategy may change, but for now, THIS approach is what has worked for me.
And this is something YOU can achieve too.
You can write about your experiences online through a blog or through Medium or on LinkedIn. You can write guest posts for other websites and media outlets. You can share your work on social media. You can make genuine connections through Twitter. You can send personal emails to those in your network to catch up with them. You can build your own thriving personal brand.
It's all possible. I promise.
How did you land your first client? I'd love to hear your story! Do you have any questions about my approach to finding new business?
*Photo via Pixabay
Want more gutsy content delivered straight to your inbox twice a month? Be sure to sign up for my FREE #GetGutsy e-newsletter filled with inspiration, ideas and action items to get out of your comfort zone.