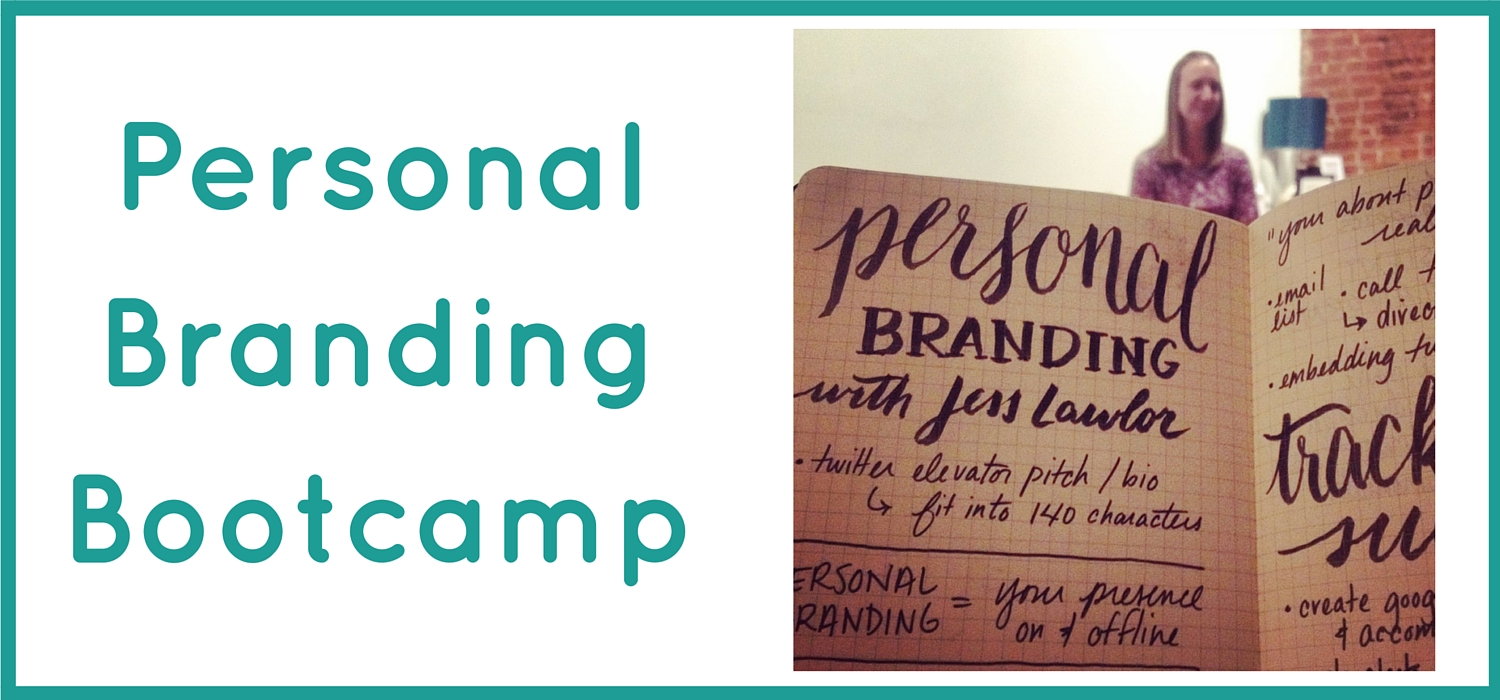 Almost everything awesome that has happened to me in the past five years is a direct result of my blog and social media presence.
A direct result of my personal brand.
These are just a handful of the wonderful things I've welcomed into my life solely because I made the decision to put myself out there and share parts of my life on the Internet.
Multiple freelance clients
Writing opportunities
Media coverage
Blog traffic
Brand partnerships
Affiliate opportunities
Quitting my job to start my own business
Speaking gigs
Travel opportunities
New friends and mentors
A lot of people ask me how I did it. How I built a personal brand that gets people to pay attention.
But more importantly, not just how I've done it, but how I've done it in a genuine, real way that feels distinctly ME.
Personal Branding Bootcamp is my answer to this question.
Personal Branding Bootcamp is a 45-minute one-on-one session with yours truly.
It's my chance to help YOU create your own opportunities. To teach you how to use your personality, humor and expertise to accomplish your goals, whether personal or professional.
We dive deep into your personal branding goals, so that when we're done, you can use your own unique and genuine voice to get more attention online.
After you book a session, here's how it works:
1.You do a little bit of homework. I ask you a few key questions about your current efforts and goals around personal branding. You send your responses back to me at least 48 hours before our session.
2. Then, I do some homework. I take a look at your web presence- website, blog, social media platforms, you name it-and come to our session with detailed and specific tips, tricks and suggestions for making your brand even more effective.
3. We meet! We'll chat, either via phone or Skype for our 45-minute session. During the session, I'll
spend every moment giving you as much value as I possibly can when it comes to enhancing your personal brand. There will be plenty of time to answer your questions, too!
4. I send you some follow-up goodies. When our session is complete, I provide you with notes and action items from our session! Along with your session notes, you'll also receive my detailed two-page Personal Branding Checklist (exclusive to Personal Branding Bootcamp students!) to check in with your personal brand when it comes to your website, blog and social media accounts.
5. You rock your personal brand. After our time together and reviewing your notes and Personal Branding Checklist, you'll be ready to rock your own personal brand and start making big things happen.
Investment: $200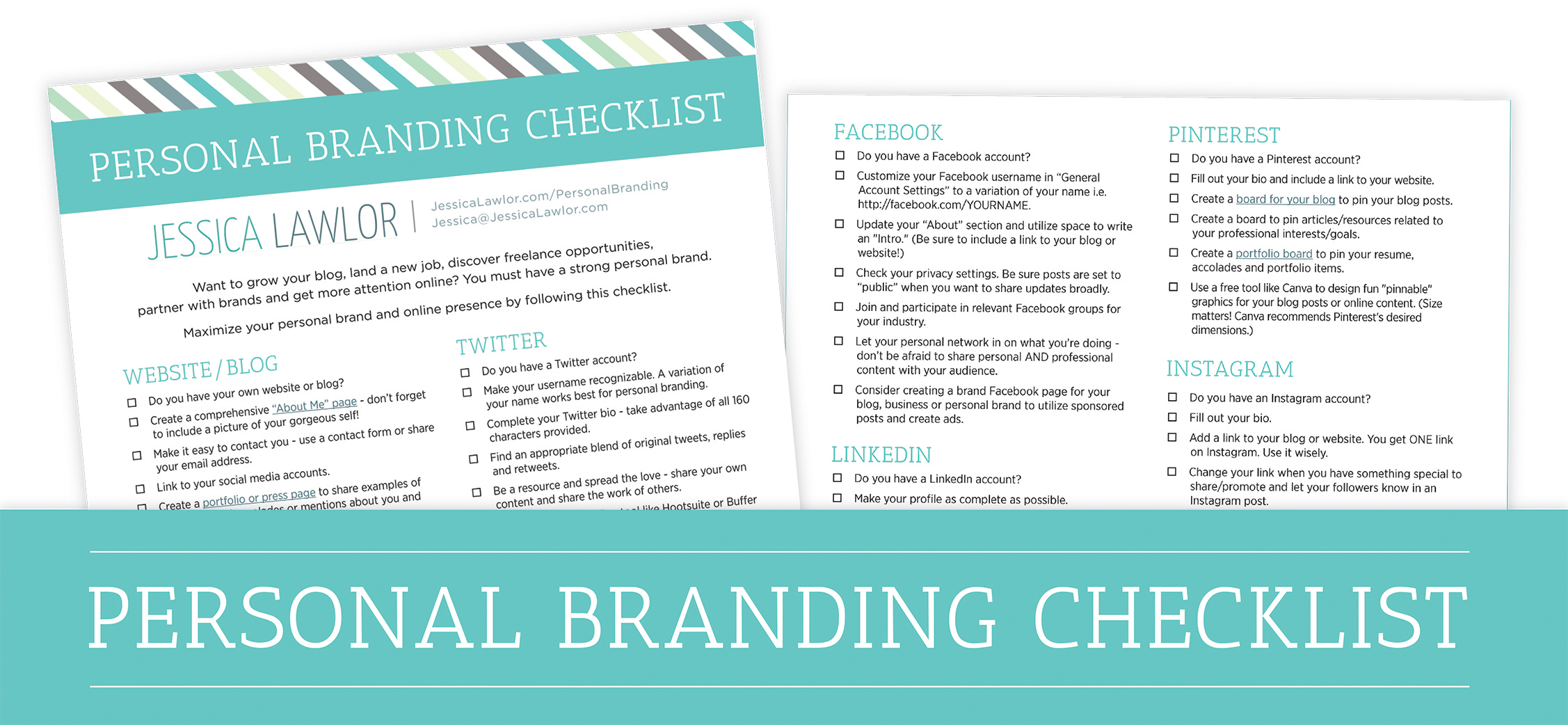 This is one of the things I am MOST excited about.
When you sign up for a Personal Branding Bootcamp session, you'll also walk away with my handy two-page Personal Branding Checklist. This detailed and exclusive checklist is designed to help you make sure your personal branding is on point when it comes to your blog/website and social media.
PSSSST- If you were on my email list before TODAY, you received a FREE copy of this checklist. Check your inbox!
This checklist was beautifully designed by the wonderful Brigette Indelicato. If you're in the market for a designer, I highly recommend Brigette!
Your Special Discount
Because I LOVE this blog community so much, I wanted to offer a special discount for those who'd like to book a Personal Branding Bootcamp session.
Here's the deal: when you schedule your session by the end of May (May 31, at 11:59 p.m. EST)  you'll get a 10 percent discount. That's $180 instead of $200.
Use the promo code: WhipMyBrandInShapeBlog
(If you are a member of my email community, you get a little bit of a bigger discount and have a different promo code, so be sure to consult your inbox before booking your session!)
*Session must take place by the end of July 2016.
Be sure to read up on Personal Branding Bootcamp! There's tons more information, along with testimonials over on the landing page.
Have any questions about Personal Branding Bootcamp? I'd love to answer them! Leave your questions in the comments below or send me an email.
Want more gutsy content delivered straight to your inbox twice a month? Be sure to sign up for my FREE #GetGutsy e-newsletter filled with inspiration, ideas and action items to get out of your comfort zone. When you sign up, you'll also be sent a FREE copy of the Get Gutsy ebook, filled with 19 inspirational stories to help you get gutsy.
*Photos and checklist design courtesy of Brigette Indelicato