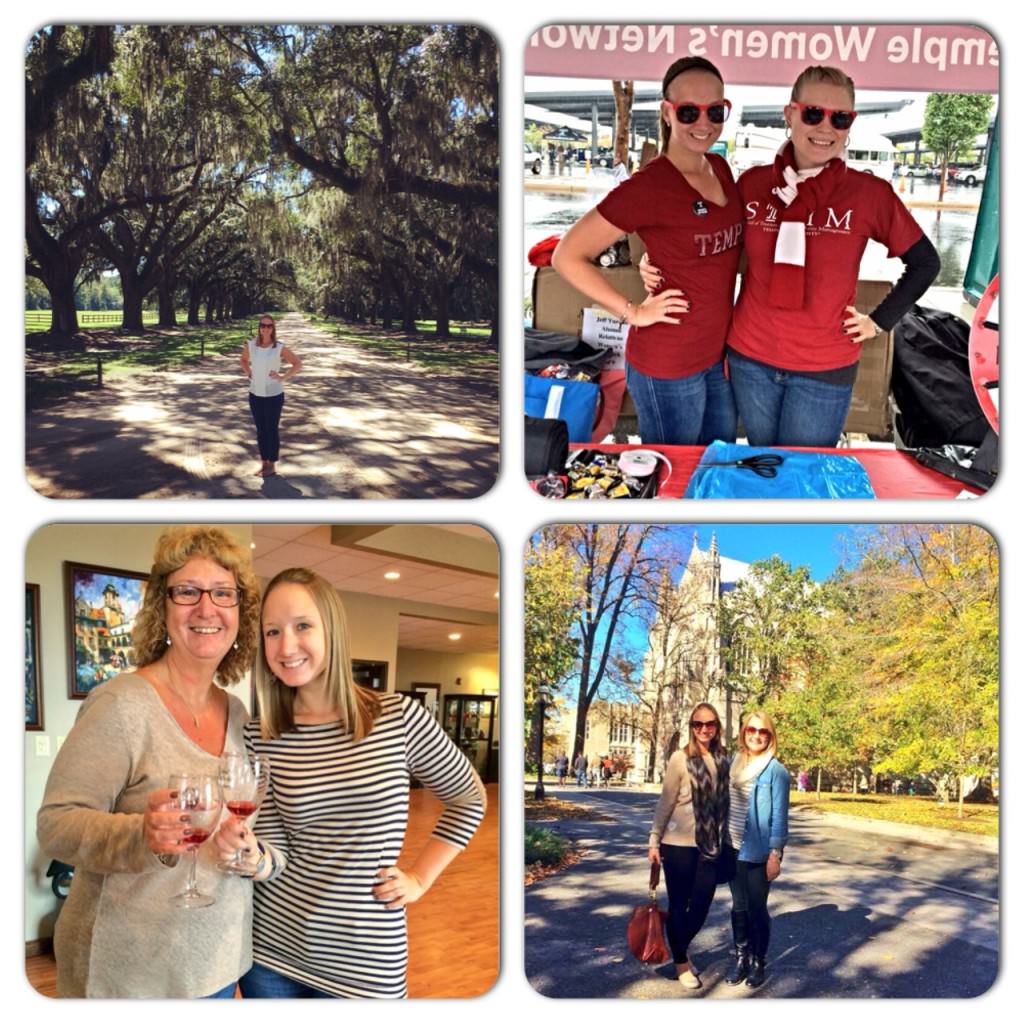 Each month, I share three things I accomplished in the previous month and preview three things I'm excited about or hoping to accomplish in the month ahead. It's fun to look back and forward, and as an added bonus, these monthly check-ins keep me accountable to reach my goals.
I hope you'll join in and share your three things in the comments section! I've been thrilled to see that other bloggers enjoy my monthly check-ins and have adopted the format for their own blogs- this is AWESOME! If you write a similar monthly check-in/look ahead post, please feel free to utilize this format and be sure to leave a link in the comments below so we can all support you in your goals for the coming month!
In October, I…
1. Launched the Get Gutsy ebook and interview series! October was a HUGE month here at Get Gutsy HQ. On October 1, the blog turned two years old! To celebrate, I launched the Get Gutsy ebook, a compilation of 19 inspiring stories designed to help you step outside your comfort zone. The feedback from the book has been amazing and I'm so grateful that you all love it as much as I do! Toward the end of the month, I also launched a brand new interview series. Once a month, I'll interview someone getting gutsy in a big way- to kick off the series, I interviewed my yoga teacher Julia Paddison, who recently quit her job to pursue teaching yoga full time.
2. Traveled to Charleston for a mother-daughter getaway. Every fall, my mom and I do a little mother-daughter getaway. It's a great way to spend some time together…and for us, we've made it a new goal to spend this trip exploring areas of the United States we haven't been before. This year, we traveled to Charleston, a city that has been on my list after hearing people rave about it (and seeing pictures of the adorable colorful houses). Charleston wasn't my favorite city in the world, but we still had a blast exploring its history, delicious dining and adorable and perfectly photogenic alleyways and homes. Read our full trip recap and check out our recommendations for places you must-see (and eat!) while in Charleston.
3. Enjoyed a packed calendar of fun fall events AND professional milestones. The best part about October was spending time with my friends and family exploring the local area during the most beautiful time of the year- fall! One weekend in October was spent wine tasting in Bucks County and exploring Princeton, NJ (a new-to-me area). Temple Homecoming took place in early October and despite being a super-involved student and alumna, this was my first Homecoming! Unfortunately, it rained the entire morning, but I still had a blast representing the Temple Women's Network and hanging out with friends. October was also a great month professionally; I spoke to a Temple PR class, lead a One Woman Shop Google+ Hangout on personal branding and was interviewed for an upcoming episode of the Side Hustle Show podcast. I also amped up my freelance writing with two magazine feature pieces…and two more for a different client in the works!
In November, I will…
1. Kick off the beta version of my new email course, 30 Days of Gutsy. I'm pumped to officially launch my first-ever paid product in early 2015, but before doing that, I want to make sure it's as packed with value as it can be. To do that, I pulled together a beta group of 26 awesome people who are taking the course for free this month to help me continue to shape and improve it before launching publicly in the new year. I'll be sending out the first email in mid-November and I'm so grateful for the enthusiasm of the beta group! I sent out a survey seeking their initial feedback and expectations and I've had a blast reading their responses and shaping the course to be everything they're hoping for. Stay tuned for more details on signing up for the course!
2. Take my first-ever solo getaway. Traveling alone has been on my list of things to do for quite some time and in November, I'm finally taking the opportunity to try it out. (Pretend like I wrote this a few days ago, since I just got back from my solo getaway yesterday). More details to come in a post later, but I definitely enjoyed my time spent traveling alone. I went to Hershey, PA (about a two hour drive from my house) and spent the weekend at the Chocolate Spa (the gorgeous spa at The Hotel Hershey). I had the opportunity to spend lots of time alone, of course, but also met up with amazing blog-turned-real-life-friend Janelle and one of my best friends from college, Reilly.
3. Get back on track with my health/fitness. I'll be completely honest. In the midst of everything awesome happening lately, I haven't been focused on my health and fitness…and I'm not feeling too good about it. I can't remember the last time I stepped foot in the gym and the last time I laced up my sneakers was at the beginning of October. I have been keeping up with yoga, but I know that cardio and eating right are important too. I know all too well how easy it is to slip back into my old ways, so this month I am refocusing my efforts on my health and fitness. Luckily, I have a yoga ab workshop scheduled for mid-November and a race scheduled for late November. Hopefully these two events will motivate me to get back to work.
October Posts You May Have Missed
Get Gutsy with Julia Paddison: "I Quit My Job To Pursue My Dream Of Teaching Yoga Full Time"
Say Something Nice About Yourself: Five Things I Love About Me
Be More Productive: 15 Little Life Hacks For Your Sanity, Career, Fitness and Blog/Biz
Are You Letting Impostor Syndrome Hold You Back From Your Goals?
Long Weekend Getaway: Where To Stay, Eat and Play in Charleston, South Carolina
The Get Gutsy Ebook Is Here! (Grab Your Free Copy)
Jessica Around The Web
Guest posts, articles and other places you can find me this month online.
Back To School: Five Ways To Continue Your PR Education Outside The Classroom– for PRSA Tactics (print and online edition)
The Five Professionals You Need On Your Content Marketing Dream Team– for Scribewise (Also republished on Business2Community)
50 PR Blogs Chosen By Graduates– JessicaLawlor.com included in Sarah Stimson's roundup
What did you accomplish in October and what are you looking forward to accomplishing in November? Share your three things in the comments below!
Want more gutsy content delivered straight to your inbox twice a month? Be sure to sign up for my FREE #GetGutsy e-newsletter filled with inspiration, ideas and action items to get out of your comfort zone. When you sign up, you'll also be sent a FREE copy of the Get Gutsy ebook, filled with 19 inspirational stories to help you get gutsy.