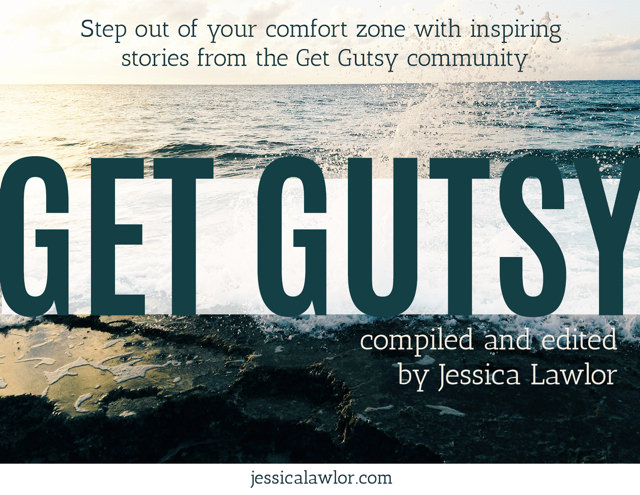 "Do one thing every day that scares you." -Eleanor Roosevelt
I woke up with butterflies in my stomach.
Today's a BIG day.
That's because today I launch my first-ever product into the world.
Today also happens to be the second anniversary of the Get Gutsy blog (Yay!)
The Get Gutsy ebook, a compilation of 19 gutsy stories, curated from the 2014 Get Gutsy Essay Contest is now available for download.
Want your own copy of the Get Gutsy ebook? Just click here, drop your email and a FREE copy will be sent straight to your inbox.
(If you're already part of the Get Gutsy newsletter community, check your email! Your free copy should be there waiting for you)
Want to know something incredible about this book?
This is not MY ebook. This is truly YOUR ebook, a work of the entire Get Gutsy community.
These are your stories.
Be inspired by the nearly 20 people who agreed to share their very personal stories with the world.
When you dive into the book, you'll read compelling essays about:
Overcoming depression
Quitting a soul-sucking job to pursue a dream
Moving to a brand new, unfamiliar city
Conquering long-distance races
Traveling the world
Losing more than 30 lbs and embracing a healthy lifestyle
Most importantly, you'll walk away inspired. You'll walk away with admiration and respect for the authors of these stories-people who opened up about their struggles, their passions and their achievements.
You'll walk away motivated to do the very same- to step outside your comfort zone every once in awhile…and to live a more gutsy life.
Will you help me spread the word? (Thank you!)
Tweet about the book! Click here to tweet or copy and paste the below.

Need inspiration? The #GetGutsy ebook is a must-read! Grab your FREE copy here, courtesy of @jesslaw: http://ow.ly/C3Fx

Repin this pin on Pinterest
Include the following blurb on your blog or other social media site: In need of some inspiration? Jessica Lawlor recently launched the Get Gutsy ebook, a compilation of 19 inspiring and gutsy stories to push you out of your comfort zone. Click here to download your FREE copy.
Gratitude
I can't thank you enough for your incredible support and love for the Get Gutsy community. You are truly the reason I continue to leap outside my comfort zone, create useful and inspiring content and keep pushing forward on this gutsy journey.
A few other important thank you's:
Thank you to the wonderful contributors of the book: Kami Mattioli, Caroline Winn, Amy Chick, Emily Ascani, Dana Sitar, Meg Huber, Andrea Mueller, Megan Johnson, Janelle, Brie Hemingway, Katlynn Ni, Jade Barnes, Elizabeth Mays, Alex Crispino, Jessica Hammond, Abbigail Kriebs, Sarah Schmeer, Kathleen Garvin and Lyssa Campbell.
Thank you to my fabulous graphic designer, Sierra Elmore of 13 Elm Streets. I can't say enough positive things about this incredible woman and her work! You'll get to know much more about her in a forthcoming interview on the blog, but suffice it to say, she's someone you should want to know. If you need a professional, creative and efficient designer, I highly recommend you check out Sierra's work and consider hiring her. Big shout out to Amy Chick for referring me to Sierra!
Here's to many, many more years of getting gutsy!
I can't wait to hear what you think of the ebook. Remember, to get yours just click here, drop your email and a FREE copy will be sent to your inbox.
Want more gutsy content delivered straight to your inbox twice a month? Be sure to sign up for my #GetGutsy e-newsletter filled with inspiration, ideas and action items to get out of your comfort zone. When you sign up, you'll also be sent a FREE copy of the Get Gutsy ebook, filled with 19 inspirational stories to help you get gutsy.