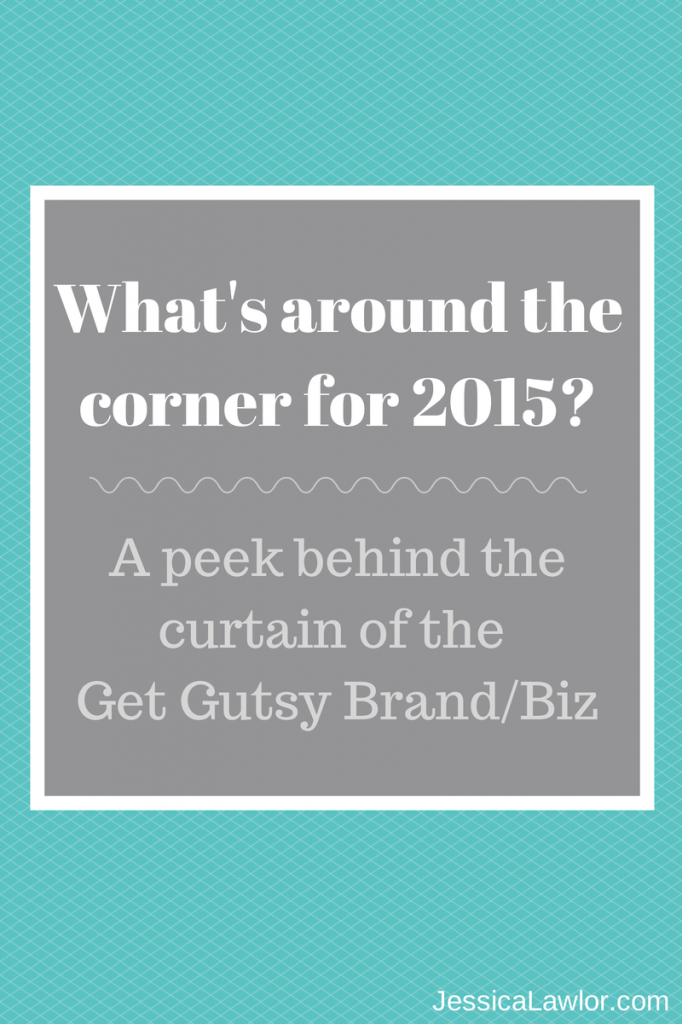 Even though I've been out of school for five years now, I still think of "back-to-school" time in September as a fresh start.
In fact, sometimes I think this time of year is even more powerful for goal setting and planning than January. There's just something about the fall that makes me want to turn over a new leaf (quite literally).
And believe me…I've been very busy planning and goal setting this summer. This blog is almost two years old and continues gaining momentum each month. I have so many ideas for how to continue turning the blog into a brand, lifestyle AND business. Because I'm feeling all kinds of inspired and charged up about what's around the corner, I wanted to give you a little peek behind the curtains of the Get Gutsy brand/biz.
Here's what's just around the corner for 2015- an exclusive look into what I'm working on and how I plan to grow the Get Gutsy brand and business this fall, 2015 and beyond.
1. On October 1, the Get Gutsy blog will turn TWO years old and I will officially launch my first ebook. To celebrate the second anniversary of the Get Gutsy blog, I'll be launching my first FREE ebook. The ebook will be a collection of my own and YOUR Get Gutsy stories, compiled as part of the 2014 Get Gutsy Essay Contest. I can't wait to share the stories of nearly 30 gutsy people who chose to open up and share themselves with the world. Of course, I'll send the ebook out to my VIP email first, so if you're not already on the list, get on it here. From there, that ebook will be free and available to anyone who signs up for the Get Gutsy email list. In the marketing world, they call this a lead magnet, freebie or gift to those who subscribe. I'm excited to finally have one to encourage more people to join the community.
2. In November, I'll launch a beta version of a brand new email course (tentatively named) 30 Days of Gutsy for a select group of 25-30 VIPs. I've mentioned a couple times here on the blog that there's a new project I'm working on that I'm SO excited about. I had originally hoped to launch it in October, but after talking it over with trusted friends and mentors, I'm holding off to host a beta version before launching my first paid product in early 2015. 30 Days of Gutsy (still brainstorming names…if you have ideas, let me know!) will be a (you guessed it) 30 day email course all about getting gutsy and stepping outside your comfort zone to reach your goals and live a life that makes you truly happy. Each day's email will have a different inspiring theme and will provide actionable tips and tricks to help you get gutsy. Participants will also be invited to a private Facebook group for more support and accountability. The November group of 25-30 people will be able to participate in the course for free; they'll be pivotal in helping provide feedback to further shape the course for the big launch in mid-January. If you'd like to participate in the beta version of the email course, give me a shout in the comments below, but stay tuned to my email list for more details (as always, those on the list get first dibs, so get on the list!)
3. From December through January, you'll have the chance to enter the second annual Get Gutsy Essay Contest. Did you miss the opportunity to participate in the Get Gutsy Essay Contest last year? Now's your chance! By popular demand, the contest will be back from December through January. Last year, 29 people entered and shared their amazing stories of how they got gutsy the year before or how they were planning to get gutsy in the year ahead. My public goal is to receive 40 entries this year although (not-so-secretly) I'd love to hit 50! Start thinking about those entries now! Oh, and if you entered last year, you are more than encouraged to participate again! I'll be leaning on those participants to share more stories and help spread the word! Stay tuned for more details in early December.
4. In January, 30 Days of Gutsy will open up to the public. After what will hopefully be a successful beta run of the email course in November, I'll be gearing up to launch the full-blown version to the public in early 2015. I'm still working out the exact timing of when the program will launch and begin, but I'm targeting mid-January. The program will be available as an email course for a set price (to be determined) where participants will receive one email per day. However, for those who want to skip ahead and don't want the daily email, for a bit of a higher price point, I'll also have an "on-demand" version of the course as an ebook that can be devoured in one sitting. Your choice! All participants will gain access to that private Facebook group for more accountability, support and community.
5. This fall, a new series featuring gutsy one-on-one interviews will debut and appear monthly on the blog. I don't accept guest posts here on the blog (except on very, very rare occasion) so I've been seeking a way to highlight and share the stories of those I admire who are doing awesome and gutsy things. I have a short list going of people I'd love to feature on the blog, so this fall, I'll be launching a monthly interview series to help you get to know some these amazing people. If you have a suggestion for someone I should interview, please let me know in the comments below!
It's going to be a busy fall and 2015, but I couldn't be more excited to get to work on these projects! Now that I've put this out into the world, I'm holding myself accountable to get these things done- I hope you'll help support me along the way. The Get Gutsy brand is growing and I'm thrilled to have you all as part of this thriving community.
Which initiative are you most excited for? Have more ideas or suggestions? Leave them in the comments below!
Want more gutsy content delivered straight to your inbox twice a month? Be sure to sign up for my FREE #GetGutsy e-newsletter filled with inspiration, ideas and action items to get out of your comfort zone.