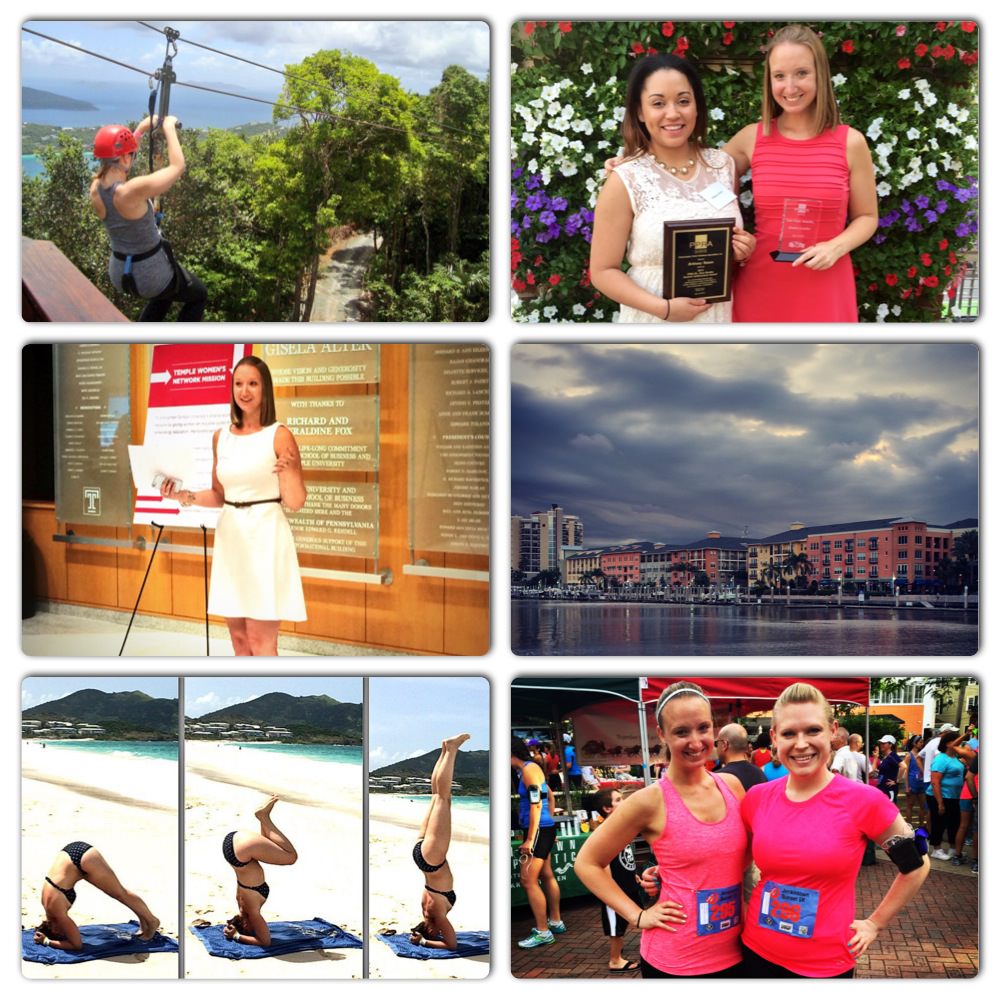 Each month, I share three things I accomplished in the previous month and preview three things I'm excited about or hoping to accomplish in the month ahead. It's fun to look back and forward, and as an added bonus, these monthly check-ins keep me accountable to reach my goals.
I hope you'll join in and share your three things in the comments section! I've been thrilled to see that other bloggers enjoy my monthly check-ins and have adopted the format for their own blogs- this is AWESOME! If you write a similar monthly check-in/look ahead post, please feel free to utilize this format and be sure to leave a link in the comments below so we can all support you in your goals for the coming month!
In June, I…
1. Went on a cruise with my mom and sister. I just returned from a one week cruise to celebrate my little sister's college graduation last week and I couldn't have had a better time! In a short seven days, we visited five islands (St. Thomas, Barbados, St. Lucia, St. Kitts and St. Maarten) and even had some time to tour San Juan, Puerto Rico, where the ship left from. I had a blast ziplining with Jamie and doing headstands on every beach I visited. I was able to almost completely disconnect and caught up on some reading. I was able to really clear my head and now have tons of ideas about the blog, a non-fiction book proposal I'm excited about and future projects I can't wait to get started on. Be sure to check out our vacation photo album here.
2. Received two awesome honors. In early June, I came home to find my Temple University School of Media and Communications alumni magazine waiting for me. I was SO excited to see that they had featured me, my career and this blog in an alumni spotlight feature story. You can check it out here! Such an honor. Later in June, I received the President's Fast Track Award from the Philadelphia Public Relations Association, an organization I've been a part of since I graduated in 2010.
3. Had a jam-packed month filled with fun events and activities. June flew right on by in a flurry of networking, races, work events and fun social outings. Some of the highlights include helping to kick off a new alumni association for Temple University (the Temple Women's Network), running a 5K with my good friend Rachel, attending the wedding of my amazing friend Lindsay and learning a ton at the PRSA Travel and Tourism Conference in Tampa, Florida. While I was in Tampa, I had the opportunity to meet long-time blogging friend Stephany in person and that was just wonderful! I also cried my way through The Fault In Our Stars (and had a subsequent movie hangover the whole next day), caught up with old friends throughout the month and made some new friends (Hi Sam!).
In July, I will…
1. Go to my favorite place on earth- Ocean City, New Jersey. I grew up going to OCNJ every single summer (my grandparents lived there for much of my life) and every year, we go back and rent a house for a week. It's always one of my favorite weeks of the year- complete relaxation, biking and running on the boardwalk, beach time, good reads, amazing food and wonderful company. I'm only going for half the week this year, but I know it will be just as fun as it always is.
2. Get started on some of my second half of 2014 goals and projects. Earlier this week, I completed my mid-year check-in and I have lots of ambitious goals for the rest of the year.  Especially after a week away on vacation, I'm feeling more inspired and energized than ever and I want to get started on some of those big goals. In this next month, I'd love to focus on revamping some of the pages of my website that I haven't updated in awhile.
3. Hop back on the fitness bandwagon. It's no secret that I've been struggling with the motivation to run and work out as regularly as I used to. The demands on my time are ever-increasing and I've simply not been prioritizing working out the way I used to. I'm doing a great job keeping up with regular yoga classes, but I know that running and weights are the missing puzzle piece to me feeling good about my body. I finally have a bit of space to breathe this month and I want to make sure I run and get to the gym as often as possible in July.
June Posts You May Have Missed
Five Ways To Get A Little Closer to Work/Life Balance
Hello Beautiful! How A Blow Dry Bar Goes Above and Beyond To Make Customers Feel Amazing
Are You An Introvert or Extravert?
Jessica Around The Web
Guest posts, articles and other places you can find me this month online.
Quick Ways To Repurpose Content When You're Short On Time– for Scribewise (also republished by Business 2 Community)
The #1 Way To Grow Your Community– included in a presentation for One Woman Shop
The Definitive Guide for How to Make and Keep Friends In Your 20s– included in an ebook for Selfies and Sweatpants
What did you accomplish in June and what are you looking forward to accomplishing in July? Share your three things in the comments below!
Want more gutsy content delivered straight to your inbox twice a month? Be sure to sign up for my FREE #Get Gutsy e-newsletter filled with inspiration, ideas and action items to get out of your comfort zone.