Last summer, a friend introduced me to an amazing concept I'd never heard of before- a blow dry bar.
We were heading to a formal event one night in August and she suggested we get our hair done for the party and mentioned a local business called BLO/OUT. I wasn't familiar, but was definitely intrigued.
What's a blow dry bar? It's a salon that specializes ONLY in blow outs- no cuts, no color, no nonsense. Just the indulgence of a fabulous wash, dry and styling using the magic of a hairdryer and expert stylist. I went that day in August…and I was hooked.
Not only did I walk out with FABULOUS hair (seriously see here, here and here for pictures of the three blo/outs I've gotten over the past year), but more than that, I walked away with respect and admiration for the way this particular company handles their marketing, branding and customer loyalty efforts.
I love to showcase brands that do things right and BLO/OUT is the newest business on that list!
Here's how a local blow dry bar goes above and beyond to make customers feel amazing and come back again and again.
1. First of all, this is what the place looks like (see above). How can you NOT feel like some sort of princess/heiress/millionaire walking into a place this gorgeous (and keep in mind- BLO/OUT is very affordable. A signature blo/out runs for $35). I love an aesthetically pleasing space and BLO/OUT does not disappoint. Everything is very bright, clean and PINK. I love it! And those mirrors! Where can I get one of those for my house? The space is very inviting with fun music blasting and a super positive environment that feels more like hanging out a girlfriend's house than visiting a stuffy salon.
2. The customer service is above and beyond. When you walk into BLO/OUT, immediately you're offered a drink- wine, champagne, mimosa? Don't mind if I do! The BLO/litas (stylists) are all wonderful. I've been to BLO/OUT four times now and have never experienced a BLO/lita I didn't love. I also really enjoy that you can make appointments online super easily and pay and tip using your credit card at the salon. I find that most hair salons (the place I go for my cut and coloring, included) haven't yet entered 2014 with easy online booking and paying (seriously) so BLO/OUT makes things super easy.
3. BLO/OUT's branding is consistent. I love that BLO/OUT has essentially created a brand new language for its business. The stylists are called BLO/Litas. On the website, the "locations" section is labeled "BLO/Cations" and the owner Avi's blog is labeled "BLO/G." It's these small, simple things (like brand consistency) that help contribute to the success of a business. Plus it's just fun to say and see!
4. The BLO/OUT team rocks at social media. Active on Facebook, Twitter and Instagram, I've been thoroughly impressed with BLO/OUT's social media presence. They often use the hashtag #HelloBeautiful, which I can't get enough of and they are ON TOP of replying to messages and tweets. Whenever I get a BLO/OUT, I share my experiences on social media and am always blown away by how quickly the team responds and retweets. I especially love how they use a tool on Instagram to repost customer photos (like this example of what they did with my photo). What a smart way to create content for your brand and showcase fan loyalty.
5. Their email marketing is amazing. After leaving my first BLO/OUT, like with any other transaction, you are generally handed (or in this case, emailed) a receipt. No big deal. But BLO/OUT's email receipt even blew me away. This is what it said: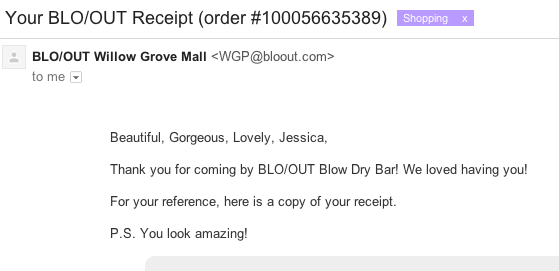 You wouldn't think an email like this would make a big difference, but to me, it did. Just the fact that BLO/OUT personalizes their email receipts to help the women they serve feel beautiful speaks volumes. Now that I'm on their email list, I receive emails regularly and admire their efforts to drum up repeat business with emails that say things like, "Hey Jessica! You looked stunning the last time you walked out of here. It's been way too long since you've had your beautiful hair pampered and styled. It's time for another BLO/OUT!" Normally, these kinds of emails from companies would annoy me, but in the case of BLO/OUT, their emails are genuinely so interesting to read (and the compliments don't hurt!) so I truly don't mind opening them.
—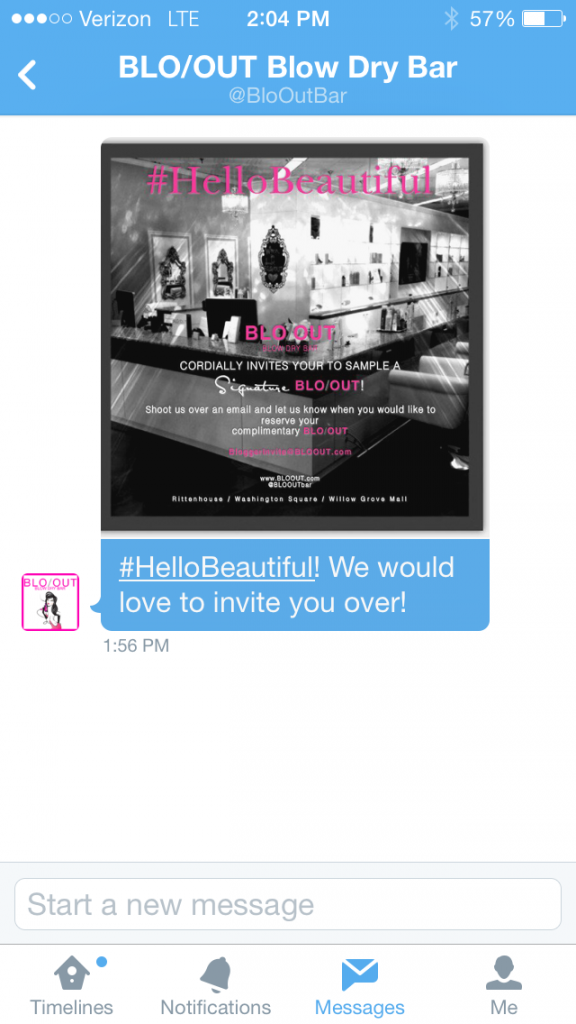 When BLO/OUT sent me this fabulous Twitter invitation last week, I was super excited! I actually already had a BLO/OUT booked for this past Saturday for a wedding, so I was thrilled to have the chance to take advantage of a complimentary blo/out.
I also wanted to dig a little deeper to learn more about the business (because I seriously admire BLO/OUT founder Avi Shenkar- check out some of his blog posts) and talk about why this brand is doing things right. I had the chance to chat further with Avi to hear some more of his business secrets. Read on:
An Interview With Avi Shenkar, Founder of BLO/OUT
1. I have to admit, I feel quite amazing whenever I receive an email from BLO/OUT that says "Hello beautiful, lovely, gorgeous Jessica." Awesome marketing strategy there! What's the drive behind your approach to marketing and customer service?
Our main focus is to make our potential clients and existing clients feel great. Whether through a BLO/OUT itself or any sort of communication we strive to uplift, compliment and ultimately make each and every client feel better even if just for a minute, hour or day. The BLO/OUT experience is about more than just hair styling, it's about joy and beauty as well.
2. You guys are pretty active on social media- how has that affected your business and who is handling that responsibility on a day-to-day basis?
We do not believe in traditional marketing and rely on social media, partnerships, charitable contributions and word of mouth. Our social media activity is mainly us sharing what we do, how we do it and how our clients feel about it. Our social media presence has generated a tremendous amount of business for us simply by giving potential clients a preview of what we can do. The last time you chose a service provider as personal as a hair stylist, was it from an ad in a magazine? I'm going to assume the answer is no. If women are exposed to our services abilities and are happy with them, they share the love with their friends. The social media is handled by myself along with contributions from location managers and key marketing team members throughout the company.
3. Here on the blog, we talk a lot about getting gutsy- stepping outside your comfort zone to reach your goals. I think it's safe to say you've probably been taken out of your comfort zone in creating and launching BLO/OUT. Any particularly gutsy moments you'd like to share?
There are too many to list! The main ones have always been with choosing our next BLO/OUT location. For example Atlantic City scared the hell out of me but we did it anyway, did it work? Kind of… Opening a location inside of a mall was scary too, I had no idea whether the the concept fits or if we would be successful. Every hire is gutsy for me personally since I am obsessed with customer service and quality.
4. Entrepreneurs have to make risky decisions and in the past year as BLO/OUT has grown, I'm sure you've had to make some tough choices. How do you make decisions? I'm a big fan of following my gut, but would love your thoughts on decision making.
I totally agree on following your gut! It's really the main method to my decision making. The other is the coin flip app on my phone. I have a strong support group of friends, family, co-workers and investors, many serious decisions are based on a consensus. Imagine having a large investment or people's payroll on your shoulders and the decision you make can determine the future for either of those, sometimes I just checkout for a little, let the thoughts marinate and the decision comes to me.
5. Time for a Twitter tip! Give me your best piece of advice for would-be entrepreneurs in 140 characters or less.
Work your a** off at something you enjoy every day! Hurdles are a part of the job.
Oh and of course, I can't leave you without a photo of how this weekend's BLO/OUT turned out! I absolutely LOVED my wedding hair.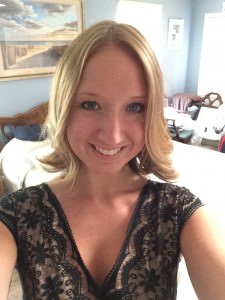 Have you ever gone to a blow dry bar? Are there any companies that stick out in your mind that go above and beyond to make customers happy? Share in the comments below!
*Disclosure: A big beautiful thank you to BLO/OUT for hosting me this past weekend! All (gutsy) opinions are my own.
Want more gutsy content delivered straight to your inbox twice a month? Be sure to sign up for my FREE #Get Gutsy e-newsletter filled with inspiration, ideas and action items to get out of your comfort zone.