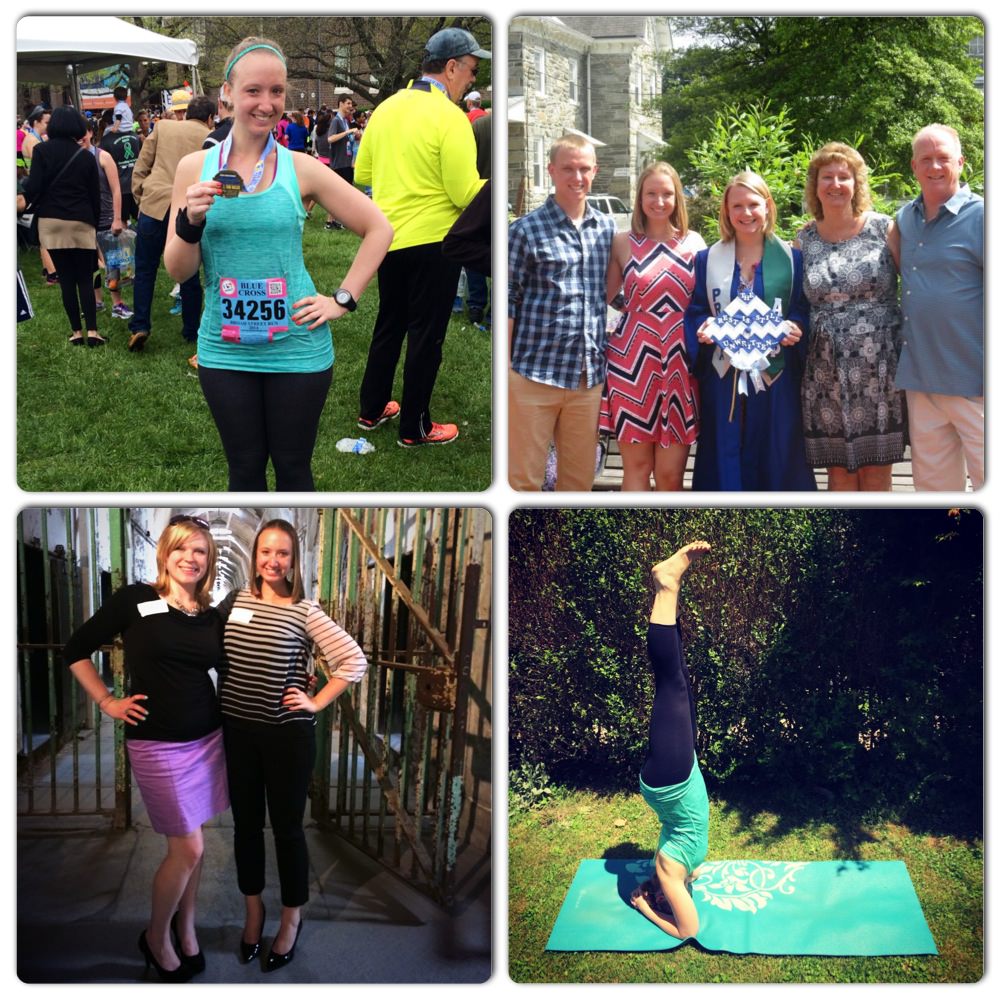 Each month, I share three things I accomplished in the previous month and preview three things I'm excited about or hoping to accomplish in the month ahead. It's fun to look back and forward, and as an added bonus, these monthly check-ins keep me accountable to reach my goals.
I hope you'll join in and share your three things in the comments section! I've been thrilled to see that other bloggers enjoy my monthly check-ins and have adopted the format for their own blogs- this is AWESOME! If you write a similar monthly check-in/look ahead post, please feel free to utilize this format and be sure to leave a link in the comments below so we can all support you in your goals for the coming month!
In May, I…
1. Completed my third Broad Street Run. Even though I haven't been running as much in 2014 as in year's past, I still knew I wanted to complete my third Broad Street  Run. It has become a tradition for me and even though I complain to no end about training, there's no denying it's one of my favorite races. I didn't set a new personal record this year, but I'm just proud and happy to have finished, given my lack of training. I can't wait to participate in my next long distance race (the Philly 10K in September) and perhaps…another Broad Street next May! As an added bonus, my blog post with Broad Street Run tips went viral thanks to a mention from Philadelphia Magazine!
2. Successfully participated in my yoga studio's pose off challenge. All throughout the month of May, I participated in my yoga studio's pose-off challenge. Each day, the owner of the studio posted the pose of the day on social media and participants were challenged to take a picture in the pose and share it to Facebook, Twitter or Instagram. I participated, completing 28 of the poses and sharing them to my Instagram andTwitter accounts. I wrote about the entire experience earlier this week, including all of the photos you DIDN'T see- the yoga bloopers! It was fun to share my yoga progress with my friends and family and I was especially excited to finally nail a forearm headstand.
3. Watched my little sister graduate from college! Congratulations, Jamie! I was so excited to watch my little sister graduate from the University of Delaware with a degree in communications with a focus on PR (sound familiar?). Her graduation was a two-day affair with lots of picture taking, gorgeous weather, ceremonies, a speech by Joe Biden and tons of family time. I'm an incredibly proud big sister and I can't wait to see her take on the world!
In June, I will…
1. Travel to Tampa for the PRSA Travel and Tourism Conference. Next week, I head to Tampa for my second PRSA Travel and Tourism Conference! I am SO excited to attend and like the geek that I am, I am beyond excited for all of the sessions. (Can you tell I miss being in school?) My job has changed significantly since last year, especially since my recent promotion, so all of the sessions I'll be attending apply even more to the work I do now. I can't wait to learn from experts in the field and see all that Tampa has to offer. And as an added bonus, I'm even going to meet up with Stephany, who has been one of my blog friends for years!
2. Go on a cruise with my mom and sister to celebrate her graduation! Vacation time! I haven't been on a cruise for four years, but it's one of my favorite ways to vacation! When I graduated from college, my mom took me on a cruise and this year, I get to tag along for my sister's graduation trip. We leave out of San Juan, Puerto Rico and visit FIVE different islands! I'm going to be getting gutsy and ziplining with my sister! Can't wait to report back on that! The vacation is going to be a whirlwind for sure, but I'm looking forward to lots of sun, sand, fruity drinks and quality time with two of my favorite women in my life!
3. Enjoy my packed calendar of fun social events. I'm not going to lie, my June calendar terrifies me a bit. It's been filling up for the past few weeks (with all good things!) but even still, it can be a tad overwhelming. Here's a few things I'm looking forward to this month: a fun nighttime 5K with my friend Rachel, seeing a pre-screening of The Fault In Our Stars with my sister, the Philadelphia Public Relations Association's Annual Meeting and the kickoff to a new group I'm a part of at my alma mater, the Temple Women's Network. Also this month, one of my best friends from college is getting married! Congrats Lindsay! I can't wait to celebrate with you. Whew! June is going to fly by.
May Posts You May Have Missed
It's All Been Said Before- But It Hasn't Been Said By YOU
How The Get Gutsy Community Named My Blog
Time Is Flying (And I'm Just Trying To Hang On)
A Philadelphia Love Story: Broad Street Run Recap
Jessica Around The Web
Guest posts, articles and other places you can find me this month online.
Five Compelling Arguments to Prove Content Marketing ROI to The Boss– for Scribewise
Ditch The Niche: Why Your Blog Doesn't Need a Specific Niche to Be Successful– for A Writer's Bucket List (republished from my blog)
Revolutionize Your Productivity with Energy Management– for CareerMeh (republished from my blog)
The Top 5 Lessons You'll Learn at Your First Real Job– for YouTern (republished from Brazen Careerist)
Life Lessons From Yoga Class– for CareerMeh (republished from my blog)
Muck Rack's Monthly Top Picks: 5 Links We Loved in April– for Muck Rack
What did you accomplish in May and what are you looking forward to accomplishing in June? Share your three things in the comments below!
Want more gutsy content delivered straight to your inbox twice a month? Be sure to sign up for my FREE #Get Gutsy e-newsletter filled with inspiration, ideas and action items to get out of your comfort zone.