Twice a month, I send out an email to my amazing community of gutsy go-getters. The email is a mix of exclusive content (just for their awesome eyes), updates on the blog and a behind-the-scenes look at my brand/biz. But every so often, something I send resonates so much and garners a reaction so strong that I feel the need to share it on a larger stage- this blog. The below is one of those times. If you want to get on that list, please do so here (I'd be honored to have you). Otherwise, enjoy.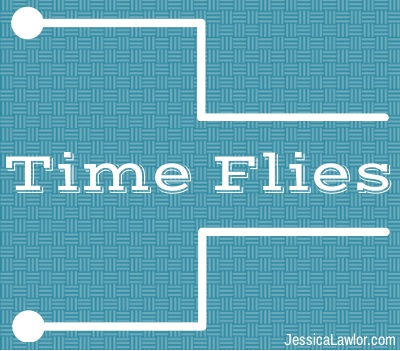 Time is flying. And I'm not sure I like it.
The other day, my date from my high school freshman year dance followed me on Instagram and provided me with a fresh dose of "holy blast from the past." Mostly because after some quick addition, I realized I was a freshman in high school 12 years ago.
12 years!
I graduated from college four years ago.
I left my heart in Rome (still need to go back to reclaim it!) five years ago.
What do these things have in common? I remember them all like they were yesterday.
When I think about how long ago many of these incredible memories really were, it boggles my mind.
What's that old saying? Something about when you're a kid, time goes by so slowly. You wait anxiously for winter break from school or summer vacation and it feels like the days drag on and on. You have endless time to do whatever you want.
Now, time is flying and I feel like I'm hanging on for dear life trying to take it all in, make the most of the moment in front of me and figure out what's next.
It can be scary.
I read this amazing essay recently by Brianna Wiest. It's called "Stop Wasting Your Young Years" (not really an accurate title- don't let that stop you from reading the article). Here's a quote from it that I can't get out of my head:
"Just because you can't see the whole thing yet "" or just because you don't understand it "" doesn't mean your life doesn't have a trajectory and that you're not on it. Planning your life will not see that it unfolds in the way you think you want it to."
This quote gives me a lot of hope. It doesn't really help with the whole slowing time down thing, but I don't think there's ever going to be a real answer or solution for that.
But this article gives me comfort that even if you don't know what your life plan is, even if you're not sure what's happening next week, next month or five years from now, it's okay.
I like the idea that it's good to have a plan, but to be open to that plan changing, because sometimes you're not in control.
Don't get me wrong. This scares the hell out of me (I like order and plans, if you haven't figured that out already).
But it's also wildly exciting.
I'm trying to temper those nerves and feelings of apprehension with excitement about what's around the corner, whether I can see it yet or not.
This topic has been on my mind a lot lately as I look toward the future and think about the things I value most and what I want to accomplish and experience in my life.
I have no real answer or advice to share today. Just simply wanted to voice my thoughts on something I'm sure we've all felt at one point or another as we grow up.
What do you think? I'd love to hear your thoughts.