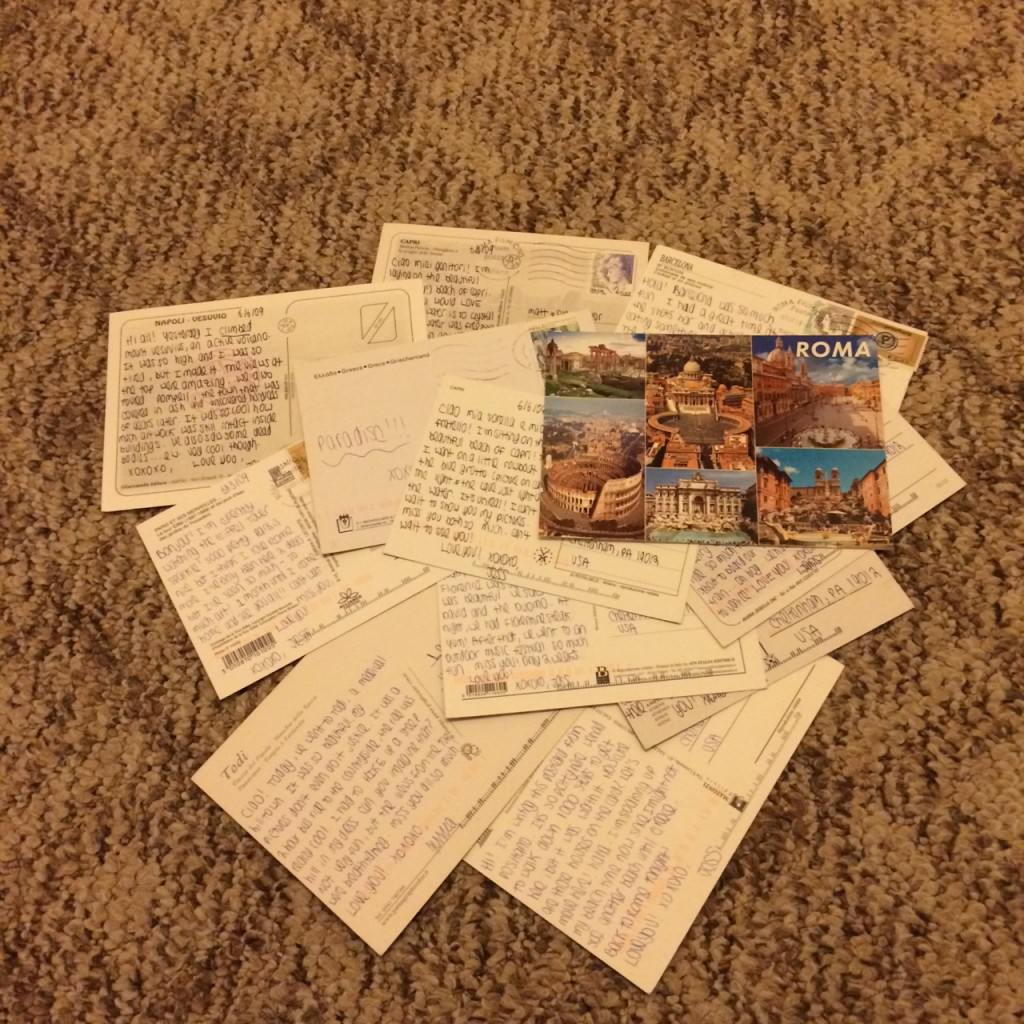 On this day five years ago, me, my massive suitcase and my carefully-stuffed Vera Bradley duffle bag boarded an airplane to Rome, Italy.
When I stepped foot on that plane, I had no idea what awaited me.
I had no idea that five years later, my case of wanderlust and passion for traveling would be so strong and growing stronger every day.
—
I almost didn't go.
Studying abroad wasn't always in the cards for me.
It was only after a breakup and a rediscovering of myself, my goals and my passions that led me to apply.
I've always been a homebody (says the girl who lived at college for one semester before promptly moving home and commuting).
I never thought I'd leave.
But I did. Even then before "get gutsy" was a thing, I made the decision to step out of my (very comfortable) comfort zone, for what would be the experience of a lifetime.
I'm so glad I did.
And I know that one day…hopefully sooner, rather than later, I'll return.
Lessons from Traveling Abroad
Be adventurous. Oh, the many adventures you can have while traveling. From climbing Mt. Vesuvius in flip-flops to zipping around Santorini in a four-wheeler to crazy pyrotechnics at a famous shots bar in Barcelona, there was no shortage of adventures to be had in Europe. In high school and college, I was NOT as adventurous or gutsy as I am now, so every little thing I did abroad was a brand new eye-opening experience for me. Soak it all in and say yes to every opportunity.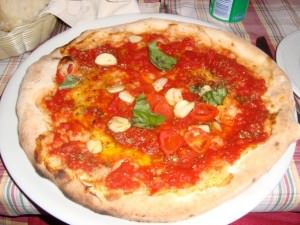 Eat amazing food. I will never stop dreaming about the food I ate abroad. From the softest, freshest bread dipped in the most delicious olive oil to thin, perfectly-baked pizza and spicy pasta in amazing tomato sauce, I never went hungry, especially in Rome. While I'm not an adventurous eater by any means and I'm lactose intolerant (the Italians were definitely not familiar with the term "non formaggio") I'm hungry just thinking about the food I ate in Europe. Oh, and calories don't count while traveling.
Culture shock is a real thing (and that's okay). When I first arrived in Rome, jet-lagged and exhausted, my roommates and I settled into our new apartment and promptly took naps. I woke up in the afternoon, disoriented, hot and confused. We decided to go for a walk to familarize ourselves with our new neighborhood and I remember feeling so out of place. As we stumbled upon an Internet cafe (our wi-fi wasn't set up yet) I burst into tears reading emails from my friends and family, so scared of being in a new and unfamiliar place. Those mini breakdowns happen…and they pass. It's normal.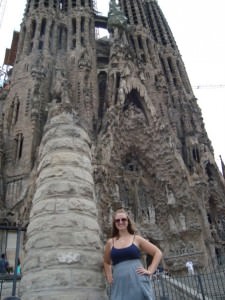 Go everywhere you can. Living in Rome put me in proximity to so many other amazing European countries. I certainly took advantage of traveling every chance I got- during my eight weeks abroad, I visited (within Italy) Venice, Florence, Capri, Positano, and Sorrento and (outside Italy) Paris, Barcelona, Athens and Santorini. Traveling was as easy as a super cheap flight (less than 100 Euro from Rome to Barcelona) or a train ride. My roommates and I chose to extend our trip and added on 10 days in Greece- best. decision. ever. I discovered that Santorini is literally my heaven on earth with gorgeous beaches, perfect blue and white picturesque buildings, delicious and cheap food and kind people.
Don't ever eat McDonald's in Paris. Well, really, don't eat McDonald's…ever, but mostly abroad. After arriving in Paris very late at night, we were absolutely starving and we saw a beacon of hope in a McDonald's on a pretty shady street corner. The next day during a walking tour of Paris, two of my roommates got sick and needed to go back to the hostel for the next 24 hours. My other roommate and I continued on with the tour, but hours later…it hit us too. I'm sure Paris is great (and maybe one day I'll go back) but for now, all I associate Paris with is food poisoning and crying for my mom in a dirty hostel.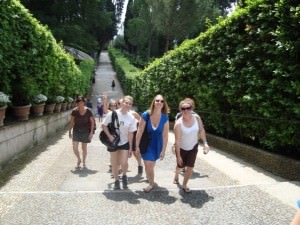 Get ready to walk…a lot…and mostly uphill. Maybe this is just an Italy thing, but everywhere we went, I felt like we were trudging up steep hills. Keep in mind, since studying abroad I've lost 30 pounds and am now way more in shape than I was then, but holy hills! Be prepared to walk…and perhaps wear better shoes than flip-flops (my not-so-smart footwear of choice in summer 2009).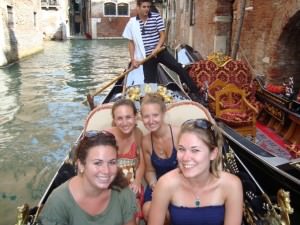 Do the touristy things (but find off-the-beaten-path gems too). Of course, we saw the Mona Lisa in Paris, we took a gondola ride in Venice,we even rode a double-decker tour bus in Barcelona. I have very fond memories of all these super touristy things- after all, they are huge tourist attractions for a reason! They are things worth seeing and experiencing. But do research and talk to locals to discover the places that visitors don't go. Where do the locals eat and hang out? Studying abroad, we were lucky to have professors who were either from Italy or had lived there for years who took us to some of those more hidden spots.
Make friends in unexpected places. Traveling abroad was really the first time I've made friends unexpectedly. In high school and college, you naturally become friends with those in your classes or those who live in your building. When studying abroad, we basically made friends everywhere we went from all over the world. I was surprised at how friendly people are…and learned that people just crave that human connection, no matter where they are from.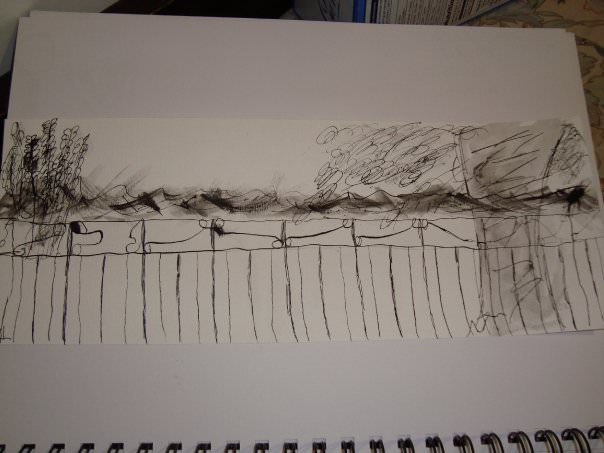 Don't take anything too seriously. I studied abroad, so of course, I had two classes I attended throughout the summer semester. One class was art history and the other was sketching. Keep in mind, I'm a words person, so my artistic skills are…minimal. Being the Type A person I am, being bad at sketching class frustrated me to no end, so I took all my homework assignments very seriously. Yes, school is important, but skipping fun social outings while in Rome to stay in my apartment trying to perfect a portrait for three credits? Not so important.
When in Rome, eat gelato. Just eat the gelato. It's amazing. And there is a gelataria on every street corner. But don't get the gelato in super touristy spots- it's often really expensive and not that good. Our favorite spot was just outside Vatican City- it's called Old Bridge Gelato, there was always a line out the door and we walked there from our tiny apartment more times than I can count.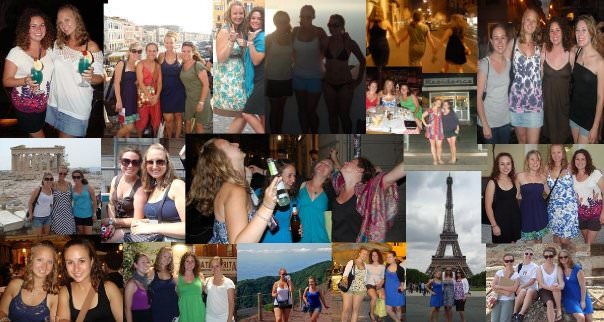 Have you ever traveled abroad? What other lessons would you share?
Want more gutsy content delivered straight to your inbox twice a month? Be sure to sign up for my FREE #Get Gutsy e-newsletter filled with inspiration, ideas and action items to get out of your comfort zone.